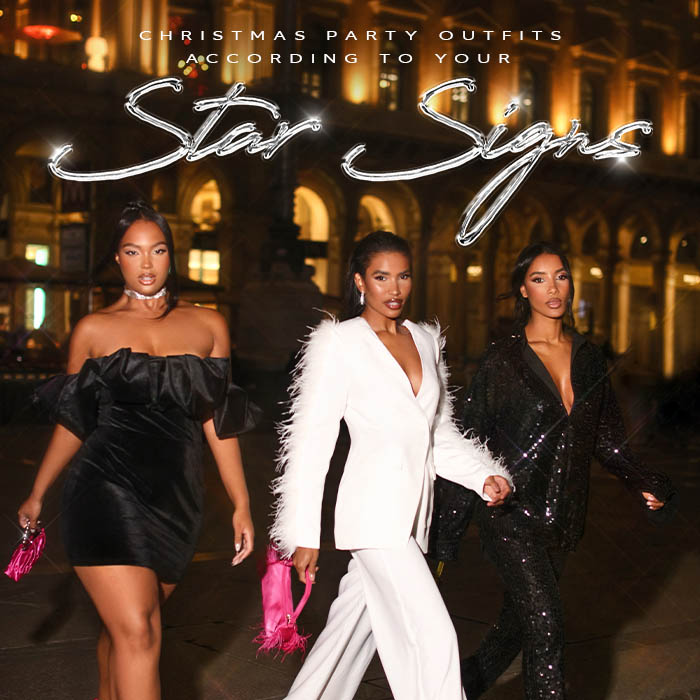 Christmas party season has arrived!
We get that finding the perfect event outfit can be tricky so why not let your star sign decide for you?
From sparkles to tasseling and of course, feathers.
Here at PrettyLittleThing we have endless Christmas party outfits to choose from!
So, let's see what you should be styling this season…
SAGITTARIUS (NOVEMBER 22-DECEMBER 21)
You're spontaneous and fun so why would Christmas party season look any different Sag?
Make way for pink sequins and get set to seriously show up!
We're thinking twinning pink heels and bag for a Insta-worthy look.
Premium Pink Sequin Bandeau Bodycon Dress
CAPRICORN (DECEMBER 22-JANUARY 19)
You make things look effortless, Capricorn.
We're loving this bow crop top with matching gloves, effortless just like your vibe but a major fashion serve.
Talia Mar approved… Check!
Cream Bow Detail Mesh Glove Crop Top
AQUARIUS (JANUARY 20-FEBRUARY 18)
All white outfit vibes are a big yes, Aquarius!
Let your creativity shine through by mixing up your accessories.
Opt for bright and bold matching bag and heels, you won't regret it.
Plus White Sequin Bardot Corset Flared Satin Jumpsuit
PISCES (FEBRUARY 19-MARCH 20)
If PJ's were glam.
Seriously Pisces, this look is a must-have trend right now so why not style it for your upcoming party plans.
Wear with all black accessories and even an oversized blazer for an extra layer to your look.
Black Satin Feather Trim Diamante Button Up Shirt
& Black Satin Feather Trim Straight Leg Trousers
ARIES (MARCH 21-APRIL19)
Green looks good on you, Aries.
This glitter playsuit has got to be on your Christmas outfit wish list.
Style with all gold accessories. Talk. About. Dreamy.
Emerald Green Glitter Plisse Frill Bandeau Playsuit
TAURUS (APRIL 20-MAY20)
As ever, you're ahead of the trends Taurus.
This metallic pink co-ord was made for heading out out.
Wear with statement accessories for a party look that'll last all season.
Pink Metallic Coated Denim Corset Top &
Pink Metallic Coated Denim Straight Leg Jeans
GEMINI (MAY 21-JUNE 20)
This dress deserves a moment Gemini.
So, you ready to make an entrance?
Blue Sequin High Neck Low Back Bodycon Dress
CANCER (JUNE 21-JULY 22)
The 'fit you never knew you needed this season, Cancer.
A tailored suit is the perfect piece to suit any party mood.
Simply style with embellished accessories for a next level look. Sparkle season, we see you!
LEO (JULY 23-AUGUST 22)
Of course you're loving velvet Leo.
With bardot detailing and emerald green colourway, you're going to wanna re-wear this look.
Add to bag ASAP!
Emerald Green Velvet Bardot Ruffle Bodycon Dress
VIRGO (AUGUST 23-SEPTEMBER 22)
We know you love a all black night out look, Virgo.
Why not add feather deets into the mix to bring a little something extra this festive season?
Wear with your go-to black heels and clutch bag for a effortless yet on point outfit.
Black Feather Trim Bandeau Draped Wrap Midi Dress
LIBRA (SEPTEMBER 23-OCTOBER 22)
Ok Libra, we have the 'fit for you!
Diamante daze never looked so good. Instant confidence confirmed.
Premium Black Diamante Feather Hem Shift Dress
SCORPIO (OCTOBER 23-NOVEMBER 21)
Like we even have to say, Scorpio. Red sequins.
A no brainer in our eyes!
Plus Red Feather Trim Bandeau Sequin Bodycon Dress
Love all things zodiac?
Be sure to check out your monthly horoscope for December!