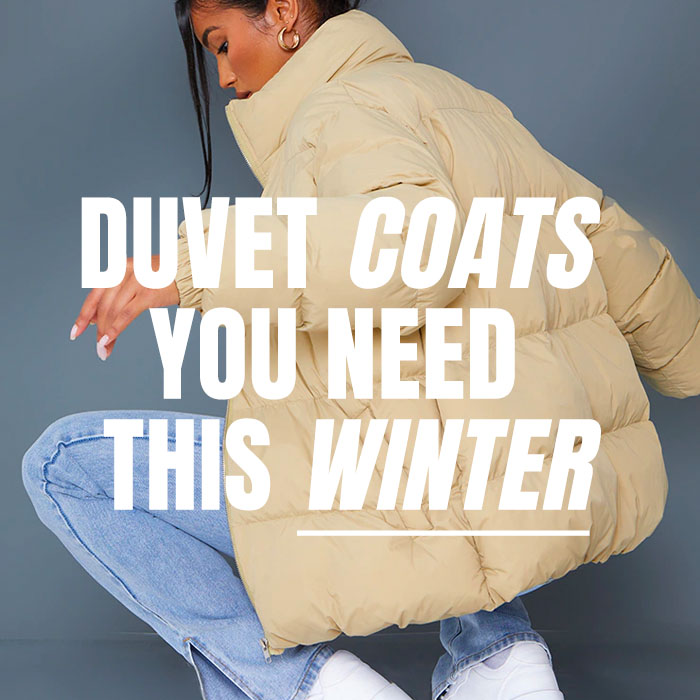 Make everyday a duvet day!
Duvet Coats You Need This Winter
🥶
❄️
🌨️
☂️
Wondering what the next best thing to staying in bed on a cold winter morning is?
Look no further, doll. We're gonna show you some must-have Duvet Coats for the new season so you can stay warm and cozy on the go!
#1 Quilted Maxi Puffer Coat
Straight from our girl Molly-Mae's new A/W collection, this coat is serious goals!
It's available in Black and Taupe, meaning it goes perfectly with all of your winter outfits.
Not only is it snug and stylish, it's also made with recycled polyester.
That's a win win, doll!
#2 High Shine Longline Puffer Coat
Combat dark days with this high shine material.
You don't have to sacrifice style for comfort with this one!
Zip up to go full sleeping-bag chic, or wear open with a casual outfit and let the coat be the star of the show.
#3 Tall & Petite Maxi Puffer Coat
Calling all Tall and Petite dolls!
We've got the perfect length for you, whatever that may be.
Need something extra long or short? Say hello to the perfect cozy coat, made especially for you.
These light colours will have you brightening up even the gloomiest days.
#4 Longline Borg Coat
Borg is a winter staple.
This thick teddy bear-esque material is like wearing a blanket.
Just add straight leg jeans and trainers for an effortlessly chic look, doll.
Not got one yet? Add to cart, ASAP!
#5 Detachable Sleeve and Hem Puffer Coat
This coat has gone viral and we're obsessed!
Why buy three separate styles when you can get one coat and wear it three different ways?
Wear this as a maxi duvet coat, a midi coat and/or a gilet. Save room in your wardrobe AND save your money, doll.