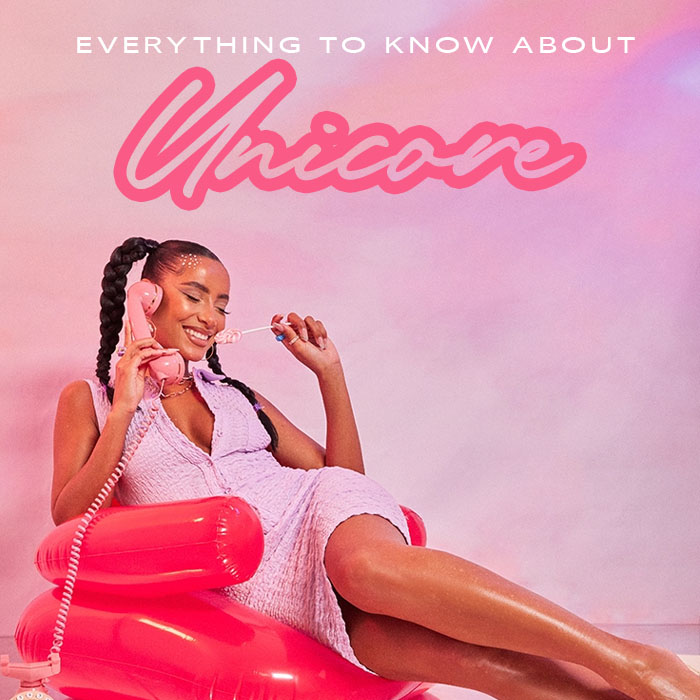 Rep the latest core aesthetics trend, Unicore.
Everything To Know About Unicore
Get ready to stand out like a unicorn in a field full of horses!
We went all in with coastal grandma, cottagecore and barbiecore aesthetics, now get ready for Unicore.
From dopamine dressing to festivals and travel returning for summer 2022, it seems we are all looking for fresh and bright ways to reflect the return of freedom in our wardrobe, with holographic and shiny materials at the front and centre.
Across Google, social, and consumer data, searches for 'holographic prom dress' have shot up by 75%, 'sequin dress' (80%), 'pastel dresses' (24%), rainbow dress (11%), hair clip ponytail (51%) and much more.
With Starbucks drinks and cute accessories, the unicorn trend was a craze in food and drink in the early 2000s but now we are seeing it seep into our wardrobes and aesthetic. From Dua Lipa and Hailey Bieber's sequin and reflective dresses, to Beyonce's recent album shoot and Gigi Hadid's mermaid hair, celebrities are also influencing the surge in demand for the aesthetic and people are after all things majestic.
Some of us may already be rocking the trend without being aware of it, but with searches continuing to grow, it's time to name the aesthetic, celebrate it and rep it.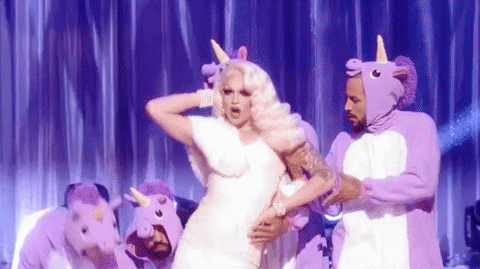 So, what exactly is the Unicore trend?
Light-hearted and mystical, the Unicore trend is full of pastels, sparkles and holographic materials.
A form of dressing that manages to spark the child inside of us and infuse some carefree whimsical fits into our attire.
How to get the Unicore aesthetic:
Think pastel hues, rainbow dresses and super sleek ponytails.
We have everything unicorn-inspired so you can easily look majestic AF for all occasions.
From festival vibes to summer holidays and parties, ensure your hair, makeup and outfits are all on point.
Here are our top picks when it comes to the Unicore trend!
Full pastel 'fits – we're obsessed.
Multi Abstract Print Underbust Detail Binding Strappy Bodycon Dress
Multi Space Dye Cold Shoulder Finger Loop Midaxi Dress
If heading out out and want to incorporate the Unicore trend simply opt for pastel satin.
Luxe and next level.
Baby Blue Underwire Detail Bandeau Satin Midaxi Dress
Sage Green Satin Hook And Eye Corset Detail Blazer Style Dress
These pieces are perfect if heading to a festival.
Where better to style up the unicore trend than in festi fields living your best life.
Iconic!
Shape White Glitter Fringe Halterneck Bodycon Dress
Champagne Sequin Binding Detail Strappy Jumpsuit
Up your game when it comes to occasion wear with these dreamy pastel satin heels.
Pastel Blue Satin Double Sole Strap Platform Heels
Pastel Green Satin Double Sole Strap Platform Heels
Of course Unicore inspired makeup is a hugeeeee go-to for the summer season.
Think golden hues, pink and pastel pops all teamed with glowy skin.
Such a look and we're so here for it!
In Your Dreams Gold and Pink Emperor Butterfly Eye Stickers
Peaches & Cream Loose Eyeshadow Pigment Rattle Snake
On point ponytails with minimum effort – talk about hair goals.
Whether you're all for sleek and straight or prefer more texture – these clip in ponytails are perfect no matter where you're heading.
Lullabellz Mini Grande 18" 90s Bounce Wraparound Pony Warm Brunette
LullaBellz Grande Hollywood Wave 26″ Wraparound Pony Light Blonde
Fancy a change?
Lime Crime's unicorn hair tint's add a cool colour kick to your look instantly.
The semi-permanent fantasy hair colour works best on pre-lightened platinum to pale blonde hair.
Lime Crime Unicorn Hair Tints Sushi Hair Colour Tint
Unicore inspired nails, such a mood!
A great way to include the trend in your everyday look.
Essie Original Nail Polish 37 Lilacism
PRETTYLITTLETHING Pink Out False Nails
You guessed it, the PLT unicorn! Now this deserves a moment.
From sleepwear and phone cases to gym bags and tee's – here at PrettyLittleThing we have it all (covered in unicorn obvs).
Plus Pink Unicorn Print Satin PJ Set
PRETTYLITTLETHING Unicorn Pink iPhone 11 Pro Case
After all, always be yourself – unless you can be a unicorn, then be a unicorn.
Shop the entire Unicore trend here!
All about statement styles? We got you.