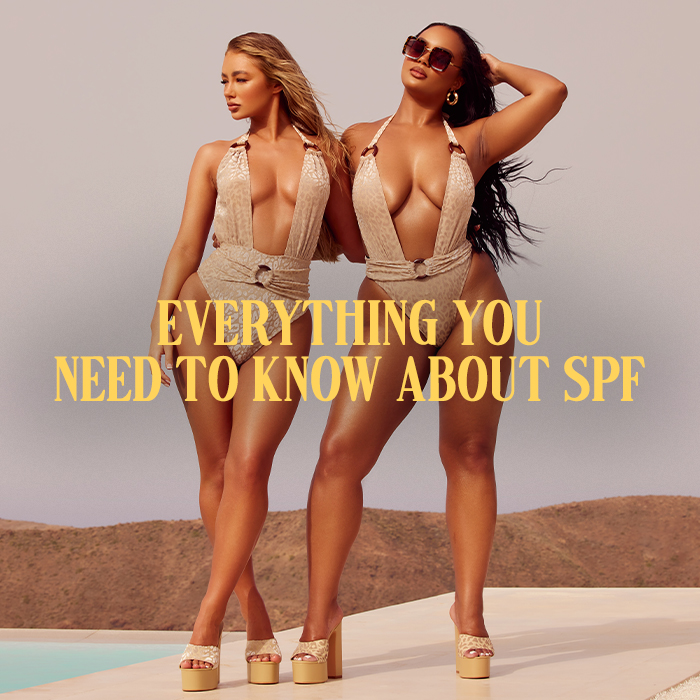 The sun is shining and hopefully you're applying plenty of SPF!
If not, be sure to check out this PLT post to understand justtttt how important SPF is not only during the summer months, but within your skincare routine all year round.
From which SPF to buy to why we actually wear it, this is the PLT guide to all things SPF.
Let's start with 5 top reasons as to why we should wear sunscreen on the daily:
#1. Reduced signs of aging.
#2. Protects you from harmful UV rays.
#3. Will limit the appearance of sun spots.
#4. Protects the skin from sunburn.
#5. Lowers skin cancer risks.
SPF is arguably the most important product in your beauty routine.
Whilst it may seem obvious to apply SPF for the summer season, you should actually be applying every single day.
You read that right, even on the gloomiest, rainiest of days, ensure you're still stocked up on that SPF.
This is as even on those overcast days, up to 80% of the suns rays can still be absorbed by your skin.
So, before we help find your perfect SPF, let's discuss what it actually is…
There are two types of SPF, chemical and mineral.
Chemical SPF's
Contains ingredients that absorb the UV rays from the sun before it causes any damage to your skin.
Chemical SPF's are often quite lightweight however can often irritate acne-prone skin, that said their are plenty of formula options meaning there will be one to suit your skin type.
Mineral SPF's
Contains ingredients that act as a physical shield, preventing UV rays from penetrating the skin in the first place.
This style of SPF is oftern thicker and have a white cast – although not ideal this type of SPF is actually better and favoured by sensitive skin types.
What effect will wearing SPF daily have on our skin?
It protects us against harmful UVA (which can cause sunburn and skin cancer) & UVB rays (which can cause premature aging).
Continuing with aging, applying SPF daily has been scientifically proven to reduce the early onset of fine lines, wrinkles, and dark spots.
SPF's often contain antioxidants which can help protect skin against environmental factors such as pollution.
Shields against hyperpigmentation, SPF can also help fade any current hyperpigmentation.
How to use SPF?
When it comes to choosing an SPF, be sure to follow these simple rules:
#1. The higher the SPF, the better.
#2. Ideally you should be applying at least 3 fingers length of product.
#3. Do you put sunscreen on before or after a moisturiser? SPF should be applied after your moisturiser, ideally it should be applied as the final step in your routine and reapplied every 2 hours if possible.
Now you're in the know when it comes to SPF skincare, let's take a look at which product would work best for you…
Love lightweight formulas?
Cetaphil Daily Defence Facial Moisturiser SPF50 50g
A light-weight easily absorbed moisturiser with SPF50+.
Cetaphil Daily Defence Moisturiser hydrates the skin and provides very high, broad-spectrum UVA/UVB protection.
Suitable for all skin types, it helps skin maintain its natural protective barrier. With hydrating Glycerin and Essential Vitamin E.
Super sensitive skin?
Garnier Ambre Solaire Sensitive Advanced On The Go To SPF50 50ml
Garnier Ambre Solaire Sensitive Advanced Travel Size Sun Cream SPF50+ provides very high protection against sun induced skin damage and sunburn.
This non-greasy formula is specially developed for all skin types, including fair and sensitive skin.
With Ceramide, providing UVA & UVB protection and instant skin barrier function protection.
For protection against the harmful effects of UVA, UVB rays and Long UVA.
Suffer from acne and need something kind to skin?
Purifide by Acnecide Daily Moisturiser SPF30 50ml
Purifide is the new range of clear skin daily skincare from the makers of Acnecide.
Purifide Daily Moisturiser SPF30 lightweight non-greasy moisturiser specifically formulated for hydrating and protecting sensitive spot-prone skin.
Containing a barely-visible UVA/B sunscreen, this is suitable for a wide range of skin tones.
UV protection can help prevent uneven tones and dark marks.
May be used as a daily moisturiser alongside Acnecide benzoyl peroxide 5% treatments which may help support the skin's tolerance to the treatment.
Prefer to pack SPF into your primer?
Revolution Pro Protect Soft Focus Primer SPF 50
The Revolution Pro Protect Soft Focus Primer SPF 50 is the perfect priming base for daily protection and perfect makeup application.
With a demi-matte finish, it helps give skin a smooth and balanced appearance.
This nourishing primer can be worn alone as a daily defence against UVB rays, or under makeup for a flawless looking base.
Ready to revamp your daily sunscreen and shop all SPF's?
Prefer to fake it when it comes to summer tanning? We got you!