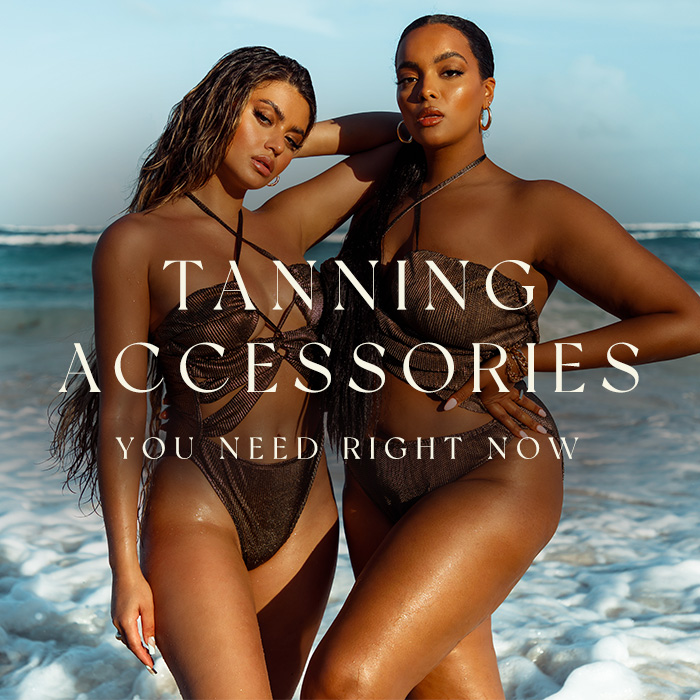 Revamp your tanning routine!
FAKE TAN ACCESSORIES YOU NEED
We're letting you in on the best fake tan accessories you need to achieve the ultimate streak-free glow.
Prep to be looking like a bronzed goddess with our ultimate tanning accessories.
All About The Mitt
If you've not tried a mitt with a thumb hole, where have you been?
This shape of mitt changes the tanning game giving you more control over your tan application for a streak-free finish.
Mitt's are a must-have in your tanning collection!
Cocoa Brown Velvet Tanning Mitt with Thumb
Filter By Molly Mae Tanning Mitt
Don't Forget Your Back
Forget the days of asking your significant other to tan your back for you and hoping for the best.
This handy back tanning mitt makes it super easy to reach every inch of your back with fake tan.
Grab this tanning accessory now and make your tanning routine fuss-free.
Exfoliating Is Key
We're sure we don't have to tell you about this one but here's a friendly reminder to exfoliate!
Exfoliating is the absolute key to not only achieving a tan that isn't patchy but for a tan that lasts way longer too!
Exfoliating gloves are cheap and simple but they get the job done, keeping you smooth and ready for fresh layer of tan.
Cocoa Brown Exfoliating Thumb Mitt
Tanning PJs
Say goodbye to orange tan-stained sheets with these cute tanning pyjamas.
These all-black pyjamas are the ultimate PJ to throw on after you've freshly tanned to keep those white sheets white!
Black Mix And Match Piped Detail Satin Long Sleeve PJ Shirt
& Black Mix And Match Piped Detail Satin PJ Trousers
Brush It On
Tanning hack: if you find your fake tan just doesn't seem to work as well or goes patchy in certain areas like your neck or chest, use a brush to apply it!
This tanning body brush is your self-tan saviour and a must-have tool to avoid patchy tan in those difficult areas.
Iconic London Tan and Buff Brush
The Ultimate Tanning Duo
The daily tan essentials you've been looking for. Simply drop, tan and glow, it's as easy as that.
A collection designed for the body and face to ensure you stay bronzed, for longer.
Filter by Molly Mae Tanning Drops & Medium Tanning Mousse Bundle
Filter by Molly Mae Tanning Drops & Dark Tanning Mousse Bundle
Happy Tanning!
Shop all tanning onsite here.
Still yet to figure out your flawless tan routine? We got you!