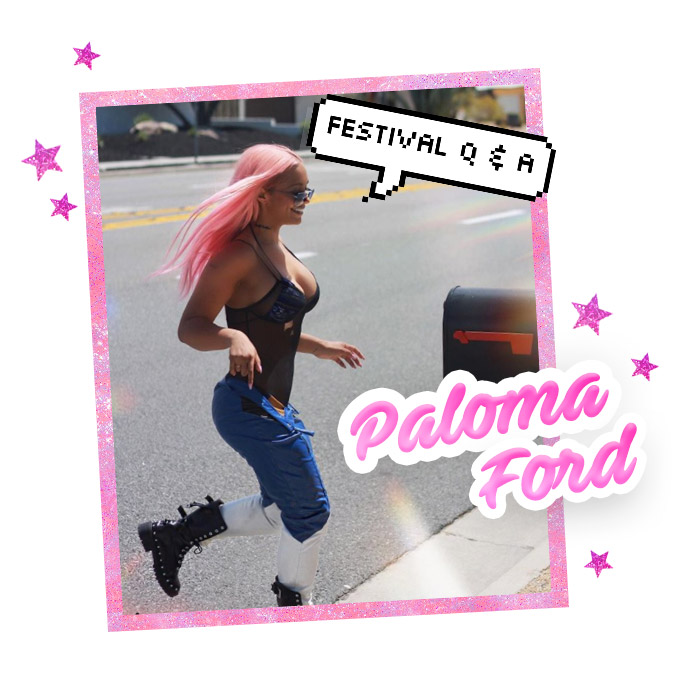 Coachella weekend two just happened and we caught up with mega babe and American pop princess Paloma Ford. Get to know her as she talks all things festival through to her fave beauty regimes to keep herself looking and feeling fresh AF.
What's Your Typical Festival Style?
My typical festival style is comfortable, that's why I love PLT, the black jumpsuit was a perfect go to.
Are you more beach, city or field festival?
City, for sure.
Where are we likely to find you hanging out at a festival?
Chilling in VIP.
  What are your must-have festival essentials to take with you to make sure you're always looking best dressed? (Please pick 5).
Boots, A jumpsuit, Comfy Heels (I'm Short), My Makeup Artist, and… anything else I can make work for me haha.
Do you have any beauty/hair hacks to keep you looking fresh if you're not feeling it?
I get facials on the reg and drink water, it keeps my skin glowing.
Can you tell us 3 festival do's and don'ts?
DO's: Mix your style up, take risks, accessorize….
DONT'S: Trip over cell service (there is none), bring a friend with OCD, wear stilettos…
What's your fave festival accessory to elevate any outfit?
Face beat always hunty
Best Festival Hangover Cure?
Water
Dream Festival Line Up?
Myself, 2 Pac & Meek Mill