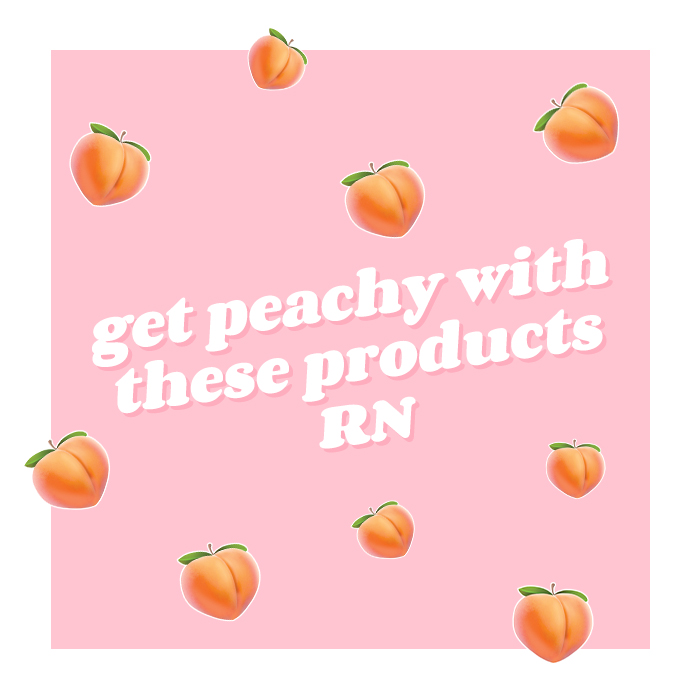 In case you missed it, peach is everywhere RN. Emoji's included.
Don't be an awkward peach and take a look at our hottest peach inspired beauty products to keep you bang on trend, all summer long.
Get Peachy With These Products RN
Face
If you're obsessed with makeup and beauty tutorials, we're sure you've seen your fair share of beauty bloggers talking all sorts about peachy coloured products. This season's must-have colour is all about giving your eyes and cheeks that peachy pop. Cute right? Eyeshadows, blushers and highlighters are a sure way to give your face that peach-kissed look that everyone is after.
SHOP BELOW
Lips
If your makeup routine is already snatched or if you're not as daring to try new colours, inject a bit of peach to your lips to complete your already mastered look. No matter what your preferred finish, we've got them all babe. Matte, sheer, gloss and even the cutest little tinted lip mask will make sure your lips are looking kissable no matter what. Just don't smudge the lipstick, or else...
SHOP BELOW
Hair
We're literally sold on anything with unicorn in the name, so unleash your creative side with Lime Crime Unicorn Hair Neon Peach. Not only is this dye vegan & cruelty-free but it will also protect and soften each hair strand. This full-coverage, ultra-conditioning formula will guarantee magical results and allow you to take on the peach trend head first and live your wildest peachy fantasy.
SHOP BELOW
Tan
If you've got sass then you're gonna love our Velvotan Self Tan Applicator Original Body Mitt Peachy. This cute peach printed tanning mitt will ensure your favourite tan goes on flawlessly, give you that bronzed goddess look and maybe even bring out your cheeky side. But… that's what Summers for, right girls? Life's a peach, enjoy it babe.
SHOP BELOW