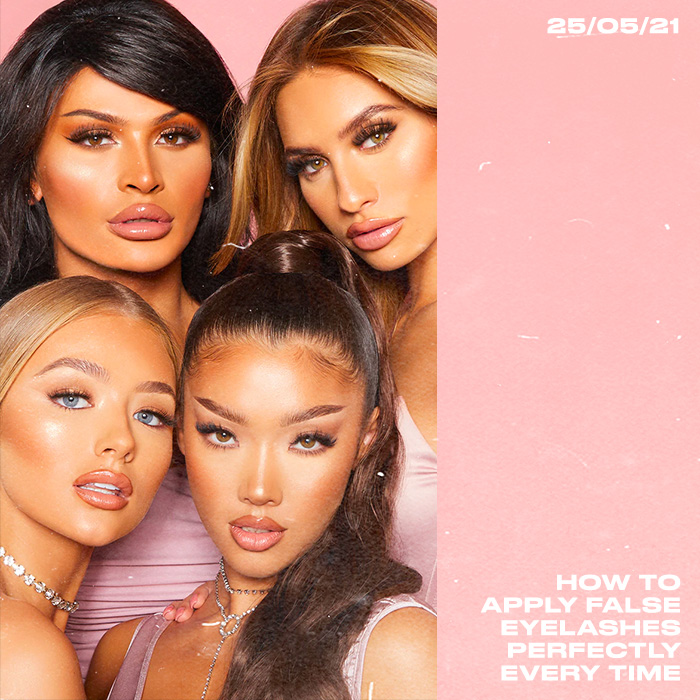 Applying false eyelashes before a night out really is a make or break situation and we know just how good it feels when it goes well and you get that perfect application. We're here to answer your prayers and share all our tips and tricks on how to apply false eyelashes perfectly EVERY time.
HOW TO APPLY FALSE EYELASHES PERFECTLY EVERY TIME
Sounds too good to be true? Keep reading for the low down on how to apply falsies perfectly every time.
1.Trim To Size
First things first, try your lashes out for size. When it comes to lashes, one size doesn't fit all. Before you apply any mascara, sit the lash on your lash line and see how it fits. If the band is too wide for your eye simply grab some scissors and cut off some of the band. Tip: Always trim your false lashes from the outer corner (the side with the longest lashes!)
2. Mascara
Now your lashes are the perfect size, it's time to apply some mascara. It's best to apply mascara before falsies so once the lashes are in place there's no messing with them. Leave your bottom lashes mascara-free at this point especially if your eyes water when applying lashes to save any mess. Check out our go-to mascara of the moment from Maybelline with volumising and thickening effects.
MAYBELLINE LASH SENSATIONAL SKY HIGH MASCARA
Shop Mascara
3. Glue
The most important part of a perfect lash application is all about the glue. Make sure you have a good glue that will keep your lashes on all night. Our fave is anything from DUO! This lash glue is loved by professional makeup artists and is sure to keep your lashes on all day and night.
Shop DUO
The trick to getting your lashes to stay on perfectly first time is to apply the glue to the band of the false eyelashes and let it sit until the glue becomes tacky. We recommend waiting 2-3 minutes for the perfect tacky glue that will have your lashes going nowhere!
4. Application
Now you've done all the prep work and your glue is nice and tacky it's time to pop those falsies on! If you find it tricky to apply false eyelashes with your hands this lash application tool will be your new best friend. Check out this gold lash applicator from the iconic Tatti Lashes. This gives you more control over the placement of your lashes for the perfect application every time.
TATTI LASHES GOLD LASH APPLICATOR
Shop Beauty Tools
And there you have it, follow these tips and in just 4 easy steps you can have the perfect false eyelash application every single time.
Shop False Eyelashes.