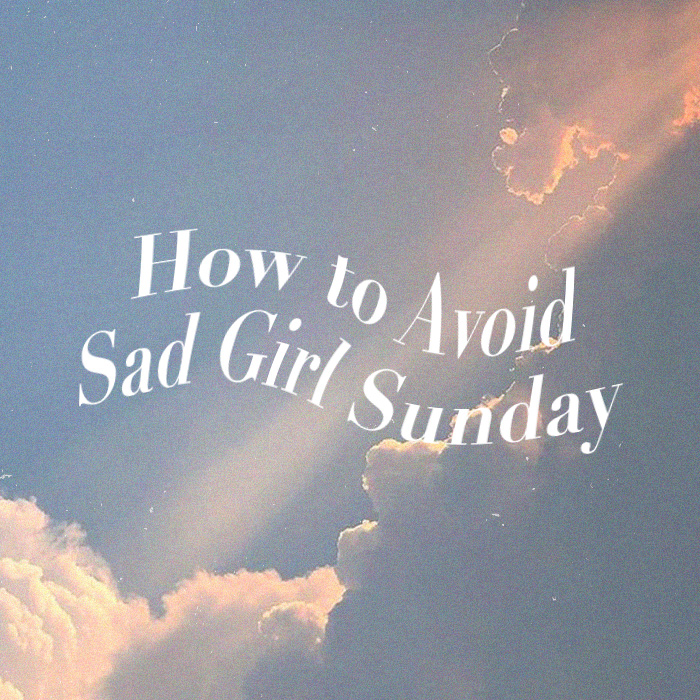 The Sunday dread…
How To Avoid Sad Girl Sunday
We have all experienced it (unfortunately).
Whether you are hungover AF feeling slightly sorry for yourself, have the Sunday scaries and are dreading turning on *work mode* along with that early morning alarm or have simply spent your entire day swiping dating apps and now wish you had done something a little more productive…
Today we are sharing easy ways to help you avoid those sad girl Sunday's and instead make the very most of your day!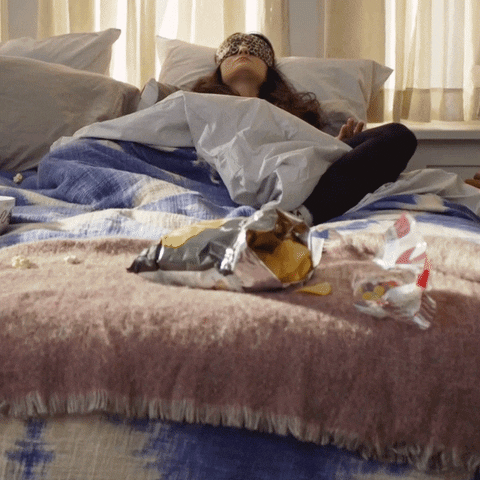 First up, you're going to want to figure out what is actually making you feel so down on a Sunday.
Of course we all have those weekends when we do just need a lazy Sunday or lay extra still in bed hoping the hangover disappears soon but, if you're feeling sad regularly as the weekend draws to an end then it's time to figure out what is making you feel this way. It could be work worries are creeping in or you suddenly feel single AF as all your besties are spending their Sunday chill day with their partners – whatever it is, identifying it is the best start to saying cya to those Sunday blues.
Ok, let's talk work worries..
If the idea of heading to work bright and early on Monday morning fills you with dread then why not make a short to-do list to make those busy days feel more worth while. Spend 10 minutes of your Sunday evening just jotting down anything you want to accomplish in the upcoming week – maybe something got missed before 5pm on Friday and you need to get it done ASAP. Write everything out and create a plan to help you manage your workload.
Only swipe right on Sunday's?
It's safe to say Sunday is probably the one day of the week you will feel more single than ever. Whilst it's easy to head to the dating apps and swipe for a few conversations, ask yourself if that's really what you want to do. Most people swipe right more on a Sunday but does that mean we are just settling due to feeling extra lonely?
Here's some alternative plans incase you don't want to spend your Sunday swiping..
Head outside
Just a breath of fresh air will change your whole day! Take yourself for a walk, grab a coffee, make the most of having the time to do these little things that probably get missed during your working week.
We aren't in a rush today dolls, so take a time out – you deserve it.
Catch up with a friend
Sunday is the perfect day to catch up, whether it's brunch, Sunday lunch or PM plans. Heading out will help steer away from those unwanted feels and hours of overthinking. Instead, spend the time making new memories with the ones who love you most!
Set a morning routine
We know Sunday is all about making the most of winding down before a fresh week but if staying in bed longer makes you feel a little flat why not start the day early? Head to a gym class, clean your space, make yourself something delicious for breakfast.. Whatever makes you feel your very best self, now is the time to do it.
Sorry socials, you're out!
It's a fact, screen time is up on a Sunday. If you find yourself instinctively picking up your phone when you don't really want to then why not limit your scrolling time of a Sunday? You could also switch up your go-to social platform – maybe you want to build a vision board on Pinterest or plan out your meal prep for the week instead of skipping through endless Insta stories.
Loving the lazy day?
All good doll! If you do want to just relax and fully chill out on a Sunday then great. Why not make the most of it and go ALL out on that self care? We are talking major TLC – face masks, bath bombs, the lot. Get yourself feeling fresh and set to take on the new week in style. This is also the perfect time to binge watch your latest Netflix obsession! Sunday nap… Of course we haven't forgotten about you! Yesss, to all the lazy Sunday feels.
You got this girl!
In fact, we think Sunday could even be your new fave weekday…