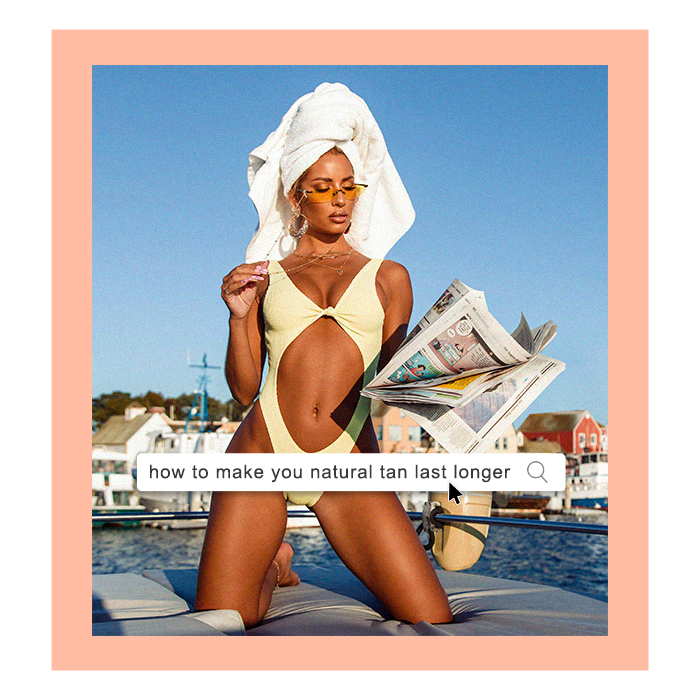 Not ready to let go of summer yet? Bronzed skin fading?
How to Make Your Natural Tan Last Longer
Peep below our top tips on maintaining your natural tan to keep you bronze and glowing all year round!
Prep
Want your sunkissed glow to last? It's ALL in the prep, babes.
Your skin is more likely to tan when your skin is super moisturised, so on the days leading up to your hols make sure to exfoliate and keep that skin hydrated.
We're obsessed with this charcoal body scrub from Skin Academy to buff away any dry skin.
SHOP SKIN ACADEMY CHARCOAL BODY SCRUB
Moisturise
A rich body moisturiser is the key to maintaining any tan, real or faux.
We are living for the Coco & Eve moisture whip for keeping our skin plump and hydrated in the summer sun.
In a heavenly dragon fruit and lychee fragrance, best believe we are applying generous amounts of this head-to-toe.
SHOP COCO & EVE GLOW FIGURE BODY MOISTURE WHIP
SPF
When tanning in the sun, SPF is VITAL – no questions asked.
Not only does it protect your skin from burning and damage, but it also prevents peeling aka losing your gorgeous tan.
Our go-to is the Bondi Sands oil with SPF 30 to develop the ultimate summer skin.
SHOP BONDI SANDS SUNSCREEN OIL SPF 30
After Sun
After sun is another key step in maintaining your summer tan.
Containing aloe vera, the Hawaiian Tropic Silk Hydration after sun helps soothe and hydrate your skin after a day of relaxing by the pool.
Apply when you're fresh out of the shower and admire your newly tanned glow.
SHOP HAWAIIAN TROPIC SILK HYDRATION AIR SOFT AFTER SUN
Hydrate
The Fox Tan has the best range of products to rapidly speed up the natural tanning process, so this product is a must.
On top of their existing mega formula, the watermelon seed oil helps to increase melanin production (the stuff in your skin that makes you tan!)
Simply shake and spritz after your SPF has soaked in and watch your tan deepen and skin GLOW.
SHOP THE FOX TAN RAPID TANNING MIST WATERMELON SHIMMER
Glow
Maybe you're heading out for your evening meal after a day of tanning, but wanting to give your skin a bit extra bronze?
This glow oil from Nip & Fab will solve all your problems babes, as well as containing moisturising oils to deeply hydrate the skin.
Simply shake and apply to any areas you want to add an extra bronze glow.
SHOP NIP & FAB TAN GLOW GETTER BODY OIL