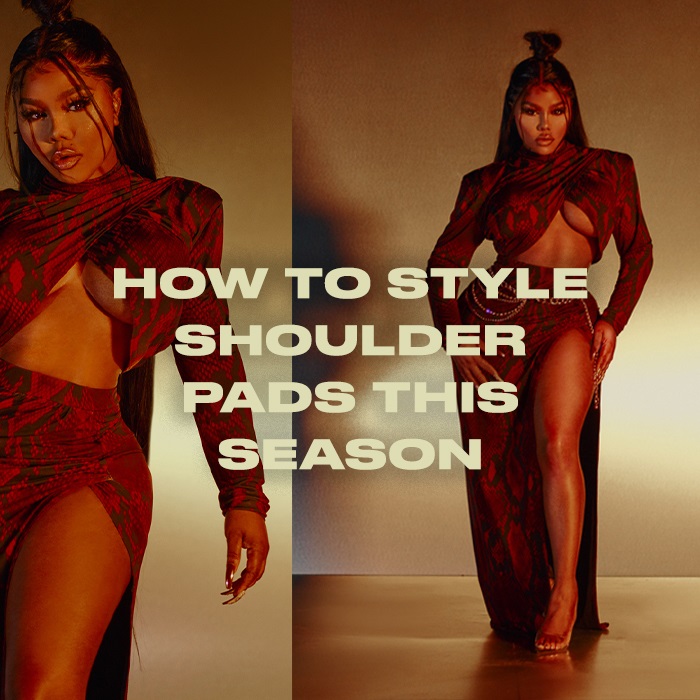 The 80's style is making a comeback and shoulder pads are no exception. We've been seeing this trend everywhere from the catwalk to our IG feeds and it's going nowhere fast.
How To Style Shoulder Pads This Season
Shoulder pads are an easy way to add structure and shape to any outfit. From casual shoulder pad sleeveless tops which can be tucked into mom jeans for an everyday look to statement shoulder pad jumpsuits that will turn heads and get you all the right attention. Shoulder pads can elevate any piece in your wardrobe but knowing how to style them can be a struggle. Keep reading as we share the 411 on how to style shoulder pads this season.
Keep It Casual
Back in the day, shoulder pads were exclusively seen in more formal wear such as blazers, coats and dresses but it's 2021 now and we don't follow traditions. We're loving using shoulder pads in our everyday outfits to add some structure and style. Opt for a sleeveless shoulder pad top tucked into comfy knit shorts or matching joggers and take your casual fit to a whole new level.
Stone Shoulder Pad Knitted Top
All About Structure
Mix shoulder pads with other structured pieces for extra impact and make a statement this season. Try pairing a shoulder pad top with tailored faux leather trousers for a look that accentuates your shape in all the right places and will have you feeling like a boss.
Plus Black Satin Shoulder Pad Knitted Top
Layering
Combine two trends and level-up your style game by layering shoulder pad pieces over other items in your wardrobe. Layer a must-have cropped knitted shoulder pad top over a white shirt and jeans to elevate your OOTD or go all out and layer it over a white shirt dress for that signature gossip girl preppy style.
Khaki Sleeveless Shoulder Pad Knitted Top
Category Is: Jumpsuits
Looking for a night out fit that's low effort but makes for a big impact? Shoulder pad jumpsuits are your saviour this season. Check out this all black shoulder pad jumpsuit with cut out back and thong detail. Pair with a classic black stiletto and make a statement from all angles.
Black Shoulder Pad Thong Black Jumpsuit