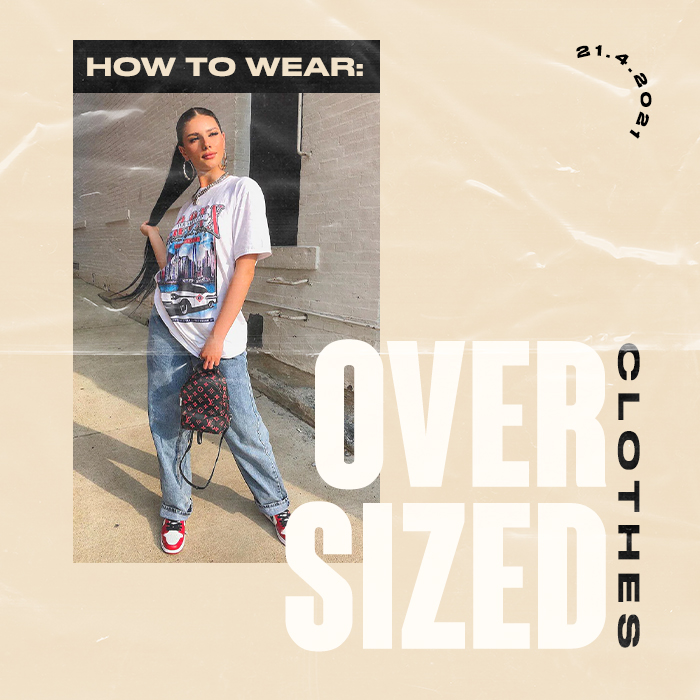 Oversized clothing is a style that is always on-trend season after season.
Whether it's a cosy oversized knit or cute t-shirt dress, oversized fits will never go out of style.
How To Wear Oversized Clothes
If you want to work this trend into your wardrobe, we've got you covered doll.
Keep scrolling to find everything you need to know about how to wear oversized clothes.
All About Structure
Even though you may be working the oversized trend, you can still show off your figure too (yes, you read that right).
This can be done by balancing out the proportions of you're outfit so if you're opting for an oversized top half, make sure the bottom half of you're outfit is more fitted.
For example, if you're opting for an oversized top, style it with a pair of figure hugging jeans or if you're working a pair of baggy jeans, pair them with a more fitted top.
Show Some Skin
If you're working a full oversized 'fit but still want to add some shape, show off some skin.
If you're styling an oversized t-shirt dress, ditch the tights and go bare legged. Or, if you've opted for an oversized blazer, pair it with a crop top underneath to show off your figure.
Accessorise It Up
When it comes to styling oversized outfit, it's all about the accessories.
Whether it's adding a statement belt to an oversized shirt dress or a chunky necklace to add to an oversized tee and cycling shorts, accessories will instantly level up your look.
Off-Duty Vibing
Teaming any oversized basic with ride or die cycle shorts is set to take your look to off-duty vibes instantly.
From oversized hoodies to oversized shirts – your OOTD is sorted thanks to cycle short staples.
Graphic Tee's
Not only a graphic t-shirts are trend that never tire but with on point prints, slogans and must-have quotes it's guaranteed you'll never bore of this oversized look.
The options are legit endless when it comes to graphic t-shirts. So, what you opting for?
Layer Up
Styling oversized pieces with figure flattering 'fits makes for the perfect OOTD.
Think bodysuits, crop tops, cycling shoes and unitards teamed with OTT oversized blazers.
Whatever your style, there will be a look you'll love.
Looking for more inspo? Shop oversized outfits here.
Love the oversized look?