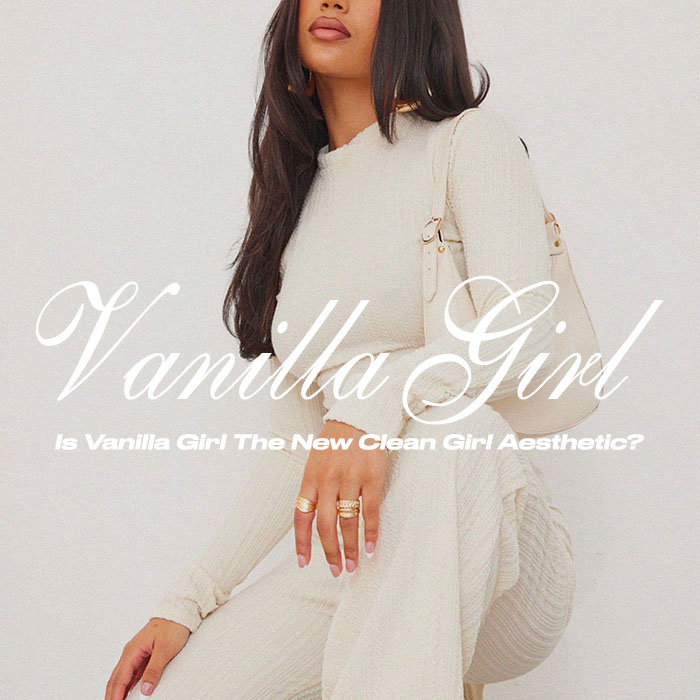 The new TikTok trend that is set to takeover from the clean girl aesthetic for 2023.
We can confirm, it's just as dreamy as you imagine!
If you're already feeling the January blues after festive fun then you are going to love this cosy TikTok trend.
With 230 million TikTok views and Google searches rising by 78% globally, the vanilla girl aesthetic is set to seriously soar for 2023 but, what exactly is it?
Similar to the clean girl aesthetic, vanilla girls quite simply have their life together (actual goals for the new year).
Whilst clean girl was sleek hair, fresh outfits and Insta-worthy coffee runs, vanilla girl teams homeware and cosy feels to the aesthetic.
Think timeless neutrals, simplicity and femininity!
Sound like a trend you want to try out for yourself? This is how to achieve the vanilla girl aesthetic effortlessly.
Outfits
Cream, off-white and beige are a must in your vanilla girl wardrobe as it's all about wearing different shades of the same neutral colour.
Outerwear is a key element when achieving the vanilla girl look this season along with tonal knits.
Cream Faux Shearling Trim Faux Leather Maxi Coat
Plus Cream Checkerboard Button Front Borg Coat
Plus Cream Oversized Split Hem Sweater
Cream Textured Ribbed High Neck Detail Crop Top
Basic Cream Rib Short Sleeve Bodysuit
Lifestyle
Vanilla girls take time to prioritise themselves – journaling, manifesting, social detoxing and you guessed it, a next level skincare routine.
Of course you have time to double cleanse when your daily routine is so iconic!
Vanilla girl hair is all about a loose blowout created using soft scented products and hair oil.
Simply complete the look with a oversized hair bow.
PRETTYLITTLETHING Daily Reminders Pocket Notebook
PRETTYLITTLETHING Set of 3 Pencils
Pixi Makeup Shea Butter Lip Balm Honey Nectar
Black Satin Oversized Bow Hair Clip
Homeware
Vanilla girl décor is just as you imagine. Homeware that combines luxury and simplicity is the vanilla girl goal.
We're talking luxe fabrics such as boucle and satin, wall art, endless candles (including vanilla scents of course), pampas grass and overall snug feels.
A safe haven for vanilla girls to truly relax – we are obsessed!
Morning Noon Night Coffee Table Book
Yankee Candle Home Inspiration Vanilla Frosting Small Jar
Pisces Symbol Arch Soy Wax Candle
Shop all things vanilla girl inspired here.
All about the TikTok trends? You'll love balletcore!