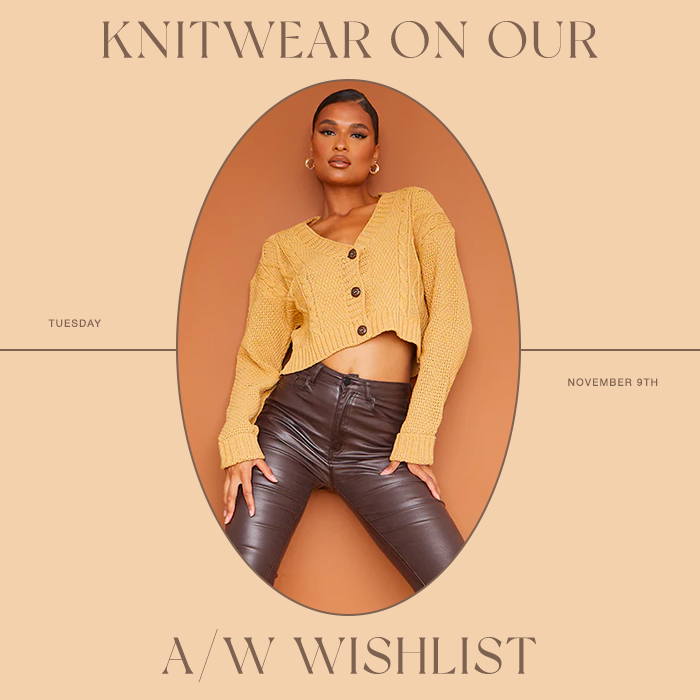 Get. Knit.
Knitwear On Our A/W Wishlist
All your Autumn needs in one place!
With a drop in temperature it's easy to just throw on your go-to joggers and head out but don't let the cold weather get you down. Layering season is such a vibe so why not make the most of it?
We're talking all the Autumn feels with new season knits, cosy chilled out casuals and pieces you'll be proud to add to your winter wardrobe.
Today we are sharing the PrettyLittleThing knitwear you need on your A/W wishlist.
Cardigans
Cute yet chic – we're here for it! Amp up your off duty look with an oversized cardigan. Such a vibe.
STONE OVERSIZED CHUNKY KNIT CABLE CARDIGAN
BRIGHT GREEN CUT OUT SLEEVE CARDIGAN
GREY BUTTON DOWN SLOUCHY POCKET CROPPED CARDIGAN
Jumpers
Build up your AW staples easily with cosy knitted jumpers. Whatever colour you're loving this season – we have a style to suit.
RECYCLED GREY KNITTED SLOUCHY ROLL NECK JUMPER
STONE CHUNKY KNITTED OVERSIZED JUMPER
BLACK BASIC CREW NECK KNITTED JUMPER
Knit Vests
Upgrade your everyday essentials by layering a knitted vest over your go-to white shirt. Autumn prep. Complete.
PLUS STONE CABLE KNITTED V NECK VEST
PLUS CREAM CABLE KNITTED V NECK VEST
OATMEAL SOFT COLLARED KNITTED V NECK VEST
Co Ords
The perfect duo. Slay your OOTD with minimal effort thanks to a PLT knitted co-ord. Perfect for all occasions.
OLIVE BUST DETAIL KNITTED LONG SLEEVE LEGGING SET
TAN RIBBED CHUNKY KNIT OVERSIZED HOODIE & TAN RIBBED CHUNKY KNIT WIDE LEG TROUSERS
BLACK RIBBED KNITTED BUTTON DOWN SLOUCHY CARDIGAN SET
Knitted Loungewear
If its an effortless vibe you're wanting then laid back loungewear needs to be on your Autumn hitlist.
SAGE GREEN RIBBED KNITTED STRAPPY JUMPSUIT
CREAM KNITTED HOODIE & CREAM KNITTED JOGGERS
Shop all AW knitwear here!