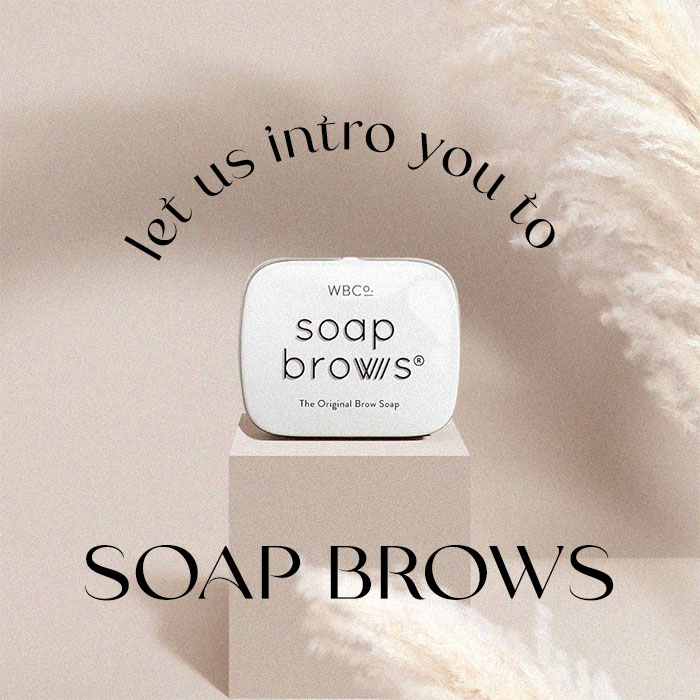 The original brow soap.
Let Us Intro You To WBCo Soap Brows
Soap Brows have just launched on PrettyLittleThing so of course, we're bringing you the ultimate lowdown.
All about serving brow goals? You won't want to miss this!
Who Are They?
Introducing WBCo (double-yoo-bee-co), a cosmetics and skincare company based in the North East of England. Founded by mother and daughter, Donna and Kim back in 2017, WBCo has exploded onto the beauty scene with their clever adaptation of a little known Hollywood technique.
Instead of using hand soap to style fluffy and natural looking brows, Donna and Kim set to work creating a bespoke formula that was free from harsh ingredients, safe to leave on skin and would give the best hold all day long. After some hard work, lots of testing and feedback from family, the original Soap Brows was born!
At the time, Kim was a full time professional makeup artist with many years of training and experience, working on tv and film as well as being a regular at London Fashion Week. Her friends and connections in the industry were some of the first to try the OG Soap Brows and word spread quickly of the innovative little white tin that was about to change brow routines everywhere.
Fast forward 4 years, WBCo products are some of the most trusted by professionals and have been spotted in high profile professional makeup kits including Nikki Wolff, James Molloy and Robert Welsh. Celebrities like Billie Eilish, Katy Perry and Kendall Jenner have all been spotted with the signature WBCo fluffy brow look, while content creators and influencers like Amrezy, Maura Higgins and Emily Miller have included Soap Brows as some of their everyday makeup staples.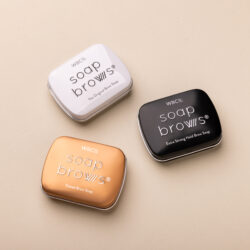 Let's Talk Products!
Soap Brows
A unique brow styling product formulated to give fuller looking, natural brows.
It has an instant thickening effect with extra hold, leaving you with beautifully styled brows all day long.
How To Use
Using Soap Brows, Soap Brows Tinted or Soap Brows Extra Strong is really simple and you only need three products to be able to create the brows of your dreams.
Step 1. Take your tin and spritz with a setting spray.
Step 2. Gather the product on a clean spoolie (With Tinted, you won't need as much!)
Step 3. Apply brushing back and forth through the brows to make sure you get good coverage.
Again with Soap Brows Tinted, make sure you apply the product softly to build the colour and avoid getting product on your skin.
If you are using Soap Brows Extra Strong, work quickly as this stuff sets and then it does not budge!
Soap Brow Single Soap Brow Extra Strong
Soap Brow Single Soap Brow Tinted
Gel Brows
Gel Brows is perfect for anyone who is always running late, prefers an extra 10 minutes in bed or wants a simple brow styling product that does the job.
Formulated as a one step routine, Gel Brows will tame and style your brows in one quick and easy swipe.
How To Use
All you need is the product and a clean spoolie.
Take a small amount of Gel Brows from the pot and brush through your brows, styling as you go.
If you need a little extra hold, apply more product then wipe away any excess using your finger.
Fill in any gaps or sparse areas and you're good to go. Styled brows in seconds.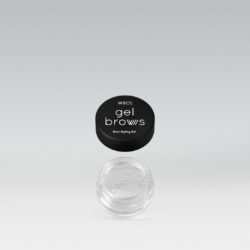 The Brow Pomade
The Brow Pomade is a waterproof, matte pomade brow product.
It can be used to fill in sparse areas to define & shape brows or to create hair-like strokes.
This lightweight creamy brow filling product allows you to create a subtle look mimicking hair strokes, or you can opt for a stronger, more defined brow. The choice is yours.
How To Use
Coat both sides of a flat angled brush with pomade, flattening either side against the back of your hand to create a sharp edge.
Draw the desired shape on your brows, using light touches to create those natural looking hair strokes and build up to the colour, depth and shape you want.
Soap Brow The Brow Pomade Sand
Soap Brow The Brow Pomade Brew
Soap Brow The Brow Pomade Clay
Shop the entire Soap Brows collection onsite here.
Love a flawless brow? Check out the full clean girl aesthetic!