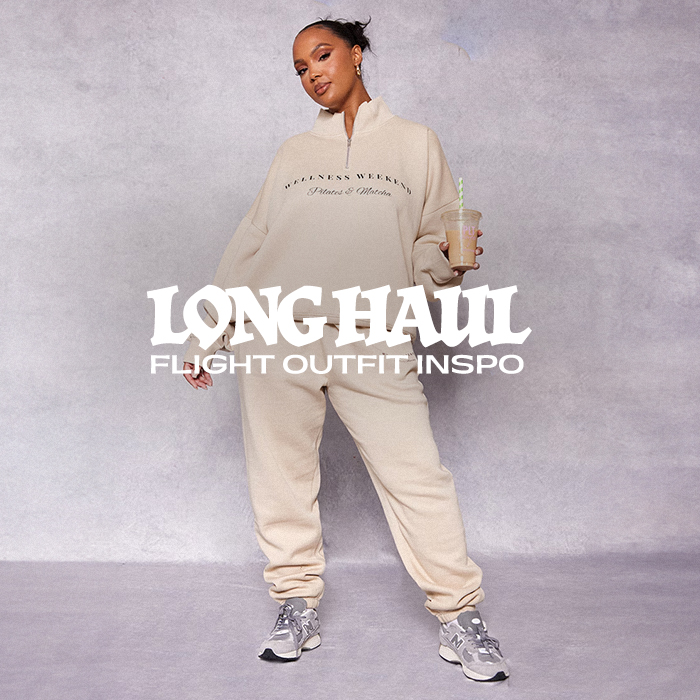 Already over the gloomy autumn weather? Heading off long haul?
These outfits are going to banish the question of what to wear on a long haul flight.
Jet set in style with PrettyLittleThing outfits!
Whilst we love crisp autumn blue skies, transitional dressing and cosy knitwear, we know that the reality of autumn/winter is actually pretty gloomy.
This is mainly thanks to those dreaded dark nights, which of course, have us dreamingggg of a getaway.
If you've took the leap and are booked and ready for a long haul holiday then this is the post for you.
First up, here are your most searched questions when it comes to long haul fashion.
What do you wear on a long haul flight 2023?
The trend of airport outfits is still going strong, meaning this post (and the PLT products featured) are still super relevant.
Key pieces you'll want to opt for within your long haul outfits include:
What do people wear on long haul flights?
Similar to above, athleisurewear is the go-to. Think laidback loose fitting clothes.
Here's five of our fave looks onsite right now to bring the inspo for your long haul looks!
Athleisure aesthetic, we see you.
Charcoal Seam Detail Zip Through Track Top
Charcoal Seam Detail Straight Leg Joggers
Plus Stone Wellness Weekend Printed Cuffed Joggers
White Shirred Waist Seam Front Wide Leg Joggers
Charcoal Structured Contour Ribbed Leggings
Charcoal Pretty Little Sporty Back Puff Print Hoodie
Why should you wear loose clothing on a long flight?
Not only will oversized and loose fitting clothing make you feel more comfortable when travelling long haul, it will also help with any circulation issues. Comfort is key!
Premium Dark Teal Sports Academy Puff Print Oversized Joggers
Black Oversized Boxy Sweatshirt
Sage Oversized Boxy Sweatshirt
Should I wear leggings on a long flight?
Whilst looser fitting clothes will feel more comfortable, leggings do still make it onto the long haul flight hit list. With this, just be sure your leggings are as loose as they can be (ensure they do not leave any marks on your skin).
Yoga pants are a great option if wanting the athleisure vibe of leggings but need a slightly looser fit.
Bone Seamless High Waist Flare Yoga Pants
Tall Charcoal Green Contour Sculpt Foldover Pants
Black Contour Sculpt Foldover Pant
Petite Grey Marl Cotton Fold Detail Flared Trousers
Don't forget your tote bag, perfect for packing all your airport essentials!
White Slogan Oversized Tote Bag
PRETTYLITTLETHING Cream Basic Tote
So, ready to shop the perfect airport outfit?
Loving these looks? Say yes to soft girl season.