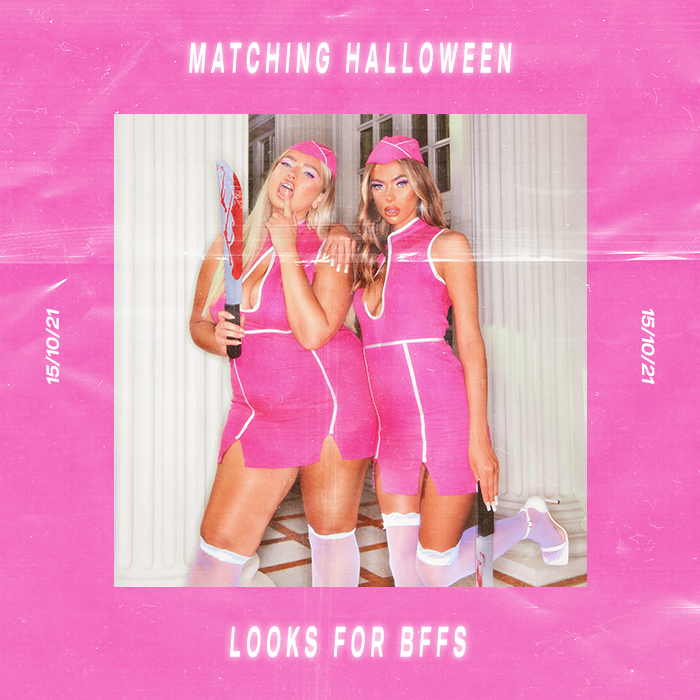 Struggling to think of a Halloween costume this year? We've got you gal.
Matching Halloween Looks For BFF's
Double up with your bestie for double the impact with a matching costume this Halloween.
Check out our favourite matching Halloween looks for BBFs that you can get right here at PLT.
From sexy costumes to fun and flirty fits, we've got your Halloween costume sorted gal!
Angel & Devil
Keep it simple with a classic angel and devil matching Halloween costume.
When it comes to BFFs, there's always a sweet one and a fiery one,
so dress to suit your personality type with this costume idea for a match made in heaven (or hell).
WHITE PU HALTERNECK BODYCON DRESS
Radiate that angel energy with this white pu halterneck cup detail bodycon dress for a sexy, feminine fit that will have all eyes on you.
Complete this all-white look with a feather halo and angel wings and you're ready to go gal!
Or if red is more your colour, grab this red vinyl cross neck unitard
and add a pair of devil horns for a fiery devil look that's sure to make a statement!
Cheer Squad
A cheerleader is the perfect easy Halloween costume that you and all your girlfriends
can go as together – the more the better! Live out your high school cheer fantasy with a cute
and preppy cheer costume that will have heads turning!
PRETTYLITTLETHING BLACK SEXY CHEERLEADER COSTUME
We're obsessed with this black pu cheerleader costume complete
with black pom poms and socks to complete the look.
Take this costume to the next level with some fake blood for a zombie cheerleader look!
Clueless
Go for a clueless moment this Halloween with our 90's inspired costumes for a cute,
preppy look we're loving! Pair up with your BFF and express your inner
Cher and Dionne in this matching Halloween costume.
PRETTYLITTLETHING YELLOW CHECK 90'S INSPIRED COSTUME
This Cher inspired look is perfect whatever your plans this Halloween.
With a matching yellow checked co-ord complete with beret,
this set is everything you need for the ultimate Halloween costume for you and your bestie!
PRETTYLITTLETHING BLACK & RED CHECK 90'S INSPIRED COSTUME
Complete the ultimate clueless duo costume with this black plaid skirt and
jacket with matching scrunchie and throw it back to the 90s in style!
Superheroes
Get in formation with your girl gang this Halloween with a sexy super hero costume.
This Halloween is all about girl power so gather up your gals and make an impression!
RED VINYL ZIP THROUGH RACER NECK ZIP UP CROP TOP
Choose your fighter with this vinyl co-ord which comes in a range of colours.
Go all out with a matching wig and white boots to finish off the look.
Saints & Sinners
This 2 pack saint & sinner bodysuit is made for the ultimate duo.
If you're in need of a quick costume for last minute Halloween plans this one's for you!
Just grab your bestie and accessories however you like.
Dress it up or keep it casual whatever your style, we've got you covered!
2 PACK MULTI SAINT & SINNER SLOGAN HIGH NECK BODYSUIT