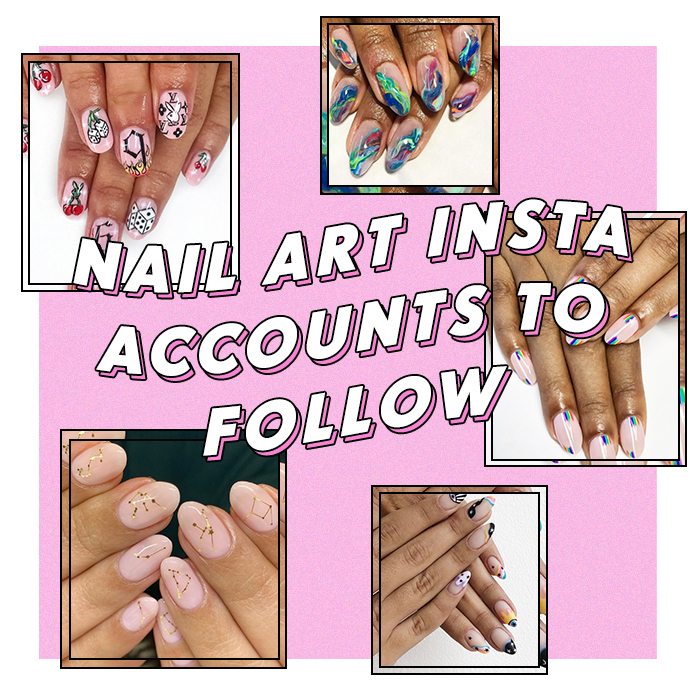 We are LIVING for funky finger nails right now.
Give your outfit a boujee finishing touch with coordinating or clashing talons.
Nail Art Insta Accounts to Follow
Whether you're looking for some super cool nailspo or you just wanna admire pure ART, here are the nail art Insta accounts you need to follow.
Simple yet so yummy. We are loving a subtle rainbow design against a baby pink base. Follow LA-based @bluesy_nails for some crazy good nail designs.
View this post on Instagram
Snakeprint NAILS, snakeprint EVERYTHING. These fuschia bad boys by @hardasnails.studio are something spesh.
View this post on Instagram
The dreamiest lil' agate design. Follow the super talented @paintedbycourtney and get ready to drool over some increddddible gel polish art, all hand painted. There's literally no design this gal can't do.
We stan.
View this post on Instagram
Manchester based @emily_meraki is the BOSS. After years of practice Emily has hailed an insane 31k Insta followers – and is it any wonder when her work is THIS good?!
Vegas anyone?
View this post on Instagram
From funky flames to tie-dye, evil eyes and astrology, @nailitmag has all the nailspo you need. Be sure to give them a follow for your super glossy, funky nail fix.
View this post on Instagram
For really, really, reeeeally nice nails, give these gals a follow. Sisters, authors and nail qweeens @heynicenails have mastered all nail art possibilities (including teeny tiny penises). We're here for it.
View this post on Instagram