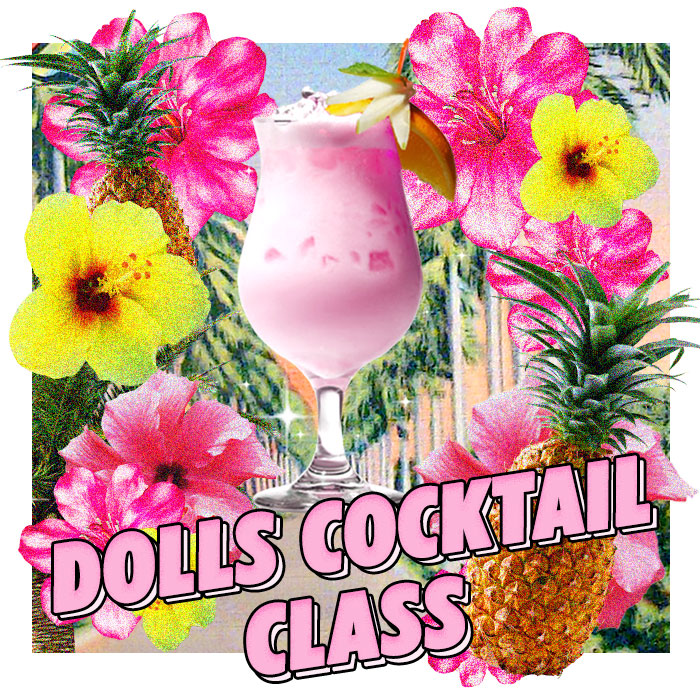 Yes, we know it's the beginning of the week and you're probably still recovering from the weekend, but this post is here to celebrate one of our fave days of the year, National Pina Colada Day!
PLT Dolls Do National Pina Colada Day
To honour this classic cocktail we mixed up our usual PLT Dolls dinner to a fun and fab cocktail class.
See below how our dolls got on and other twists on the classic Pina Colada recipe that are sure to take your taste buds to a tropical paradise.
First up, we asked our PLT Dolls Cindy, Effy and Chloe a few cocktail related questions…
What's your go-to cocktail to sip on when you're out out?
Cindy: Porn star no doubt.
Effy: I usually go for a tito's vodka soda! There's minimal sugar so the hangover isn't so bad, if I'm feeling adventurous I'll go for a spicy margarita.
Chloe: A classic Mojito.
Do you have a signature cocktail that you're really good at making at home?
Cindy: I have never made a cocktail  but I could probably do a Virgin Mojito…
Effy: You're more likely to catch me at home drinking wine straight out of the bottle. I'm a classy gal.
Chloe: A Strawberry Daiquiri!
If you were a cocktail what would you be and why? Tell us your cocktail name.
Cindy: My cocktail name would be called a "Sexy Cindy Lou" just because everyone calls me like that (very creative I know) and it'd be pink and full of berries – and vodka!
Effy: If I were a cocktail, I'd be a watermelon jalapeno vodka. I'm from Texas so I'd be called "The Yeehaw!
Chloe:  I'd be an island spice because they're spicy but sweet and I'm from a Caribbean island so it best described me.
4 Pina Colada Recipes To Try Now
If you like Pina Coladas and getting caught in the rain, then these twists on the tropical classic are what you've been waiting for:
#1 The PLT Classic Colada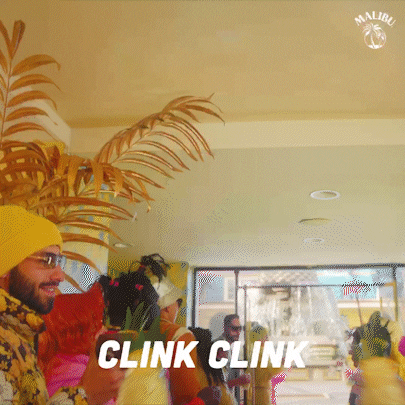 What you'll need:
6/7 frozen pineapple chunks
50ml of light rum
50ml of pineapple juice
1 tablespoon of coconut cream
How to make:

This drink is super easy and quick to do.
Throw all your ingredients into a blender and mix/let the blender do the work.
Once mixed to perfection, pour into a cute pineapple glass and garnish with all things pretty and pink.
#2 The Pina Colada Sangria
What you'll need:
750ml of white wine
2 cups of pineapple juice
1 cup of soda water
1/2 cup of coconut rum
How to make:
Pour your ingredients into a pitcher along with some maraschino cherries.
Refrigerate until chilled then garnish with a chunk of pineapple and voila you're ready to start sippin'!
#3 The Pina Colada Mimosa
What you'll need:

Coconut Rum
Bubbly
Pineapple juice.
How to make:
This one is down to you to make as tame or as strong as you'd like.
Pour all of the ingredients into a flute glass and stir.
Get fancy with the presentation and finish off with a sugar rim and garnish with fresh pineapples and maraschino cherries.
#4 The Pina Colada Mojito
What you'll need:
Fresh mint leaves
1 wedge of fresh lime
1 cup ice
2 teaspoons fresh lime juice
1/4 cup white rum
1/2 cup pineapple coconut juice
How to make:
First up, muddle the lime and mint in a tall glass – this basically means grind and mash the ingredients together to intensify the flavour.
Once done, fill your glass with your mixture and add ice.
Gently stir and garnish with mint if you're looking to impress.