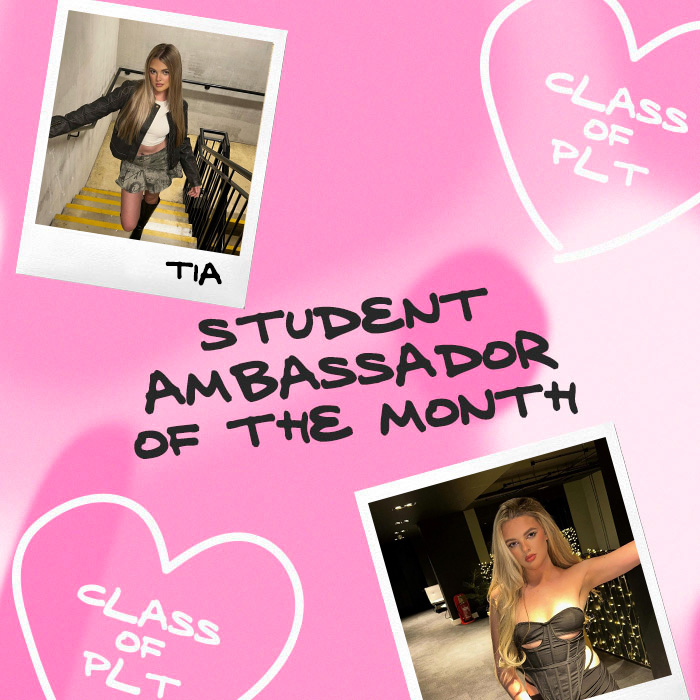 Each month we'll be catching up with our student ambassadors to talk all things student style, study tips and overall student life.
Today we're chatting with Manchester based student, Tia Lockey.
Hey Tia! Could you start by telling us a bit about yourself please?
Hi! I'm Tia Lockey, I'm 19 and I'm currently in my very first year of uni studying Media in Manchester!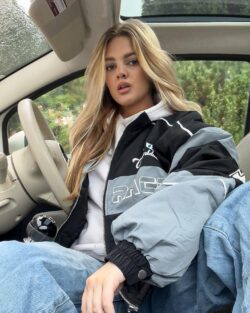 Do you have a 5 year plan, if so we'd love to hear all about it?
In five years time, the plan is to of course graduate university with a high grade, and hopefully stay in Manchester as I feel like the city is filled with opportunities!
I'd love to be in the marketing/media industry working behind a brand I love.
I'm also looking to get into the fashion modelling industry as soon as possible so PLT keep your eyes peeled for my CV in five years time…
How do you find the study/life balance?
At first I found the study/life balance quite difficult especially with being a first year student.
I definitely think the excitement of moving away and meeting new people took over a lot, I just wanted to be out my new friends all of the time during freshers!
However now that I've been here a little longer and the party phase has calmed down a little bit I'm slowly finding a good balance between the two.
Do you have any tips when it comes to meeting new people at uni?
One tip that really helped me to make friends when going to uni was joining specific Facebook groups for your university, course and accommodation before starting in September.
This helps you find your flat mates and people on your course, giving you the chance to get to know everyone a little more before moving, this really helped my nerves especially as I was going completely on my own!
I found some of my best friends and now flat mates by doing this and would recommend it to everyone.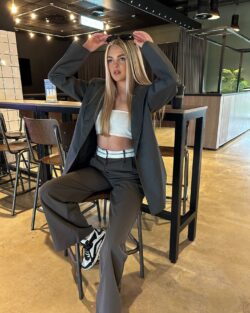 Let's talk study skills, are there any hacks you find helpful when revising?
Flashcards are definitely one of my favourite techniques when it comes to revising.
I also think the environment you're studying in matters a lot!
I'd definitely recommend studying in a library or a coffee shop as the atmosphere makes you more productive – I find it much easier to study here than my bedroom as I can get so distracted.
When it comes to student loan, are there any budgeting tips you've found extra helpful and think might help someone else?
Luckily I feel as though I've managed to look after my student loan very well!
I'd definitely recommend ALDI for your weekly food shop as you can get a lot for what you pay for due to their low prices and great value!
Definitely NEVER go on a food shop on an empty stomach too otherwise you're likely to buy things you don't even necessarily need just because you were hungry at the time (I learnt this the hard way 😌)
If you had to describe your student style in three words, what would they be?
If I had to describe my student style in three words I would say it's casual, comfy and streetwear.
I'm always either wearing a comfy sweater and jogger combo for those early morning lectures, or I'll be wearing cargo pants and a crop top for the days I want to dress up a little more!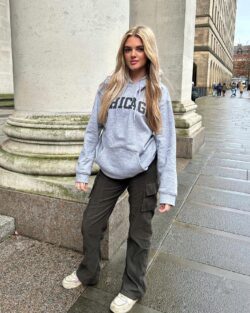 Let's talk looks!
Who would you say is your biggest style inspo?
My biggest style inspo celebrity wise is definitely Molly Mae!
I just love her neutral coloured Instagram feed and clothing, especially the PLT Renew collection she recently did a photoshoot for.
One of my favourite smaller influencers that I'll get inspiration from is Shannon Spalding.
I love her content and the fact she now gets invited to the likes of PLT HQ in Manchester now is such an inspiration as this is one of my goals for 2023 onwards!
With the switch in season, are there any trending you're loving right now?
I absolutely love the trending 'body print' outfits going around at the moment I think they're perfect for a rave/festival!
I'll definitely be purchasing the PLT body print co-ord in time for Parklife this year!
Multi Body Print High Leg Bodysuit & Multi Body Print Low Rise Micro Mini Skirt
Do you have a throw on and go outfit?
Maybe for those early morning lectures or chilled out days.
One throw on and go outfit I recently received from PLT is the RENEW Black Panel Detail Baseball Top paired with the RENEW Black Seam Detail Joggers.
I absolutely love this outfit it's so easy to just slip on and wear for those early morning lectures and chill days.
I've been wearing it non stop it's the comfiest outfit in the wardrobe at the minute!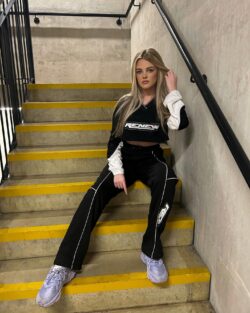 Shop Tia's Look
Is there an outfit that could take you from pre-drinks to bar effortlessly?
One that has you feeling your best self instantly.
You can never go wrong with a nice co-ord for a night out with your flat mates!
One co-ord I've been loving recently is the Petite Black Satin Corset Top With Diamante Straps
I feel like it's perfect for a night out and I love the added sparkly touch from the diamante straps and ties!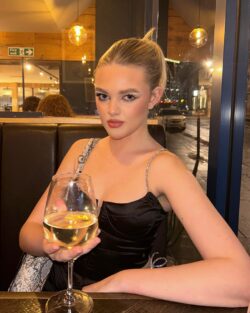 Get Tia's Look
Finally, do you have an ultimate fave 'fit?
Something you re-wear and re-style endlessly?
I am constantly re-wearing and re-styling different versions of the cargo pants and corset top combo!
My obsession for cargo pants and corset tops is unmatched I just absolutely love this style at the minute and will wear it for almost any occasion – my ride or die!
Shop Corset Tops | Shop Cargos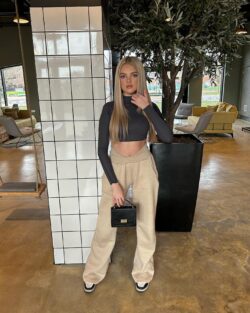 Stay up to date with Tia by following her on Instagram here.
Check out more student content onsite here.
All about the cargo trend? We got you!