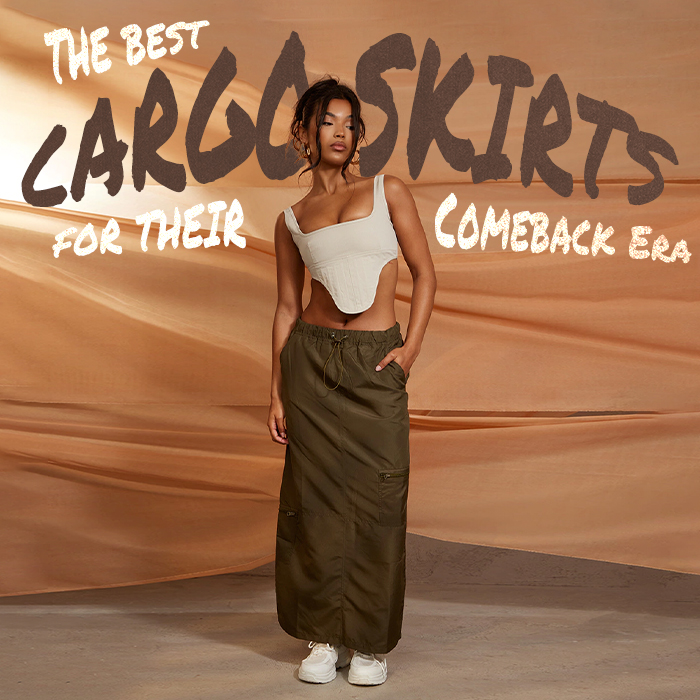 The return of 90s fashion and recycling of older trends has seen way to low rise jeans, cargo pants and now – cargo skirts.
Ranging in lengths, colourways and fabrics, cargo skirts are the perfect way to wear a skirt day-to-day, without the black-tie formality.
Practical, cool, effortless, (and about a zillion' pockets for holding your stuff!) – it isn't hard to see why cargo skirts are a must-have wardrobe staple.
So here's our top 5, go-to cargo skirt styles.
1. Micro Mini Skirts
If mini skirts are your thing, we've got the perfect cargo fit for you.
We're obsessed with the Mocha Cargo Pocket Detail Micro Mini Skirt.
Coming into spring, this is the perfect fit to wear with trainers, a tee and a jacket for street-style daytime vibes. Not feeling the warmer weather yet? Don't worry.
You can always layer it up with tights, boots and a cosy knit for a more wearable look during that awkward transition period.
Mocha Cargo Pocket Detail Micro Mini Skirt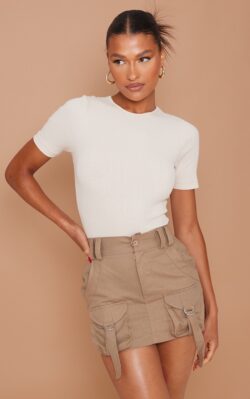 2. The Midaxi
Midi skirts are the elite transitional piece.
Cool, chic and comfy – there's no way you can't look like a 90s fashion icon when you sport a midaxi cargo.
Style with lace-up combat boots & sunnies for that authentic army look.
Khaki Parachute Ruched Side Midaxi Cargo Skirt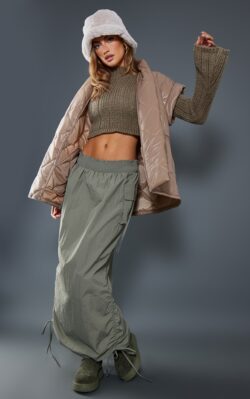 3. The Full-On Maxi
Newsflash: Maxi skirts are all the rave for 2023.
But add cargo into the mix, and you're going to score some serious style points.
Not only that, but the ankle-length style is also a practical way to stay warm on cooler days.
Black Parachute Seam Detail Maxi Cargo Skirt
4. The Leather Look
Cargo skirts don't have to be limited to nylon.
Instead – get your hands on a leather look style to support the trend from afar.
Faux leather is also a great way to dress up a more traditionally casual piece.
Pair with strappy heels and a cropped blazer for your own unique take on army glam.
Khaki Faux Leather Cargo Micro Mini Skirt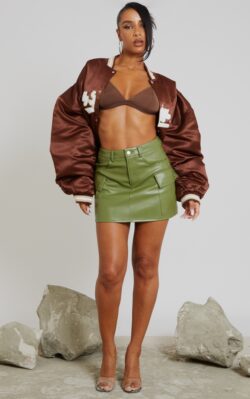 5. Denim Cargo
Tip: If you want to avoid the army type look, go with a textured skirt that has fewer pockets.
A denim midi is a great way to go. We love the Stone Cargo Pocket Front Split Denim Midi Skirt.
The split adds not only a fashion statement, but also makes it comfy for walking.
Plus, denim midis are another raging fashion trend ATM – but that's a whole other blog post!
Stone Cargo Pocket Front Split Denim Midi Skirt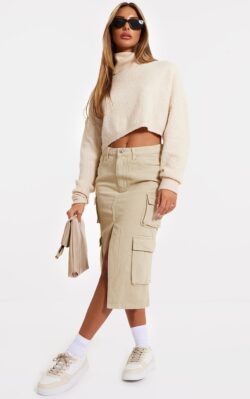 Loving the cargo skirt trend?
All about a trend led look? Check out schoolcore!