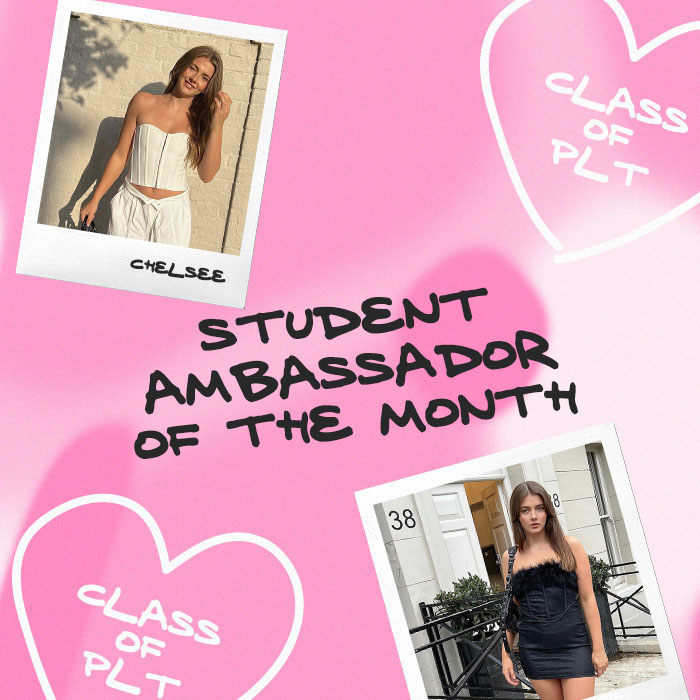 Each month we'll be catching up with our student ambassadors to talk all things student style, study tips and overall student life. Today we're chatting with UK nursing student, Chelsee Keenan!
Hey Chelsee, could you start by telling us a bit about yourself please?
Hey, my name is Chelsee, I'm 20 and from Suffolk.
I am now in my final year of university, studying Adult Nursing at the University of East Anglia. I will then go onto to completing a Facial Aesthetics course, alongside nursing, after gaining a lot of experience within this career.
I have been doing Instagram for over 2 years as a hobby, furthering my interest in the fashion industry. I would love for it to grow further in the future by staying consistent with posting and using other platforms like TikTok and YouTube to help with growth and furthering my inspiration.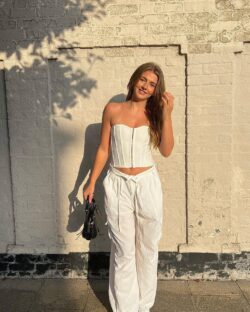 With the new year we're all about setting goals, do you have anything you'll be working towards in 2023?
I have made a goal to stay consistent with the gym after being so demotivated in 2022, as the gym/sport has always been a big hobby of my own.
I'm hoping to travel more this year, move into my own home after I have graduated and save a lot more money so I am ready to move out.
I'd also love to do a lot more for my YouTube and other social media platforms.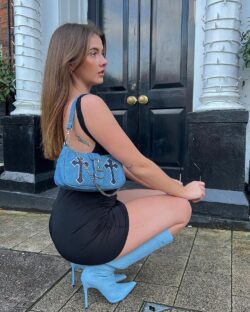 How about a 5 year plan? Or are you more of a "see what happens" kind of vibe?
I am definitely a see what happens kind of person, see where the future takes me.
How do you find the study/life balance?
I actually struggle so much with it, as I am not academic at all and I'm so lucky to have gotten as far as I have with the course.
I'll be honest, I am very last minute when it comes to assignments and am not very good with time management, but I do always get the work done on time!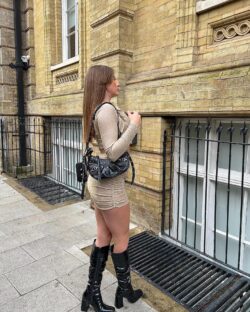 Are there any study tips you'd love to share with our blog readers?
From experience of struggling with studying, my advice would be to start your assignments when you first get them and do not leave them till last minute, as it is too stressful and you tend to forget all the key information by the time you need to hand it in. I tend to rush my assignments, which can have an affect on your overall grade. So, if you're wanting high grades, start earlier than the week before it's due in!
Do you have any advice on meeting new people/making new friends?
My advice is to just be yourself and be confident when introducing yourself.
I'm speaking from someone who isn't that good at this at all, but when I have met new people within uni, I have always just been myself.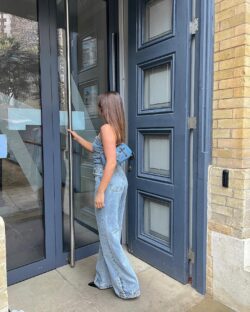 Let's talk looks, how would you describe your student style?
Very casual and comfy 100%. Ribbed leggings, oversized jumpers/hoodies, tracksuits.
I definitely recommend buying the Structured Contour Rib Leggings, they go with everything and are so easy to put on if you don't know what to wear!
Is there a fashion trend you're loving at the moment?
During December I loved the glitter trend for sparkle season!
I love half zip jumpers, knee high boots and parachute cargos.
I'm especially loving these knee high boots ATM and have been wearing them all the time for nights out. You can't go wrong with a black pair of knee high boots!
Black High Block Heel Croc Knee High Boots
Ok, you're heading to class (think Monday morning vibes), what you wearing?
Definitely a tracksuit, can't go wrong! I have recently purchased the PLT Label Sand Sports Academy Puff Print Oversized Hoodie &  PLT Label Sand Sports Academy Puff Print Oversized Joggers.
I love it! Definitely a staple for the winter season.
What about weekend vibes – do you have a go-to night out look you love?
It depends on if I go into the city or if I stay in my home town. I don't usually dress up too much in my home town, but I do like to always be a little extra.
I don't have a specific outfit choice, but I do love mini dresses/mini skirts with corsets/cropped blazers. I tend to style them with knee high heeled boots or heels/mules.
If you had to pick just one social platform, which would be your fave?
Instagram would be my top pick social media platform. I feel like I can be myself on there, and post all my favourite outfit choices, as well as videos/reels.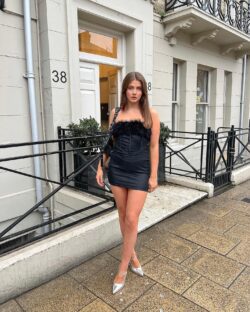 What are your top 3 picks off the PLT website right now?
This is a hard one as I save so many pieces daily, I'm loving this corset. I'd say corsets are a staple in my night out wardrobe ATM.
You cannot go wrong with this structured one. It goes with absolutely anything, skirts, shorts, trousers plus there's SO many colours to choose from!
Black Bandage Hook And Eye Structured Corset
This unitard I have just received and the quality of it is unreal! There's so many places you can wear this as well as endless ways you can wear it!
Can style it up with heeled knee high boots and a cropped blazer, wear it for the gym, or just a casual day with some chunky knee high boots and leather jacket or big coat.
Oatmeal Acid Wash Seamless Mini Gym Unitard
I absolutely love this co-ord and I am still yet to purchase this! Will be unreal for a night out or a bottomless brunch.
You cannot go wrong with a good skirt and corset co ord. You can wear this with heeled knee high boots or normal heels/mules and a nice bag.
Shape Stone Lace Up Back Woven Corset
& Shape Stone Woven Micro Mini Skirt
You can follow Chelsee on Instagram here.
Check out more student content onsite here.
All about casual looks for January? Check this out!