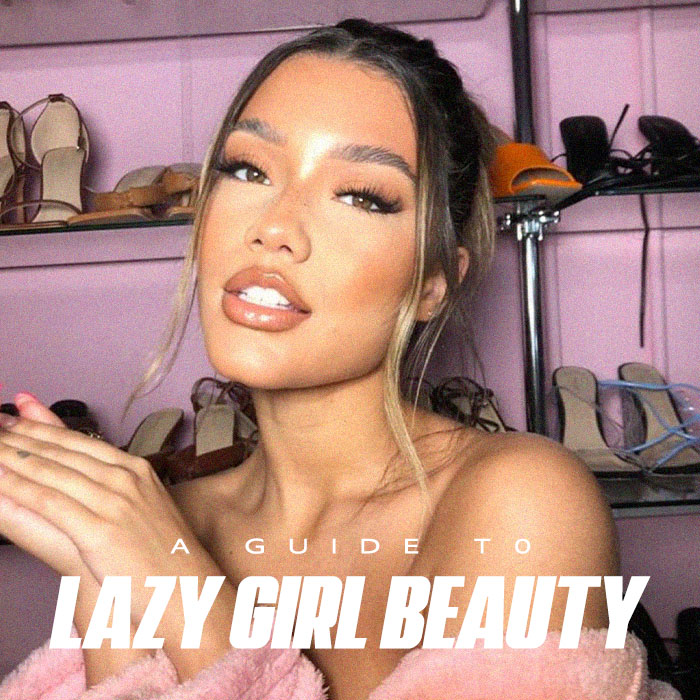 Ready to reset your routine for 2023? Natural, fresh-faced beauty is SO in and we could not be happier.
Gone are the days of a twenty step makeup routine all before 7am!
The lazy girl beauty TikTok trend is proving just how easy it is to look put together, minus the prep.
Think minimum effort yet still feeling your best self on the daily.
SPF
First things first, no matter how relaxed the new beauty regime, we never skip the SPF.
If it's the only thing you use daily, SPF is key when it comes to skincare.
Find out more about why this is a holy grail in our routine here.
Safe skin, we see you!
PRETTYLITTLETHING SPF 30 Face & Body Cream 100ml
Revolution Pro Protect Soft Focus Primer SPF 50
Face Tanning
If you're all about the flawless fake tan but simply don't have it in your to re-do a full tanning routine multiple times throughout the week then tanning drops might be your new bestie.
Molly-Mae's Filter has quickly become a fake tan go-to, seriously if you haven't tried it yet then you're missing out.
Once your base tan is applied (one or two layers of the tanning mousse) then you can simply keep the dreamy flawless tan in tact by adding a few drops of the tanning serum to your daily moisturiser.
This can be done morning or night meaning no additional steps to your beauty routine, yet you'll be serving golden goddess goals day in, day out.
Absolute gamechanger!
Filter by Molly Mae Tanning Drops & Medium Tanning Mousse Bundle
A Flush Of Colour
Skin tint is another easy option when wanting the 'your skin but better' kinda vibe.
With lightweight coverage that simply evens out skin tone, the Pixi H2O Skintint is perfect for everyday.
Complete the look with a smooth sweep of their On-The-Glow Bronzer and you're set.
Overslept and had to do your makeup on the train to work? Nobody will EVER know when your products are this effortless!
Pixi Makeup H2O Skintint Chestnut
Pixi On-The-Glow Bronze Beach Glow
Blush
If blush is your go-to then of course you won't want to skip it.
Meet the Revolution Fast Base Blush! Add a flush of colour to your skin in actual seconds.
Not only is it blendable and buildable but it can also be used on lips too – an essential in your everyday makeup bag.
Makeup Revolution Fast Base Blush Stick Spice
Makeup Revolution Fast Base Blush Stick Mauve
Soap Brows
If you've not yet jumped on the soap brow hype then what are you waiting for?
Soap brows spiked during summer thanks to them being lightweight, effortless and perfect for summer days when you simply CBA.
The iconic trend has stuck around we we could not be more grateful!
Simply spritz the soap gel, run your spoolie then sweep your brows, it's that easy!
Plus with the WBCo products, you can find the exact style of brow soap to suit you. From extra firm hold to tinted, the options are endless.
Setting Spray
Of course a setting spray has got to be in your lazy girl beauty bag.
Whether you're applying to a completely fresh face for a hint of hydration or want to set your no makeup, makeup look in place to ensure it stays all day – a setting spray is a must.
PRETTYLITTLETHING Dewy Setting Spray
PRETTYLITTLETHING Mattifying Setting Spray
Nude Lip
You guessed it, the classic nude lip. Think your natural lip shade but better!
Opt for a effortless matte lip crème that's guaranteed to bring a little extra to your everyday pout.
NYX PMU Smooth Whip Matte Lip Cream Laundry Day
Makeup Revolution IRL Whipped Lip Crème Chai Nude
Clean Girl Hair
If like us, you absolutely love the clean girl inspired hairstyles then you're not going to want to miss this.
The sleek bun with a hair mask is honestly the ultimate TikTok trend we never knew we needed!
Slick your hair to that iconic clean girl inspired bun but simply replace any gel or hairspray with a hair mask instead.
You'll still achieve the effortless everyday hairstyle but your hair will be feeling next level once washed off.
Hair masking on the regular has never been easier.
Beauty Works Restore Mask 100ml
Beauty Works Brass Banish 5 Minute Mask
So, ready to revamp your beauty routine?
Shop all beauty products at PrettyLittleThing here.
If you love the effortless beauty trends then you won't want to miss this!