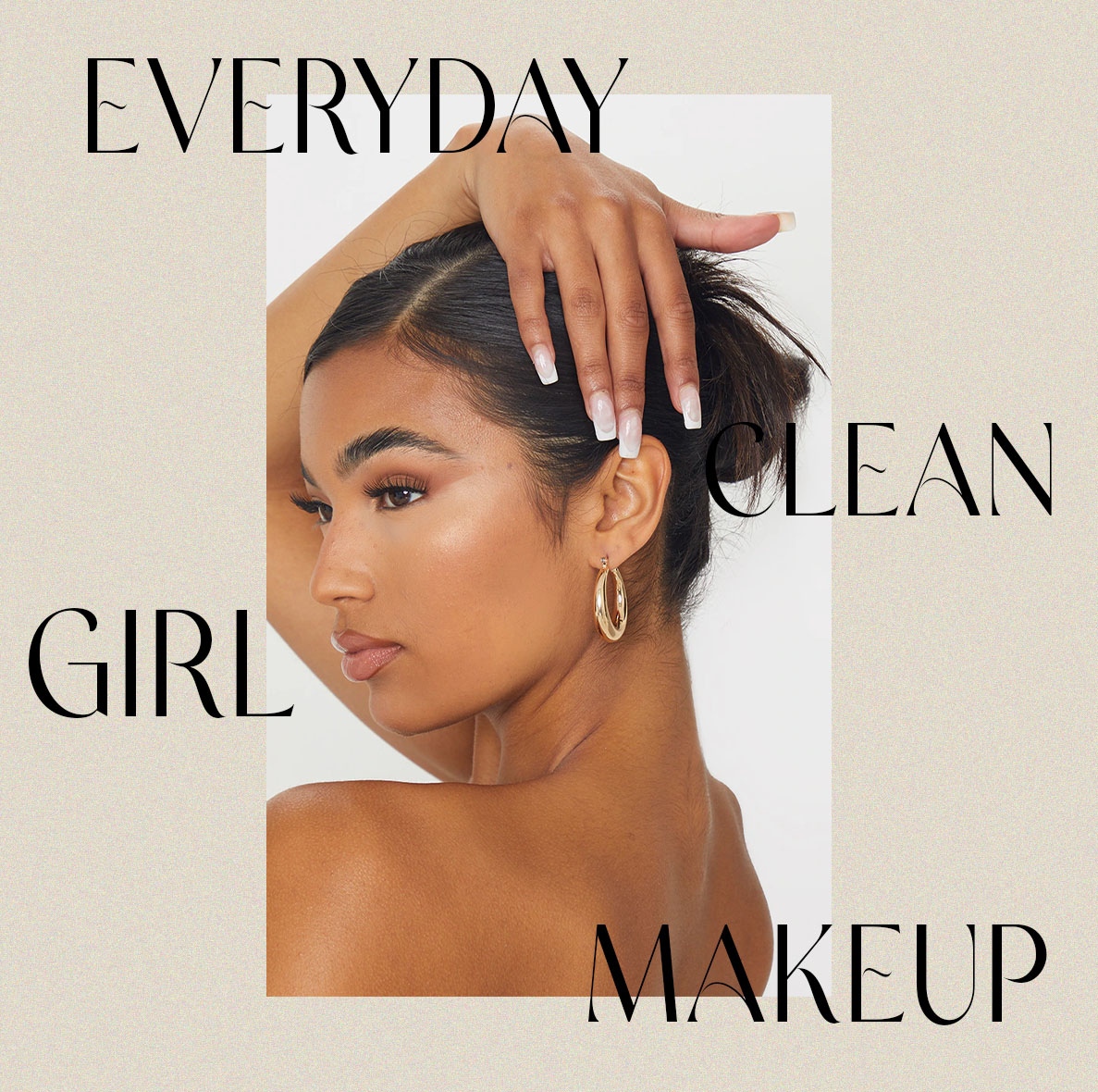 Clean girl aesthetic is a must-have and of course that covers beauty too.
Here on the PrettyLittleThing blog we're bringing you clean girl inspo on the regular with posts covering everything from fashion trends to beauty.
We can confirm, achieving the viral TikTok trend of clean girl aesthetic is easier than ever!
Today is all about beauty products that are an essential in your clean girl inspired beauty bag.
Think glowy skin, bushy brows and no makeup, make up.
This is everyday clean girl beauty.
The whole vibe of clean girl aesthetic is essentially a lifestyle.
You're the girl who has got her morning routine sorted and of course has time to stop off for her morning coffee too!
Major goals.
So, what actually is clean girl beauty?
The clean girl look is very minimal, it's all about fresh face feels which requires a next level skincare routine.
Think dewy minimal skin base, sun kissed blush, glass-like lips and of course, feathered brows.
We've rounded up our top beauty picks from the PLT site that will have you covered when it comes to clean girl beauty.
The Ultimate Clean Girl Skincare Routine
It all starts with the prep so of course, skincare comes first.
Exfoliate
Once cleansed, use an exfoliating toner or treatment to sweep any dull cells away.
A blend of lactic and glycolic acid will be perfect for this.
Layer
Hydration is key, just be sure to take your time and layer your products.
Apply each product in order from thinnest to thickest.
Be sure to allow each layer enough time to absorb and settle – we aren't about the dreaded "pilling" effect.
SPF
As always, SPF should be an essential in your skincare routine.
Wanna go for the glow?
We LOVE the following for a certified glow.
Simply add them into your weekly routine for glass-like high shine skin.
Literally obsessed!
PRETTYLITTLETHING Enzyme Glow Face Scrub 100ml
Pixi Best of Bright 3 Step Skincare Kit
Read more skincare advice here.
Clean Girl Makeup
Now your skincare is sorted, let's talk makeup!
Skin
Flawless Base
The clean girl beauty trend requires skin that looks like skin.
Something lightweight such as a skin tint works perfectly for this.
We love the Iconic Blurring Skin Tint as a dewy finish is also a must!
Iconic London Super Smoother Blurring Skin Tint
Liquid Blush & Bronzer
A light flush of colour instead of a fully contoured look is the clean girl vibe.
Achieve the look with the Makeup Revolution's Super Dewy Liquid Blush and Iconic London's Sheer Bronze.
Easy yet effective!
Makeup Revolution Superdewy Liquid Blusher Blush Me Up
Iconic London Sheer Bronze Caramel Glow 12.5ml
On the go?
Try out the Pixi On-The-Glow Bronzer!
Pixi On-The-Glow Bronze Warm Glow
Feathered Eyebrows
Achieving the feathered brows look is easier than you may think.
WBCo Soap Brows are an absolute gamechanger when it comes to the fluffy brow look.
We shared a easy soap brow tutorial here, as well as talking through each of the products.
A major must-have in your clean girl makeup bag.
WBCo Soap Brows | WBCo Soap Brows Extra Strong
Brows in need of a boost?
Glossy Lips
A glass-like lip is the finishing touch to perfect the clean girl beauty look.
Some of our fave beauty products to achieve this easy lip look include:
Project Lip Plump & Gloss Collagen Lip Plumper Tingle
NYX PMU Butter Lip Gloss Clear
If wanting just a hint of colour opt for a NYX Butter Gloss in shade Creme Brulee or Butterscotch.
Perfect for all day, everyday.
NYX PMU Butter Gloss Creme Brulee
NYX PMU Makeup Butter Lip Gloss Butterscotch
Setting Spray 
Prep to hold your dreamy dewy look all day with a setting spray.
Sleek MakeUP Lifeproof Illuminating Fixing Mist
Shop all clean girl approved beauty onsite here.
All for the full look? We got you!
Loving the clean girl series? Check out how to style basics effortlessly.