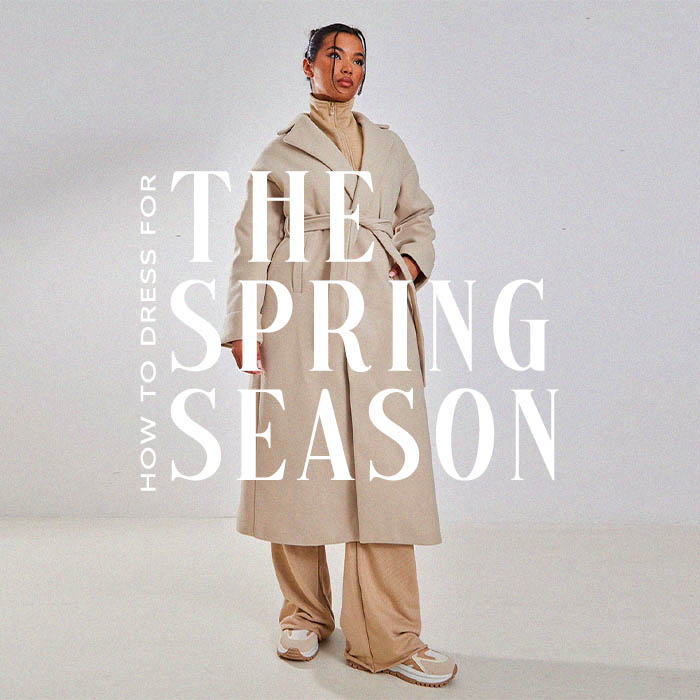 Spring fashion is in sight and we're bringing all the spring outfit ideas!
Say cya to any what to wear dilemmas as this PLT blog post has everything you need when it comes to knowing what to wear in spring.
Let's start with the best trends for spring 2023.
Of course as with all seasons we have our go-to fave looks but teaming trends to your everyday look means you can revamp your wardrobe in seconds.
Here's our top five spring fashion trends 2023:
Oversized Everything 
In particular, baggy jeans and even baggier more oversized blazers and trench coats.
Midi & Maxi Lengths
Denim maxi skirts, need we say more? This trend isn't going anywhere fast (thankfully).
Midi and maxi cargo skirts are of course on our hitlist too!
Balletcore 
This dreamy trend is of course continuing for the spring season.
However, let's discus the trend of teaming heavy duty faux leather with romantic balletcore pieces.
The spring fashion addition we never knew we needed. OBSESSED!
Motocross, we see you.
Bubble Dresses
We're shocked too, but the return of bubble skirts and bubble hem dresses is official.
Perfect if you're searching for a spring wedding outfit.
Acid Green
New take on neon, bright and bold acid green is going to be big in 2023.
Why not start by adding a pop of lime green to your look with eye catching accessories.
Next up, prep your spring staples.
Make way for effortless dressing with a capsule wardrobe of easy throw on and go staple pieces.
You know the vibe, neutrals, casual athleisure and of course, the classic white t-shirt.
Rotational dressing is where it's at this spring.
Now for spring certified pieces. We're talking skirts, skorts, jumpsuits and playsuits.
We're answering some of your most searched questions when it comes to these spring wardrobe must-haves.
What is the difference between a skirt and a skort?
The difference between a skirt and a skort is how a skort has the addition of shorts added to a classic skirt style.
Skorts usually look like a classic skirt from the front but shorts from the back.
It's essentially a skirt and a pair of shorts combined to make, you guessed it… a skort!
What defines a slip dress?
A slip dress tends to be cut on the bias of the fabric meaning there is a natural drape to the dress.
Most slip or shift dresses tend to have spaghetti strap features and are made using luxe satin fabrics.
If fitted but not too fitted is your vibe then a slip dress is the one for you.
What is the difference between jumpsuits and playsuits?
The key difference is the leg length (and sometimes sleeve length).
Playsuits for women are usually shorts compared to jumpsuits which have a full length trouser.
Whatever your style, both playsuits and jumpsuits are not only effortless to style but make for the perfect spring 'fit.
Finally, the most searched question when it comes to spring fashion!
What dresses to wear to the races?
Whilst we all imagine race day with the sun shining down on us, we know this isn't always the case.
Get set to banish the question of what do you wear to the 2023 races? As these PLT looks will have your race day outfit covered.
Here's our top three picks when it comes to dresses for the races:
Take the corset trend to the track with this dreamy bodycon dress.
Simply add a oversized black blazer if needing to layer up your look.
Florals are a failsafe option when it comes to race day dressing.
Say yes to this red and pink floral combo. Dark denim would also look unreal paired with this outfit.
*adds a cropped denim jacket to bag*
This cut out bodycon is not only timeless but could be restyled endlessly.
From the races to sipping cocktails on holiday – what more could we want from a PLT dress?
Not feeling dresses for your race day outfit? No stress!
Here's three next level looks that'll have you feeling nothing short of amazing come race day.
Cream satin crop top and mini skirt co-ord – iconic.
Simply add bold accessories if wanting to bring the spring time feels!
Add a pop of pastel to your look.
This three piece all blue suit co-ord is ticking all the boxes!
Team with pink accessories to complete your OOTD.
If classic and chic is your vibe then this jumpsuit is an essential.
Wear with all black accessories and Hollywood inspired up-do.
Loving the spring trends?