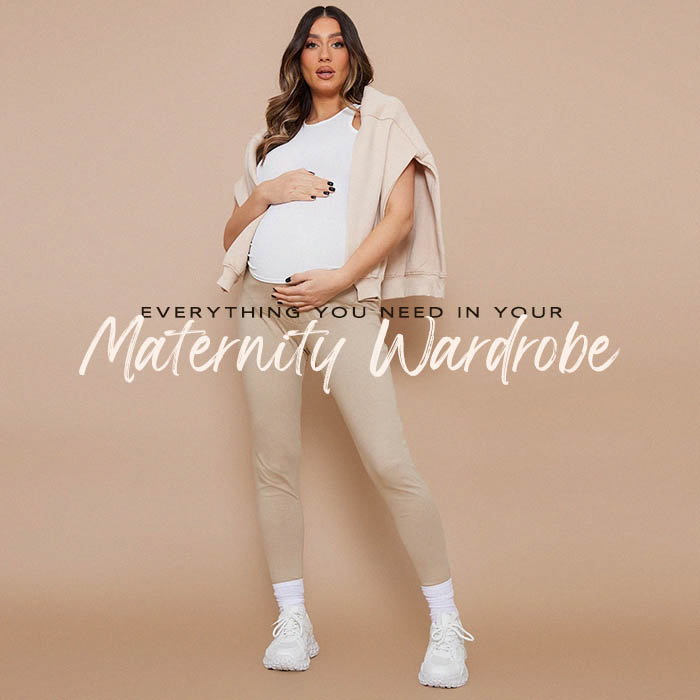 Whether you're worried about loosing your personal style, or just need a starting point when it comes to what maternity clothing to buy. This PLT post will have you covered with everything you need in your maternity wardrobe.
Long gone are the days of struggling to find fashionable maternity outfits, here at PrettyLittleThing we have you mamas-to-be covered.
From maternity cargo trousers to everyday basics such as bodysuits, leggings and jeans.
No matter your maternity vibe, these looks will have you feeling as comfortable and confident as can be.
So, let's get into it… What month do you start wearing maternity clothes?
Whilst this all depends on your individual pregnancy most tend to wear their normal clothes for the first trimester (3 months), although you may need to size up slightly.
From then, it's a good idea to start with just a few maternity staples and slowly add to your maternity wardrobe throughout your pregnancy.
This is mainly as your body will continue to grow and change so by staggering out your maternity buys, you'll be able to make comfort a priority.
When you start wearing maternity clothing will also depend on when you announce your exciting news. Once ready, get set to show off that bump!
Unsure where to start? We got you.
Here's our top five maternity must-haves:
Black maternity leggings.
We can confirm these are going to become your everyday go-to.
Maternity jeans.
Denim is a forever must-have so why would it be any different when pregnant?
Oversized tops and sweatshirts.
Opt for neutrals colours you can restyle and rewear repeatedly.
Maternity dresses.
The options are endless meaning you'll have no trouble in finding a maternity dress to suit your style or the season.
Maternity underwear.
This needs to be breathable, soft and supportive.
Now essentials are covered, let's answer some of the most search questions when it comes to maternity clothing.
When should I start wearing maternity jeans?
Similar to the above, this will depend on your personal pregnancy however it's good to have at least one pair of maternity jeans for when you're ready.
Knowing when to start wearing them will be down to your comfort levels, why not start by simply undoing the top button of your regular go-to jeans and use the classic hairband hack to add a inch or two? Once this starts to feel a bit tight, switch to maternity trousers or jeans.
Here at PrettyLittleThing we have all jean options and fits, just with the added (bump-approved) jersey or elastane fabric. Maternity denim made easy!
Maternity True Black Skinny Jeans
Maternity Blue Straight Leg Split Hem Jeans
Where should I buy maternity trousers?
PLT of course!
Whilst it can be a struggle to maintain your personal style when pregnant the maternity clothing options we have onsite make it easier than ever.
Whether you're all about the cargo trouser trend or are loving a flared fit – we guarantee we'll have a pair of maternity trousers to suit you.
Maternity Black Elasticated Pocket Cargo Trousers
Maternity Charcoal Cargo Pocket Detail Elasticated Trousers
Maternity Oatmeal Knitted Button Detail High Waisted Flare Trousers
Maternity Stone Ruched Bump Wide Leg Trousers
What are the best maternity leggings?
This depends on what you're wanting from your maternity leggings.
Is it compression for extra support and comfort whilst moving? Or, a more relaxed fit to lounge in?
Maternity leggings should feel supportive but never too tight or restrictive, this applies to both under-the-bump and over-the-bump leggings.
Not only are maternity leggings perfect for daily dressing, comfort levels are confirmed as they tend to adapt as and when your body changes.
Effortless maternity dressing done right!
Maternity Black Bump Support Leggings
Maternity Khaki Soft Touch Jersey Leggings
Maternity Slate Contour Ribbed Leggings
Maternity Light Grey Soft Touch Split Hem Leggings
Can you wear a regular maxi dress while pregnant?
Of course! That said, there are many options when it comes to maternity specific maxi dresses.
A maternity maxi dress will usually be made with a more stretchy fabric or have ruched detailing for a bump approved fit.
Of course we have a collection of next level maternity maxi dresses here at PrettyLittleThing.
Perfect to dress up for baby shower celebrations or keep casual for everyday dressing.
Maternity Black Strappy Knitted Dress
Maternity Oatmeal Ribbed Polo Neck Maxi Dress
Want to ensure all eyes are on you and bump at an upcoming occasion?
This plisse maternity dress is a must-have!
Maternity Green Plisse Maxi Dress
Or if you'd prefer to keep it more timeless for maternity occasionwear, opt for lace textures or a timeless black maternity dress. Extra yet effortless!
Maternity Chocolate Flocked Ruched Cowl Neck Midiaxi Dress
Maternity Black Slinky One Shoulder Maxi Dress
Questioning which maternity basics will work best with your existing wardrobe?
We got you!
Anything floaty will be perfect when pregnant alongside the more off-duty looks.
Oversized is key so be sure to still style up your fave oversized blazers, trench coats and of course, cycling shorts for the warmer months.
If wanting to show off the bump, opt for athleisure, in particular – fitted unitards.
Maternity Oatmeal Jersey Stirrup Jumpsuit
Maternity Black Bust Detail Ribbed Knitted Fitted Jumpsuit
Maternity Charcoal Bump Support Leggings
Finally, here are five top tips to keep in mind when creating a maternity wardrobe:
Say yes to all things stretchy.
Figure out what you already have, then add maternity pieces in.
Think about clothes that will work post-partum too, maternity leggings and loungewear – we're looking at you.
Make maternity clothing work for you and your lifestyle, if still heading into the office or hitting up the gym – ensure comfort is key.
Enjoy it! Make the most of maternity dressing, this is one of the most exciting times of your life.
Go get it PrettyLittleMama!
Shopping for baby homeware?