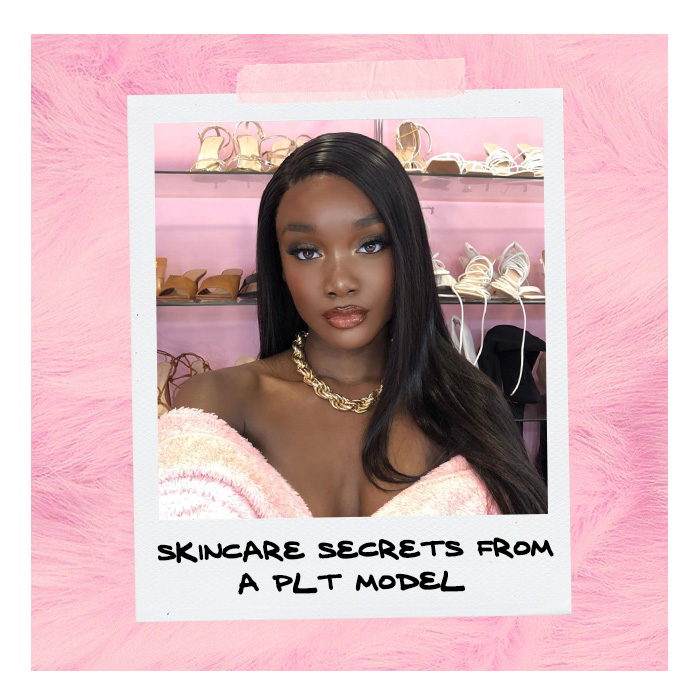 Skincare Secrets With Altou Mvuama
Want supermodel skin? Come behind the scenes with PLT model Altou Mvuama as she shares her go-to skincare routine for glowy, close-up ready skin.
Prep & Prime
Cleanse Good skin starts with the perfect, prepped base. I usually start with a peppermint daily cleanser to wash any impurities away and wake my skin up.
Hydrate I'll then follow with a hyaluronic acid serum, this is a super hydrating serum which is anti-aging, anti-inflammatory, firming and hydrating. This serum is perfect for literally any skin type.
Moisturise After letting my serum set in, I'll then apply a cream all over my face and neck which helps with skin suppleness and elasticity.
Lips To create the perfect pout, I'll apply a super nourishing lip oil. Q&A Lip Oil has natural plumping properties to help give you that perfect pout.
Daily Regime
Cleanse I'll use the Q&A peppermint cleanser to freshen up my skin in the morning and clear away any dirt or debris.
Tone I then use a niacinamide toner to help even out skin tone, target blemishes and smooth out fine lines.
Serum My go-to hydrator is hyaluronic acid serum. It keeps my skin healthy looking and rejuvenated.
Moisturise For my daily face cream I use a ginger root moisturiser which is packed with natural actives and makes my skin feel nourished and ready for the day.
Lips I finish off my daily skincare routine with Q&A liquorice lip oil.
Night Regime
Cleanse I remove the day's makeup and debris with Q&A peppermint cleanser.
Mask Once I've removed all my makeup and my skin is clean, I'll an activated charcoal mask, this helps draw out any impurities from the skin that a cleanser might miss. This makes my skin feel super clean and pure.
Tone I'll then tone with the niacinamide toner to help target any blemishes and even out skin tone.
Serum At night, I'll use two different serums, a Zinc PCA facial serum and a caffeine under-eye serum. Zinc helps reduce the look and blemishes and caffeine helps target under-eye puffiness.
Moisturise Finally I'll moisturise with a collagen face cream to help improve skin firmness and suppleness.