Summer is in full swing and that means one thing to us; holiday season! If you're counting down the days to that long overdue vacay or just waiting for that weekend break with your significant other, let's get the holiday feel good vibes going as we talk all things vacays.
Talking Vacays With PLT Sorority's Shunnay
We caught up with PLT Sorority babe Shunnay to talk what to pack wherever the destination, holiday style icons and dream places to jet off.
What 5 pieces do you always need to have in your suitcase?
A stylish pair of sunnies and bikini are must haves for me. Then it would be my three basics, crop top, denim shorts and sliders.
What are your do's and don'ts when it comes to holiday packing or generally what to wear on holiday?
My friends will agree I am a NIGHTMARE packer! I will pack enough for a month when we're only going away for a week. So DO pack with your gals they'll keep you under your limits and DON'T leave it till last minute write a checklist before packing and be organised!
Do you have any smart packing tips?
I always pack one day and one night outfit in my hand luggage so that I'd have at least 2 outfits of my own if my suitcase ever went missing.
Which celeb/influencer is your holiday style icon?
Sarah Ashcroft is hand down my ultimate holiday inspo! I can spend hours watching her travel vlogs and her outfits are always insane!
Is your holiday mode more beach bum or culture vulture out to see the sights?
I'm really between the two! I have really bad F.O.M.O (Fear Of Missing Out) so I'm always up for new experiences!
Do you have a fave holiday memory?
Honestly, with my girls, it's hard to pinpoint just one good memory! We have enough for a lifetime, I just wish there was someone there to catch all of our antics on camera haha!
Any holiday disaster stories?
I went down a huge slide at a water park on holiday once and when I came out at the bottom I was so concentrated on the hair and water in my eyes that I hadn't noticed my bikini top had come away and the lifeguard saw everything! So embarrassing!
What would be your dream holiday destination?
My dream beach destination is Bali it looks so relaxing and beautiful but being a dancer I've also always wanted to spend a summer in la training and networking that itself would be a perf getaway for me!
What would you pack for a beach, city break or festival holiday?
I like having my basics on a beach holiday but got to have my fluffy sliders in there showing I'm a little bit extra haha! I love bikinis with cutouts that are a little bit different so you can stand out and always dress them up for pool/ boat parties.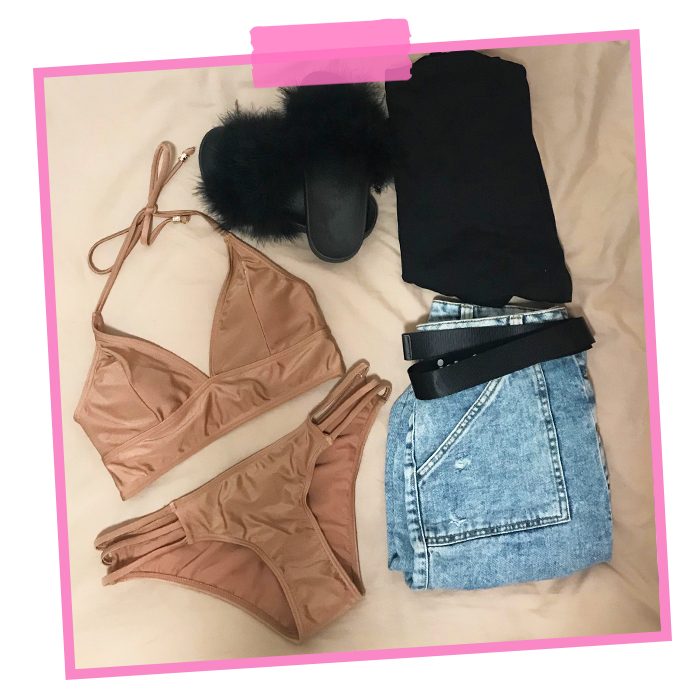 I like dressing in basics to go sightseeing and have comfy clothes for daytime activities but the oversized sunnies and bold prints here still reflect my style while staying practical. On a city break I love to go to nice bars and restaurants and love a great excuse to dress up, up! So I'd pack my best dress and go a little bit extra for the gram with this one!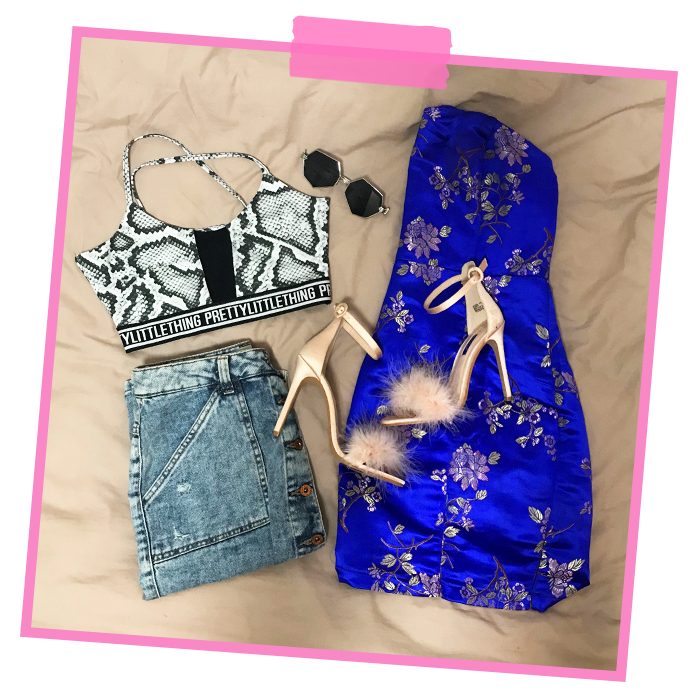 This is my fav look, the festival look! I have quite an edgy style so here I have a black plunge crop with black distressed high waisted shorts teamed with bold accessories and killer heels. I love these slimline sunnies, they're so stylish yet understated. This is the type of outfit that would really have me feeling myself.