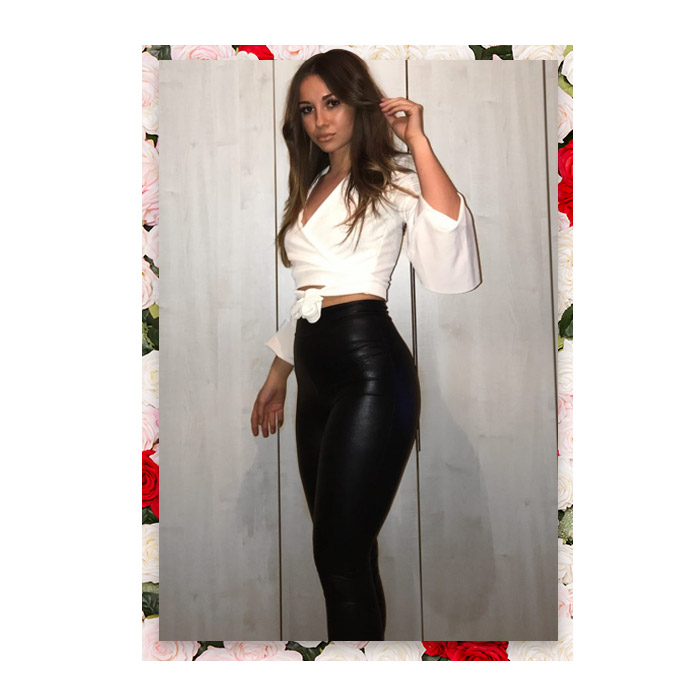 We rounded up our PLT Sorority babes to talk all things matters of the heart for Valentine's Day.
Talking Valentine's With PLT Sorority's Caitlyn
First up, we caught up with PLTSorority girl Caitlyn to talk how to throw the best girl's night in and why it's never cute to compare someone to a McDonalds as a compliment.
What's your current FB relationship status?
In a relationship.
Any date disaster stories you wanna share with us?
Luckily I have no recent dating disaster stories since being with my boyfriend but a few years before I was seeing a guy who spent a lot of time on his phone texting his friends when we were together. I didn't mind until one day I happened to see that he was texting his GIRLFRIEND who I had no idea about! Honestly, the whole thing was a DISASTER after that. Always creep their Facebooks before going there girls, I was stupid not to.
What would you do on girls night?
My girls and I always have the best time sitting in together so my ideal girls valentines night would be a chill night in with a bottle of wine, loads of food and watching a film. I always have the best night with my girls especially when we're all chilling. For this, I would wear comfy clothes; a comfy pair of joggies and a cropped jumper would be my go to look for this occasion.
What about a dream date?
My ideal date night with my boyfriend would be to go out for a meal at a nice restaurant. We both LOVE steak so somewhere with a nice steak would be ideal. For this I would wear a cute little top, wet look leggings and a pair of court heels.
Tell us your best Tinder opening line?
I honestly have never used a chat up line before. Is that weird? But one I've heard that I find so amusing is, can I live in your socks so I can be with you every step of the way?
And the worst one you've ever heard?
The majority of chat up lines are so cringey and make me laugh so much, but if I was just to pick one that I think is so bad it would be the classic, if you were a burger at McDonalds you'd be a McGorgeous. Who want's to be referred to something from McDonalds?
Fave cliché romance film?
It's got to be The Notebook! Such a sad but lovely film. The end scene breaks my heart every time.
Best dating advice?
Always stay true to yourself and always put your happiness first. When you find someone who puts 100% effort into making you happy then keep them so close. But if he doesn't treat you right then – tell that boy byeeee.
If you were making someone a Valentine's Day mixtape, which 5 songs would you have on there?
If I was making a valentines mixtape for my boyfriend it would definitely be full of r&b music, since we both love that genre! The 5 songs I'd chose would be a mix of some current great songs and some old-ish ones.
#1 The way – Ariana Grande & Mac Miller
#2 Love on top – Beyonce
#3 Versace on the Floor – Bruno Mars
#4 Take care – Rihanna & Drake
#5 Fool for you – Zayn Malik
Shop all things Valentine's here