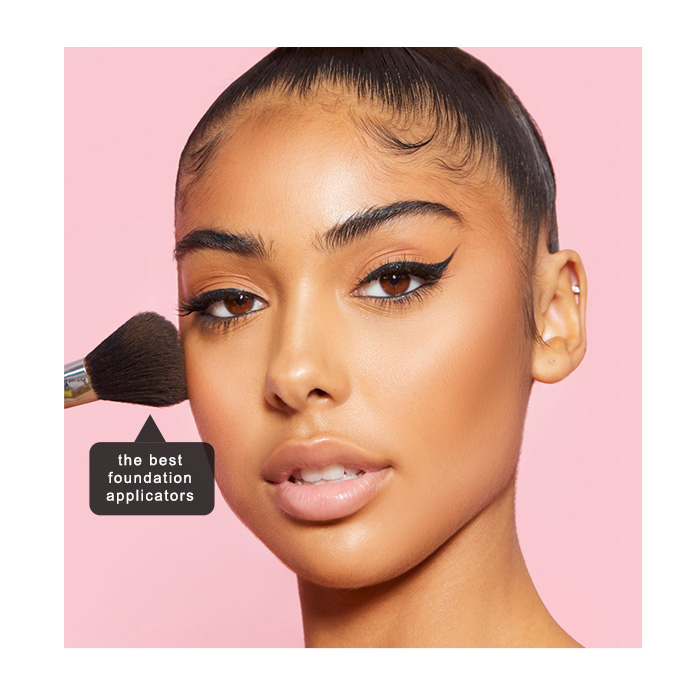 The question that has divided the world… Brush or beauty blender?
If you're unsure on what tool's best to create a flawless base then look no further.
We've rounded up our best foundation applicators just for you.
The Best Foundation Applicators
Peaches & Cream Pc26 Domed Foundation Brush
This cute lil' pink brush has luxurious, dense bristles, designed specifically for creating a seamless finish when applying your foundation. Not only does it look straight out of a sweet shop, it's also cruelty free, (YAY!) because it's made from synthetic fibres meaning no animals were hurt in the process.
Morphe Highlight & Contour Beauty Sponge
Now this just looks like it's come straight from the catwalk. This sophisticated red, angled blending sponge is made for enhancing and defining. It will hug the contours of your face to create an effortlessly airbrushed finish. Make sure you always wet it first to reduce the amount of product absorbed into the sponge.
NYX Pro Dual Fibre Foundation Brush
This classic dual fibre brush is special. It has soft, full bristles that can pick up and buff liquid foundations as well as setting powders for a flawless finish. It'll allow you to master the techniques needed to create a stunning base every single time, with ease. This cruelty free brush will last a lifetime if looked after properly.
Spectrum Unicorn Lilac Wonder Blending Sponge
We love EVERYTHING unicorn-themed here at PLT and this sponge is no exception. The rounded end of this vegan sponge can be used to apply cream, mineral or liquid foundations and the pointed tip is to get in hard to reach areas, such as around the nose or eyes. No unicorns were harmed in the making of this product.
Real Techniques Foundation Brush
Let's not lie, Real Techniques are the OGs of makeup tools. This cruelty free brush will help you layer on your product to take it from a sheer coverage to full coverage foundation. This classic style brush is ideal for liquid foundation and has an angled cut to achieve high definition results.