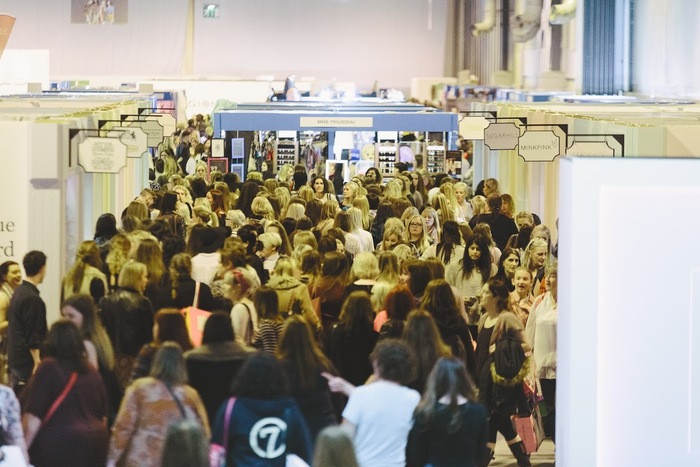 Heading across to the annual Clothes Show always gets us giddy at PLT HQ! With an array of beauticians, exciting stalls and more boutiques then you can possibly imagine, we couldn't wait to head down to Birmingham's NEC for this years shindig!
When we arrived, we headed straight for the Alcatel OneTouch Fashion Theatre for our annual dose of glamazons of a little bit of eye candy (who are we kidding? Those male models are haaahht). After finding our seats, we got a first glimpse at all the trends you're gonna need to know about in 2016.
From 'rebel' inspired puffa jackets through to sophisticated red dresses, this year's catwalk left us itching for more, so naturally, when the curtain came down at the end of the show, we donned our tote bags and wandered over to the Olympus Pen Style Studio catwalk for more.
With a minimalist set up to make sure it was just the outfits stealin' the show, our first look at the stage's tutorial sessions involved a contouring demonstration courtesy of the of the excellent Ruby Cosmetics that quenched our thirst for all things chic (and gave us some great ideas to take back to the glam squad in the process!).
Following this demo, Hilary Alexander OBE walked on stage to introduce dressmaker extraordinaire Philip Armstrong to the catwalk. Having designed beautifully bespoke numbers worn by the likes of Lady Gaga over the years, the small crowd that had gathered were mesmerised and it was all eyes on the runway as they watched the models strut in some super intricate garms.
 With some pretty sky high prices, we though it best to leave Philip Armstrong to the Olympus Studio before we got too carrie away – and it didn't take long before we decided to hit the shops for a little bit of retail therapy (how could we say no?).
 Throughout Boutique Boulevard and all the way to Menswear Quarter (we just HAD to catch up with Andy Jordan, after all), the Clothes Show delivered everything we hoped it would. From every corner of the NEW, we thoroughly enjoyed our time scoping out some killer steeze – we're counting down the days to next year's event already!
Images care of ©TheClothesShow