If you haven't been to any of the Greek islands then you are SRSLY missing out!
The Greek Islands You Need On Your Travel List
With so many TDF destinations we know choosing where to vacay can be a little overwhelming so we're here to help you out. We've rounded up of the best of the Greek islands, why you NEED to go and when.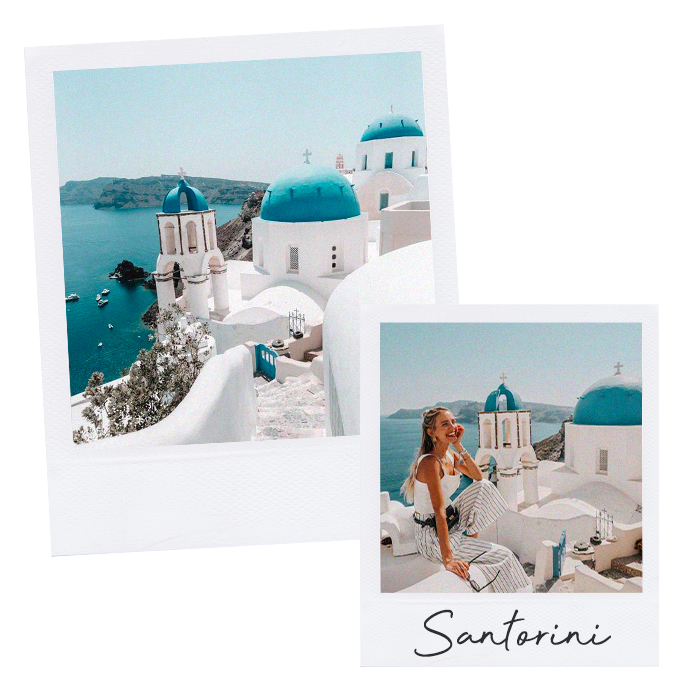 The most photogenic island of all the Greek islands, Santorini.
You'll see Santorini on most postcards of Greece, it has one of the most famous sunsets in the world and the very iconic blue rooftops. Santorini has got its shape from a volcanic eruption that happened years ago, so the cliffs are steep and sand is black. It also, however, comes with quite the price tag. Santorini is probably the most expensive Greek island to visit, it's also full of couples on romantic trips or honeymoons, but if you are on one of the neighbouring islands like Mykonos or Ios it is well worth a visit for that perfect sunset selfie.
If you're looking for a big island with loads to do and explore then Rhodes is perfect.
Situated pretty much as far from mainland Greece as you can get, Rhodes is worth the 4-hour flight over there. It gets pretty damn hot from June – September time so you'll have lots of time to take your poolside selfies. There are loads of historical places to visit on the island and lots of beaches for some afternoon cocktails under the sun. One town on the island, Lindos is especially popular for its rooftop restaurants and bars that all have views of the Acropolis.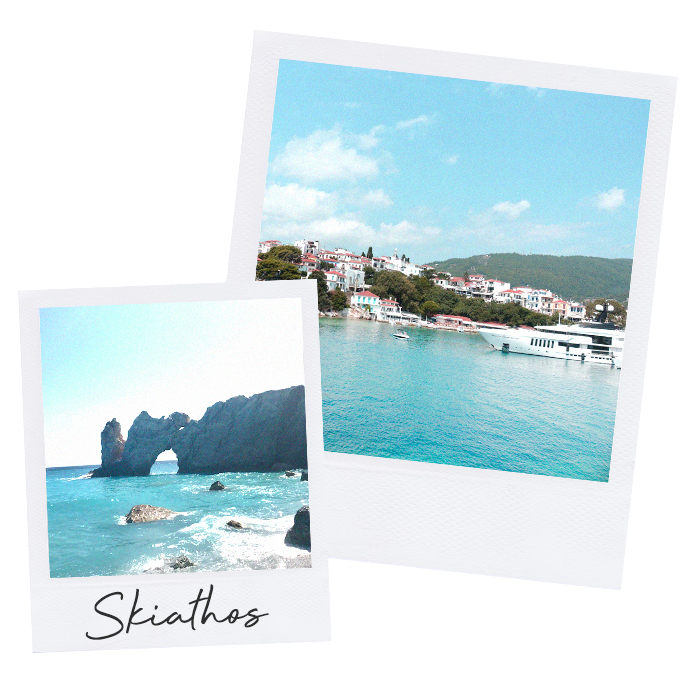 If you're after an island a bit smaller and not as far away then Skiathos is the place for you.
Skiathos is so small the runway starts and ends at the sea, there's even a beach where you can lie underneath the planes as they take off (if that's what your into). The harbour gets a lot of visitors including some VIP's so keep an eye out for the people boarding on and off the yachts docked up. There are plenty of Instagramable bars in Skiathos so you can get the perfect holiday boomerang and the day trips around the island make you feel like you could be in the Maldives, with the stunning beaches and clear blue seas. You will have loads of photos in your camera roll to post for months after you come back #takemeback.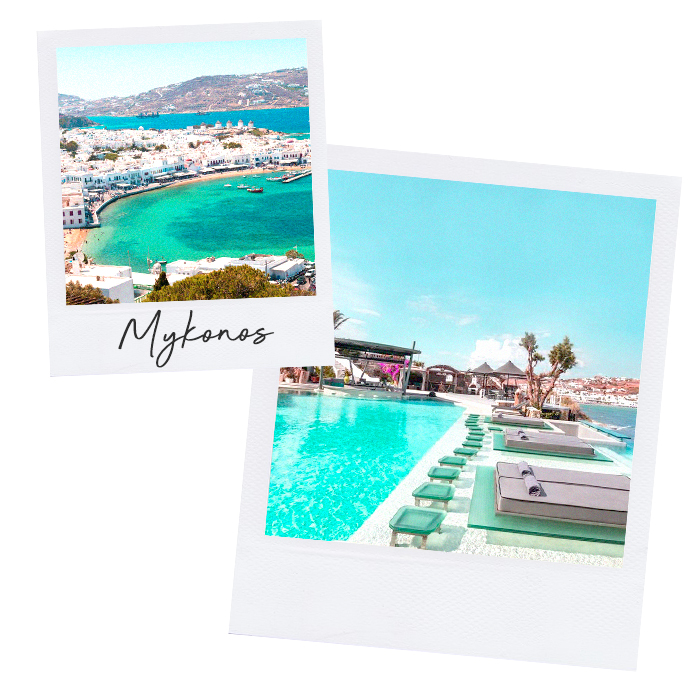 #DoTheLilo in Mykonos
So if you've read this far and your thinking the Greek islands might not fulfill your partying needs then you are WRONG, Mykonos is the place to be and Lindsay Lohan herself will tell you, the limit (of fun you will have) does not exist. This island doesn't need an Instagram filter with its boujee bars and pool parties for the G-L-A-M-O-R-O-U-S, you can throw some serious shapes like Li-Lo.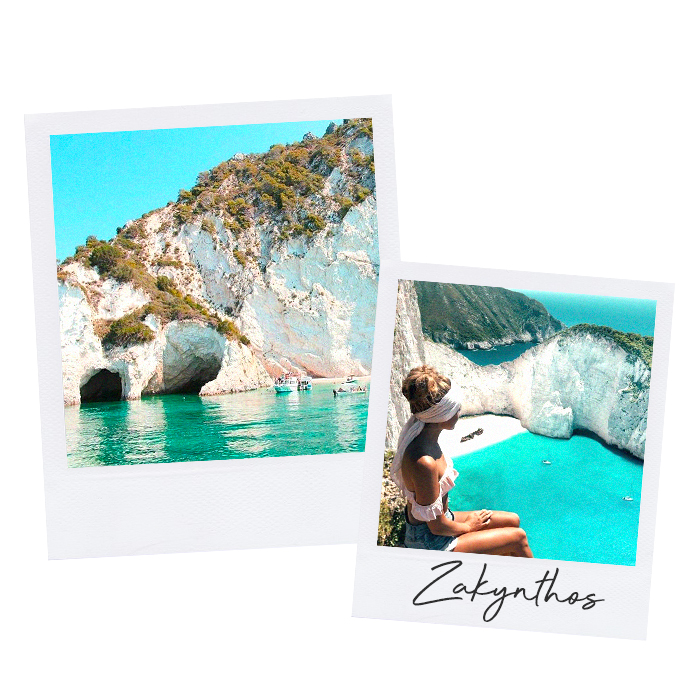 Looking some more good photo ops? Zakynthos got you.
If you haven't heard of shipwreck beach, where you been? You need to get that "I've just been on holiday" cover photo sitting on the cliff looking over the bay with the famous shipwreck in the background. Zakynthos is another big Greek island but worth the visit for the clear waters and lush greenery. It's also one of the best Greek islands to spot some turtles! YES, TURTLES! So get your go pro at the ready!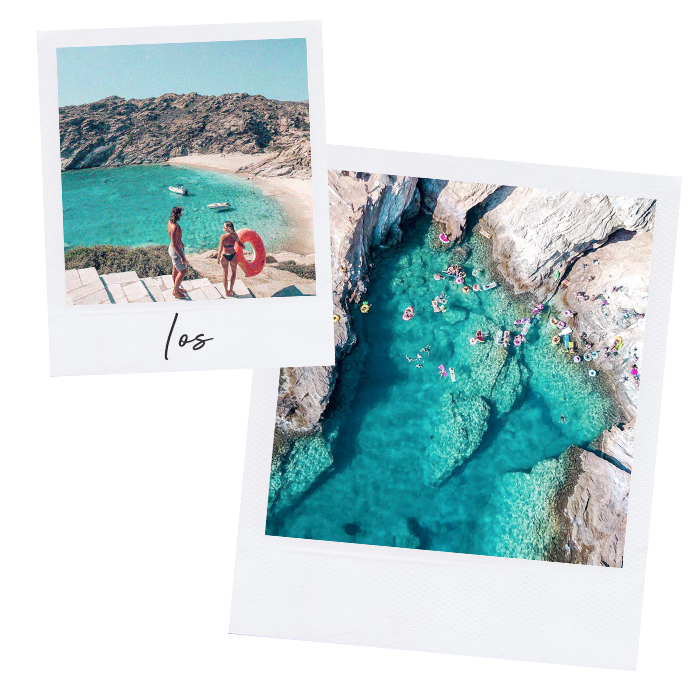 If you're feeling adventurous then get your ass to Ios.
You can't fly directly to Ios so tell your mate who's always late to NOT miss the ferry. Ios is the 'backpackers' island, full of young people who are passing through but can't quite afford to stay on Santorini which means there are lots of clubs and beach parties! The sea is crystal clear so grab your donut rubber ring and your pizza slice lilo cause this is a photo op' you ain't gonna wanna miss.
All of the Greek islands have UH-MAZING food so whichever ones you visit you are guaranteed to get some Instagramable beef stifado, lamb kleftiko or stuffed peppers. Get yourself to the Greek islands in summer, any time from June – September will be HAWT! Grab your go-pro and your go-to crochet dress and you'll have a blue Instagram theme in no time.