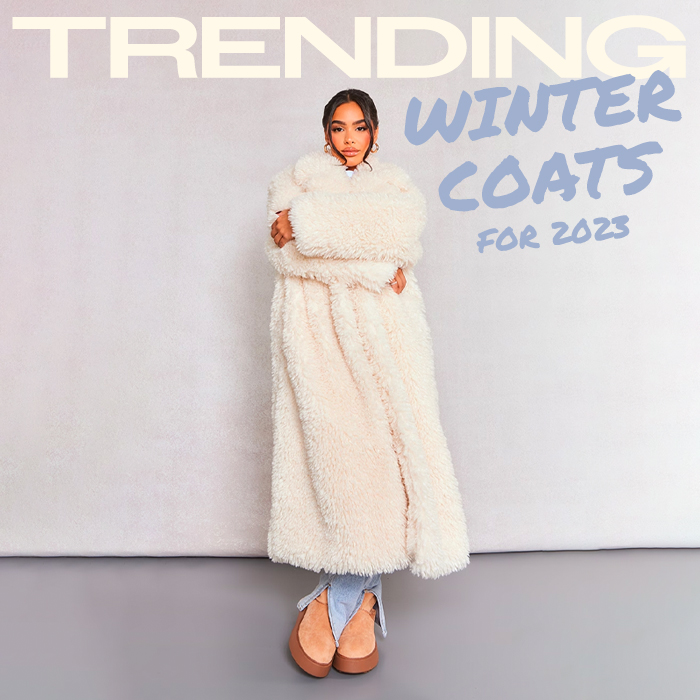 Ready for the snug season? Us too! Today we're sharing trending coats for winter 2023.
From borg and camel coats to aviator jackets and puffers – you won't want to miss this!
What's trending in winter coats?
The top coat trends we're seeing for winter 2023 so far include, borg coats & jackets, the classic camel coat, oversized aviator jackets, oversized jackets in general and of course, puffer coats for women.
Now we know the trends, let's discuss the deets!
Borg Jackets & Borg Coats
Borg detailing has quickly become a go-to for the winter season.
Borg coats are also known as teddy coats and it's essentially the faux shearling style fabric which makes them so popular.
Here are some of our fave borg coats onsite right now!
Black Faux Suede Borg Trim Maxi Coat
Brown Faux Suede Borg Trim Maxi Coat
Petite Light Grey Premium Borg Coat
Petite Olive Longline Borg Coat
Black Oversized Maxi Length Belted Borg Coat
Petite Black Borg Trim Midi Coat
Faux Fur Coats
Keeping with the cosy vibes, what are the warmest coats for winter?
Faux fur is one of our faves for when we want the extra warmth for snug season.
You can go bold with statement faux fur looks or keep it a little more subtle with timeless black or beige.
Petite Cream Shaggy Faux Fur Longline Coat
Black Faux Fur Plush Military Maxi Coat
Camel Coats
If effortless is your go-to style then you'll love a camel coat for AW23.
What is a camel coat?
Camel coats are usually a quite structed style of coat which are completely camel in colour.
They are quite similar to a duster coat in terms of shape/style but have a slightly more boxy and oversized fit.
This style of coat is perfect if you're wanting a coat that's easy to dress up or down.
Plus Camel Maxi Length Wool Look Double Breasted Coat
Petite Camel Brushed Wool Look Oversized Drop Shoulder Coat
Camel Brushed Wool Look Oversized Drop Shoulder Coat
Camel Panel Front Button Down Midi Trench
Aviator Jackets
If there is one winter coat trend that you can expect to repeat each year without fail, it's the aviator.
This style of jacket takes major inspo from classic pilot jackets with their boxy fit and oversized collar. Other names for this style of jacket include flight jackets and pilot jackets.
They make for a timeless wardrobe classic and a coat that you'll definitely rewear on the regular.
Here's some of our fave PrettyLittleThing aviator jackets available onsite right now!
Black Faux Leather Borg Lined Super Cropped Aviator Jacket
Brown Borg Lined Buckle Collar Oversized Aviator
Should you size up aviator jacket?
This would depend on the jacket and also personal preference.
If the aviator jacket is already oversized we'd recommend sticking to your usual size, if not – try sizing up by one clothing size for a more oversized look.
Don't forget, you can check out the PLT size guide onsite which gives exact measurements for all products, meaning finding your perfect fit should feel effortless.
What do you wear with an aviator?
You can't really go wrong when styling a aviator jacket.
Whether it's casual day dressing with jeans and chunky boots or you level up your look with wide leg or faux leather trousers.
Whatever your style, you'll be able to wear an aviator jacket with ease.
Petite Brown Borg & Distressed PU Aviator Jacket
Oversized Coats
Let's face it, we will never bore of the oversized off-duty look, especially not during the winter season.
If you've found yourself searching, how can I make my oversize jacket look good? Then you're in the right place.
Here's four new in PrettyLittleThing coats that prove why we love oversized 'fits so much.
Petite Grey Brushed Wool Look Oversized Drop Shoulder Coat
Light Grey Wool Look Oversized Coat
Black Wool Look Oversized Coat
Grey Speckled Wool Look Military Coat
Puffer Coats
Last but most definitely not least, puffer coats.
It's official, if you're going to buy one style of coat this season, let it be a puffer.
Not only are they a true wardrobe staple but they're actually really practical, which judging by the weather – we're going to need this winter.
So, if wanting a coat you can actually wear day in, day out – you'll want to add a puffer to your PLT wish list.
Petite Cream Oversized Love Heart Borg Bubble Puffer
Beige Contrast Borg Maxi Puffer Coat
Sage Green Hooded Faux Leather Statement Pocket Puffer Coat
Loving the look but not sure what is the best colour for a puffer jacket? We got you.
A black puffer jacket is your best bet, especially if wanting a puffer coat that goes with everything.
Lighter colour options are also perfect too such as cream or grey, plus they look next level with denim jeans!
Black Oversized Collar Belted Longline Puffer
Black Faux Leather Oversized Pocket Front Hooded Midi Puffer
Shop All Women's Coats & Jackets
Stuck on what to wear for bonfire night?