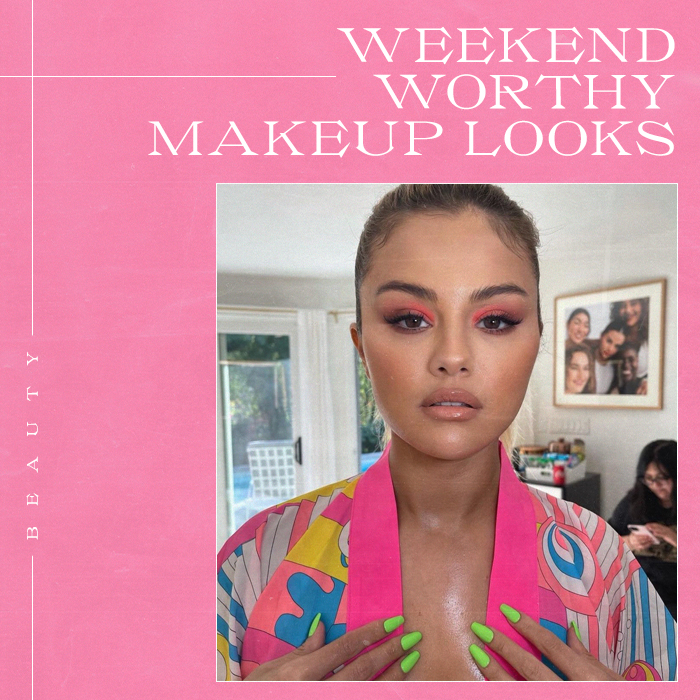 The clubs are open and we're so ready for it babe!
Weekend Worthy Makeup Looks You'll Love
Get prepared to make your club debut this weekend with a little help from us. We've got your night out look covered head-to-toe from the outfit, shoes and accessories, to the beauty products you need to create the perfect going out makeup look. We're sharing the deets on some weekend worthy makeup looks you'll love and how to re-create them.
Less is more
We live for a full glam makeup look but sometimes less really is more when it comes to makeup. Our girl, Molly Mae is the queen of natural looking makeup and we're obsessed with this look.
View this post on Instagram
Re-create this effortless makeup look by using a tinted moisturiser instead of foundation for a natural looking finish. This Skin Tint from Morphe is a must-have for this look with a lightweight and breathable formula that can be built up to achieve whatever coverage you want! No need to powder – keep it dewy with cream blush and contour for the ultimate no-makeup makeup look.
MORPHE 2 HINT HINT SKIN TINT HINT OF HONEY
Pop of Colour
This summer is all about colour and that includes makeup too. We've been loving adding a pop of colour to our weekend worthy makeup looks. From a bold lip to a bright eyeshadow or colourful blush, we've got all the makeup products you need to create this look.
View this post on Instagram
This bright pink eye look on Selena Gomez is everything we're loving right now and is perfect for a night out with your girls. Create the perfect colourful eyeshadow looks with the BPerfect Cosmetics X Stacey Marie Carnival III palette filled with every colour you could ever need. It's time to get creative!
BPERFECT COSMETICS X STACEY MARIE CARNIVAL III EYESHADOW PALETTE
Bushy Brows
Big brows are back and we can't get enough of this look! Gone are the days of thin, plucked eyebrows. It's time to let those brows grow wild and embrace the bushy brow look.
View this post on Instagram
We're obsessed with these brows on Sarah Ashcroft and have just the products you need to re-create this look. All you need is a tinted brow pomade and a good brow gel to create an untamed look and keep those hairs in place. Or keep it simple with a 2-in-1 solution like this tinted brow gel from Lime Crime that's designed to help you achieve the ultimate bushy brow look with just one product that lasts all night!
Red Lip
Turn up the heat with a sexy red lip for your next night out on the town! A classic red lip is just what you need to take your weekend makeup look to the next level.
View this post on Instagram
Makeup guru, Jamie Genevieve, shows us how it's done with her red lip and winged eyeliner combo. Get Jamie's look and keep your red lip on point all day long with this soft matte lip cream from NYX in the shade 'Amsterdam'. With a creamy formula that goes on like a gloss but dries matte, this product is an essential for that weekend-worthy makeup look.
NYX PMU SOFT MATTE LIP CREAM AMSTERDAM