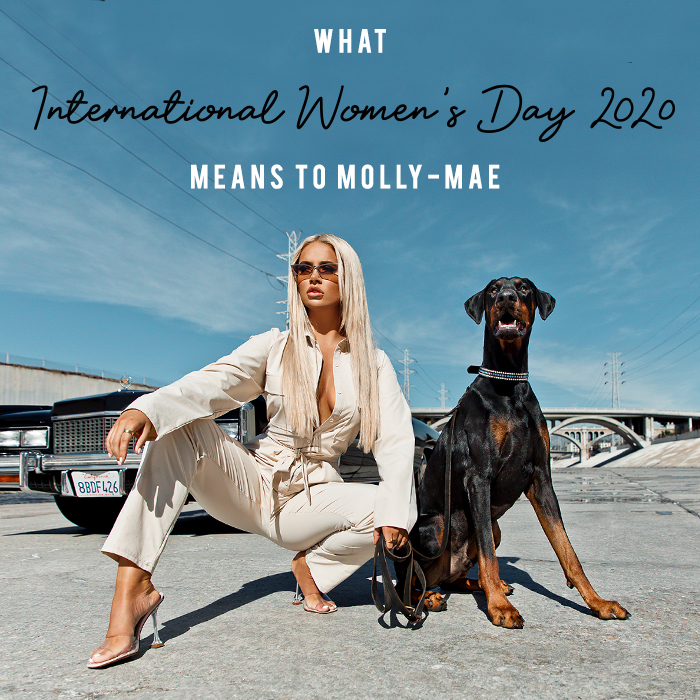 What International Women's Day Means to Molly-Mae
To celebrate International Women's Day, we caught up with some of our favourite influencers to discuss who inspires them, what they're most proud of and what IWD means to them. Here, we're chatting with our Brand Ambassador Molly-Mae who's had a whirlwind of a year since leaving the Love Island villa, owns her own successful self-tan range, Filter by Molly-Mae, has over 600k subscribers on YouTube and boasts 3.8million followers on the 'gram.
"I've always wanted to be my own boss."
View this post on Instagram
#1 Three females who inspire you and why?
Hailey Bieber – my style icon. Her style is absolutely everything, I've never seen her wear an outfit I don't like.
Kylie Jenner – an absolute boss, who juggles mother hood, having a global business and running basically her own empire.
My mum – inspires me for somehow putting up with myself and my sister for 20 years. She's been through a lot but has always put us first and has always allowed me to chase my dreams no matter what they may be… that's the kind of mum I want to be.
#2 What are you most proud of?
I'm most proud of the things I've achieved in 2019. At the start of 2019 I moved to Manchester by myself and had dreams of pursuing a career in influencing. In 2019 I became a PLT ambassador; a brand that I had only dreamed of working with on this scale and I also started my own business. Most of my dreams came true in 2019.
#3 Whose advice do you always listen to?
I ALWAYS listen to my sister and my boyfriend, because they know me best and will always give me advice that they know I need to hear.
#4 What's a typical working day for you?
A typical working day for me would be to wake up around 10am ( I like to sleep in!) go to the gym, which is something I'm trying really hard at! Then around 1:00 I will start content for the day whether that be taking pictures or filming YouTube videos, my days are very varied. However some days I may be shooting or will have meetings for my tan company which I also spend large amounts of my day on.
#5 What do you enjoy most about your career?
The thing I enjoy most about my career is that no day is the same. I've had many a 9-5 jobs and for me and my active mind I just found them extremely monotonous, every day was the same! With my job I wake up and the day can go however I chose it to go. I've always wanted to be my own boss.
#6 What motivates you?
What motivates me is constantly thinking of my future. I have such big dreams for the future and since being extremely young I've always wanted to achieve big things. When I think about how I want to be living when I'm 30 or 40 or 50, it makes me realise I need to put in the work now so that I can enjoy life the way I want to and also give back to the people that have always been there for me.
#7 What advice would you give to your younger self?
Advice for my younger self, I would 100% say to not worry about growing up so fast. You have your whole life to work towards buying nice clothes and bags or changing things about the way you look. I always remind myself that if you do everything young, then what do you have to look forward to when you're older? It's good to save things and wait so that you can appreciate them more. Instagram can make you forget this sometimes.
#8 What does International Women's Day mean to you?
International Woman's Day allows us to remind the world just how strong of a sex we are. Throughout every era, women have been classed as the weaker sex and on this day we can stand together and show the world girl power! I think it's beautiful.