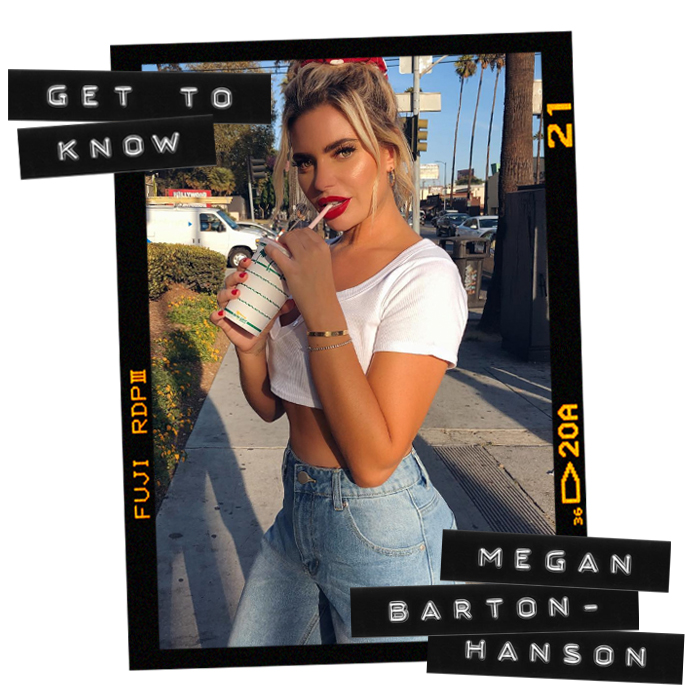 Introducing the newest edition to our Brand Ambassador fam and out of this world babe Megan Barton-Hanson. The Love Island alumni epitomises the PrettyLittleThing way of life be being all about female empowerment and body confidence and we're obsessed.
Hanging With Megan Barton-Hanson
We caught up with her to talk everything from inspiring women to dream collaborations and why loving yourself first should be everyone's first priority.
Introduce yourself. Don't be afraid to get deep.
I'm Megan Barton-Hanson I'm a model, activist, PLT's newest Brand Ambassador and trainee TV presenter 🙂 I was recently on a reality show where I met my amazing boyfriend! My life has completely changed over the past few months. The opportunities that have now opened up to me have been incredible!
Name 3 women you look up to and why?
Amy Schumer first and foremost, I adore her! When I clocked she was following me on insta, I was freaked out, Wes was cracking up at me. I love how honest and open she is, she's not afraid to talk about topics women would usually be made to feel embarrassed about. I rate Amy and Emily Ratajkowski so much for standing up for what they believe in, they recently got arrested for participating in a protest, I think that's so admirable.
Adwoa Aboah is another role model of mine! She is a beautiful soul inside and out, she has created Gurls Talk. It's an organisation where girls can talk openly, share their experiences of mental health, sexuality, and body image – no topics are off-limits. Go check it out!
My Mum, as cliche as it sounds, my mum has always been a role model. I can remember from a young age looking up to her, and trying to be just like her. She was very glamorous, I would love trying on her heels and putting on her makeup and jewellery. She taught me to be kind and patient, she has always been so open and talked to me honestly and openly about everything. I'm so blessed to have such a close relationship with her.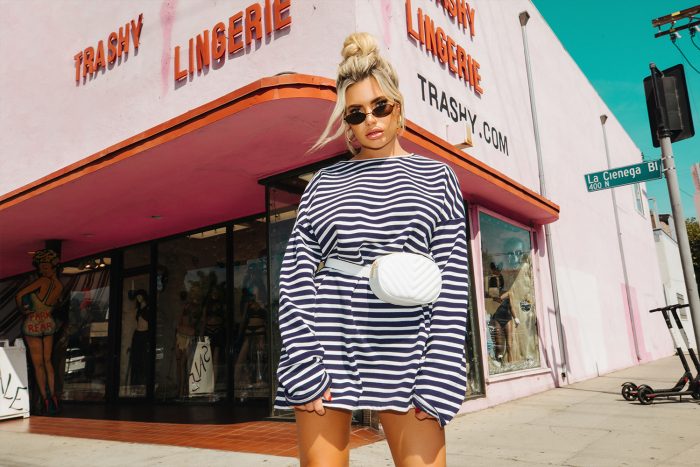 At what age did you feel most at peace with your body image/self?
Only of recent years, I would say in my twenties I have been the most confident. I openly admit to having surgery but that is not what changed my self-esteem and being at peace with myself, that just changed my shell on the outside. Learning to love myself on the inside came with age and life experiences.
What does an average day look like for you now?
Every day is so varied now, I'm currently looking for a flat in London with Wes, so we are doing a lot of viewings. It's been super exciting and we get to go film premiers and events! My life is completely different these days.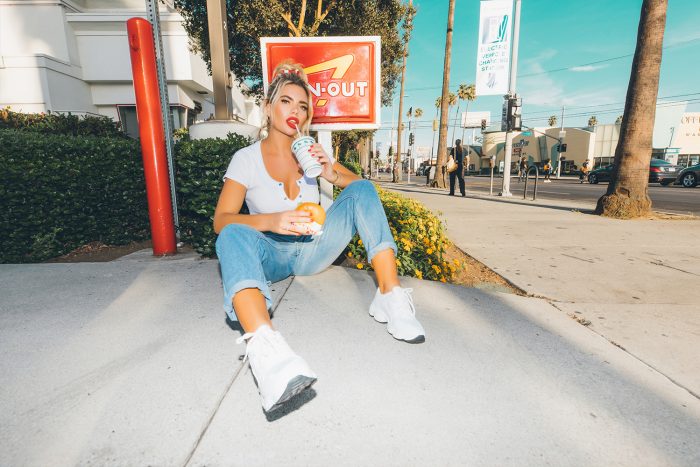 Why do you think its so important for girls to support each other?
Women globally face so many challenges when it comes to equality. The expectations on women are so high and considering it's 2018 we still have so far to go in terms of addressing the balance between men and women. It's important that as women we are less judgemental of other women and are more supportive.
How do you handle self-doubt?
I would be lying if I said I didn't have days when I doubt myself a little. I will get nervous before a TV appearance or not feel that good going to an event, but I think you just have to accept that you won't feel 100% every single day and no one does. I bet even Beyonce has days when she's not feeling her sassiest!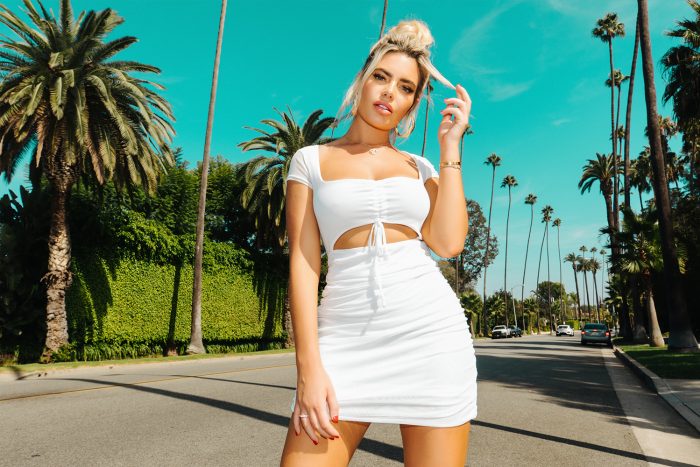 What's the best thing going on in life right now?
Moving in with my boyfriend – been single for so long it's amazing to share these amazing memories with someone I love.
PLT of course, can't wait to do more shoots! The one in LA was amazing
Being able to use my platform to help women!
Let's talk dream collabs, who would it be with what would you create?
Rihanna, I love her style and would love to bring out my own edit with her! That's the goal!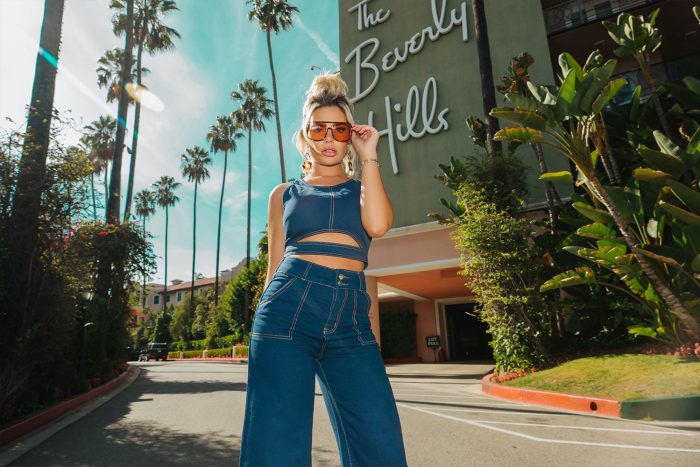 3 things you stand for?
Being unapologetically proud of my sexuality.
Girls supporting girls.
Being honest and open about mental health issues.
What is happiness to you?
Being around people who love me. Simple things, good food, good friends and I'm happy.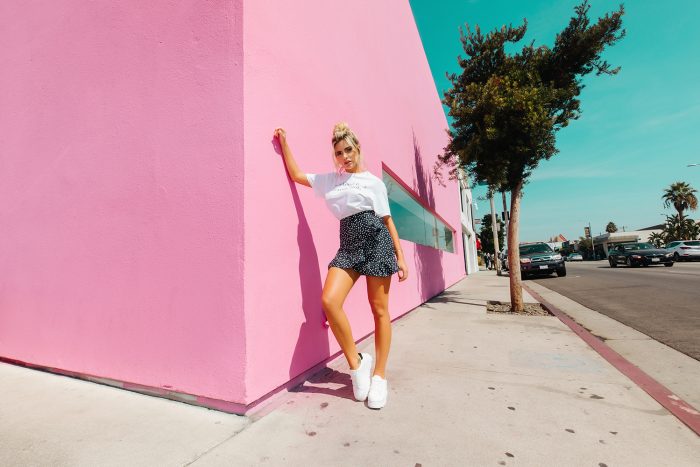 How would your friends describe you?
Silly, clumsy, funny and wild!
What's the best thing you've learnt this year in terms of self-growth and self-love?
That you need to learn and accept you are worthy of happiness. When I cried in the villa, I meant it, I thought Wes was too perfect for me and I didn't deserve him. Once I got it in my head he loved me for me, it's been the best relationship I've ever had. Love yourself first and believe you are worthy of happiness.
What are you looking forward to for the rest of 2018?
I'm looking forward to developing my career as a model, activist for young women's rights and securing my first job as a tv presenter. I have loads of cool things in the pipeline which allow me to combine all 3 of these passions.
Shop Megan's edit here