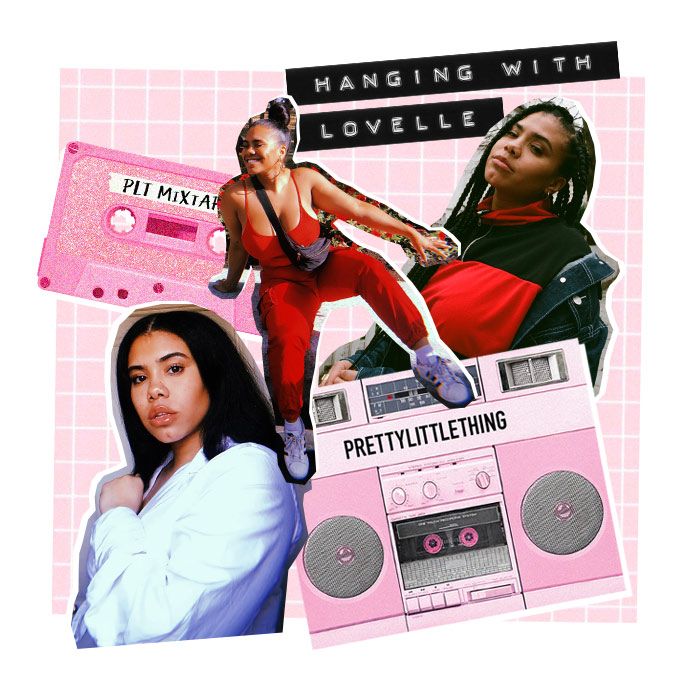 There are not many people you meet who's natural self just oozes authenticity and laid back cool on a deeper level but singer x songwriter Lovelle Hill, aka LOVELLE, has this in abundance. We caught up with her before to talk all things industry difficulties and why music for her was just meant to be.
Hanging With LOVELLE
Tell us about yourself. Don't be afraid to get deep.
I was born and raised in South East London. London has moulded the person I am today, no doubt. I'm very ambitious and determined. I come from a family of hardworking and supportive people. My parents saw my love for performing arts and enrolled me into The Mick Jagger Theatre and Sylvia Young to better myself as an artist and a performer.
I'm quite an optimistic person and always trying to find something new to inspire me whether it be something I use in my everyday life or music. I like to see the beauty in things even if I'm being tested, I love to share my love with others. The world is worse enough so I'd like to think I can make it a little bit better.
How did you get into music? Is it something you'd always known you wanted to be part of your life?
I actually wanted to be a designer at first, I loved drawing and was always into art but music made me feel different. When I realised I could sing and write, I used that as a way to self-express. Everything I write about is something that's come into my life via myself or through someone else.
"Music was kinda meant to be for me."
I'm very emotional at times where I feel like I cannot control my emotions so writing and singing allows me to say what I want without any pressure. Also, both sides of my family love music and my dad was a rapper back in the day so he taught me and my brother Kid bookie about a lot of music.
Who are you musically obsessed with?
Right now I feel like I've gone back and fell In love with Erykah Badu all over again. She exudes naturalism and doing what's best for you which is what I'm all about. Music needs to make you feel good. Amy Winehouse for sure was my first love. She taught me to wear my heart on my sleeve. Frank Ocean, The Internet, Sampha, Mac Miller, are all artists I love. I could keep naming more but we'd actually be here forever.
Have you experienced any difficulties as a female in your industry?
For sure! I've been spoken down to, been ignored in sessions, been told I can't do this or that, men talking sexually to me assuming I'm not gonna pull them up on it, been told I'm too overweight to be a singer… endless things. Women are pressured unnecessarily in this industry, it's very frustrating.
What's your fave outfit to wear when you're performing?
I'm a very low maintenance kinda girl. I love the stage because it makes me feel like I'm able to try a few things I wouldn't normally. I love a cool outfit with a bit of sexy, so jerseys, trainers, bodysuits. I love feeling comfortable, that's the most important part for me otherwise I ain't singing my best.
If you weren't a singer x songwriter what would you be doing?
Definitely, something where I'm helping people. I love lifting people up and pushing them to their best abilities. I feel l have a gift where I'm able to see someone's potential before they do which is quite interesting.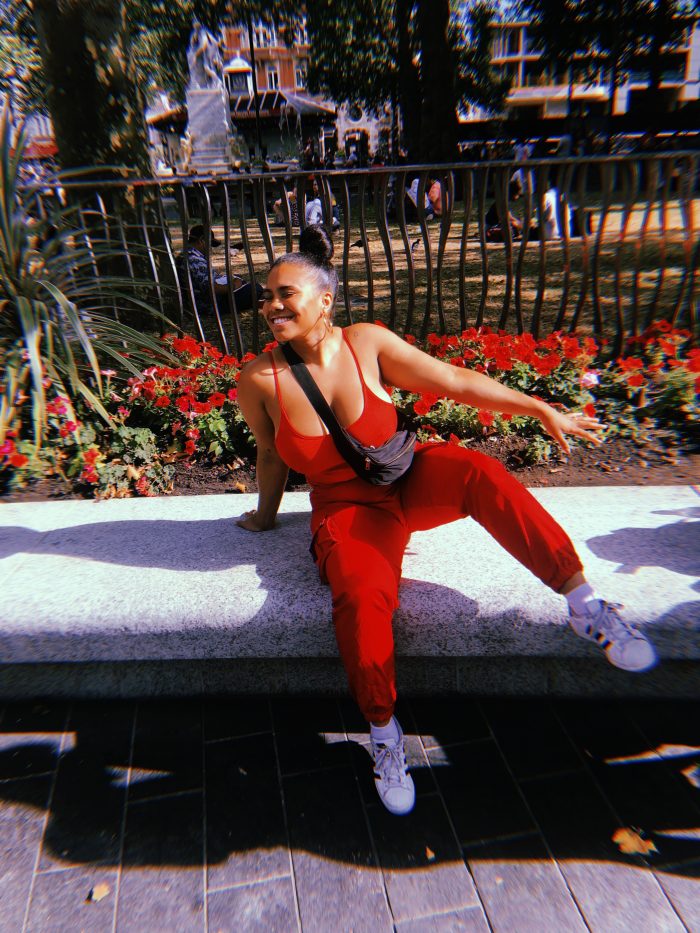 What's your fave life highlight to date?
I have a few I would say this year meeting Childish Gambino in London. We had a quick conversation and he was kind enough to invite me to his show at Lovebox which was incredible, mind blowing actually. His people were all amazing and looked after me so well, that was pretty cool. Also Singing for John Legend and opening up for Miguel. Miguel I think is one of the kindest people I've ever met!
Oh and one more thing but it's not music related; swimming in the ocean with turtles. I told myself I wanted to start conquering my fears.
One song on your playlist you never get bored of?
Currently Feb 3rd by Jorja Smith, that song bangs.
What are you looking forward to for the rest of 2018 in terms of big plans and cool stuff you're doing?
I'm on tour with Becky Hill in October which is exciting, I'll be supporting her around the UK. She is so supportive of me and my music so I'm proper grateful she gave me this moment. The release of my projects and finally people hearing my music and what I have to say. I will be releasing my single Stuck along with the video!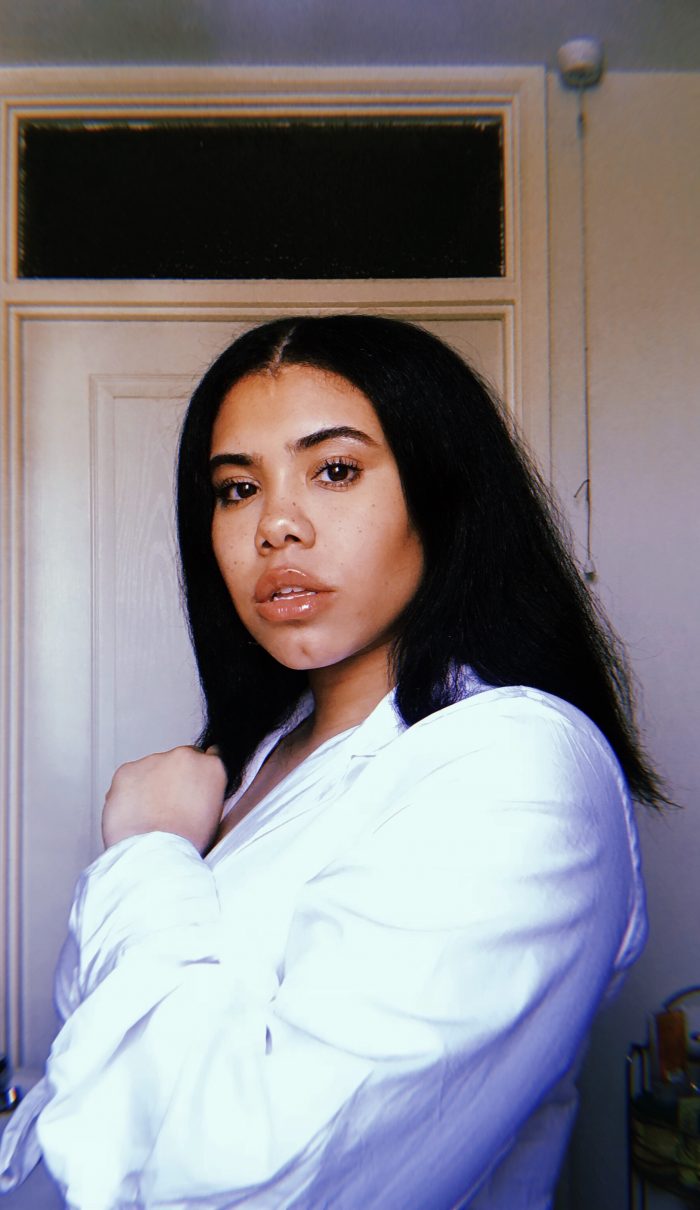 Let's talk dream collaborations. Who would it be with, what would you create? 
I would love to write with Frank Ocean and Sza. We would definitely write some sort of mash-up inspired song by 'Chanel' and 'Supermodel', those songs are vibes.
I would love to have Thunder Cat and Sampha produce for me. That collab would be mad.
I would love to work with Etta Bond and Mahalia soon too. I feel like we're all quite similar with being not very focused on aesthetics but more the pure creativity.
Tell us 3 things you stand for.
Love, self-belief and a good mane.
LOVELLE's single 'STUCK' just dropped and it's all kinds of dreamy. Give it a listen here.
S T U C K – Directed & Produced by Lovelle Hill / Shot & Edited by @raheembakare / Set Designer @olahbliss / MUA & Stylist Sanya Dennigan / Garms @prettylittlething
Wanna see more from LOVELLE? Follow her here!