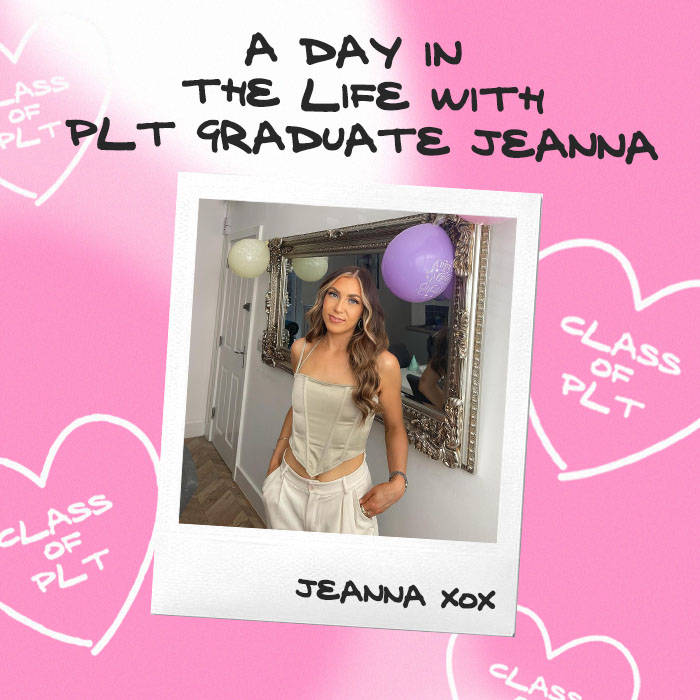 Questioning what it would be like to work for PrettyLittleThing?
Each month we're sharing a day in the life with each of the PLT marketing graduates, today we're catching up with Jeanna!
Could you start by telling us about your current role here at PLT?
I joined PLT back in August 2022 as part of their first ever Marketing Graduate Scheme! This means I'll be rotating around each area of the company's marketing department for the next 2 years (which sounds like loads of time but it's honestly FLYING!).
Right now I'm still in my first 6-month rotation, sitting within the Social & PR team where I'll stay until the end of March/start of April-time, before I switch to International & Planning for my second 6-month rotation.
Ok, you've arrived in the office – how's your average day looking?
 I'm diving straight in with breakfast – I always bring some from home and then grab a coffee from the barista downstairs – a double shot cappuccino kicks my day off justtt right.
I'll say a quick hello to all of my team online (half of the PR team are based in London so we rely on Microsoft Teams a lot for comms!) and then I'll start making headway through my emails. This takes up most of the morning as I do a lot of gifting for TikTok and Instagram influencers, so I'm usually always back and forth emailing either the influencer directly or their management – to arranging exciting content collabs!
On my lunch hour I usually head to the gym across the road – we get free membership as part of our PLT staff perks 😉 – plus it's just a good way to get away from your desk and get those 10K steps in!
In the afternoon time I'll grab some lunch at my desk and work on anything else that needs my attention. That could be outreaching to new influencers, packaging up PR boxes for a campaign send out, or working with the events team on birthday gifting for our lovely brand ambassadors!
If you had to describe your time at PLT so far in just three words, what would they be?
I would probably say varied, sociable, and overall – experiential!
Is there something you feel particularly proud of/something you've achieved so far?
During my time in Social I was really thrown into the shoots and content-related work – I even got to attend a HQ shoot on my first day! So I'd say I'm very proud of how quickly I adapted to going on shoots on my own and putting myself out there to work confidently and collaboratively with other departments – like Creative and Studio – who I hadn't before met or worked with previously!
What are you most looking forward to in the next 3 months?
In the next 3 months I'm looking forward to getting more involved in the events side of PR – and hopefully getting to go and visit the new PLT office and showroom in London! I'm also excited to move into my second rotation and see what it's all about – I've already met a lot of that team and I'm excited to get to know them more!
Finally, do you have any advice for someone either applying to a grad scheme or a role at PLT in particular?
I would say if you're thinking about applying to a grad scheme – do it! Especially if you're not sure exactly what sort of area of a business you want to work in. It's the best way to get a taster for everything and then you can specialize in the area you love – which is a lot easier to figure out once you've tried and tested a bit of everything!
Love getting to know more about PLT HQ?