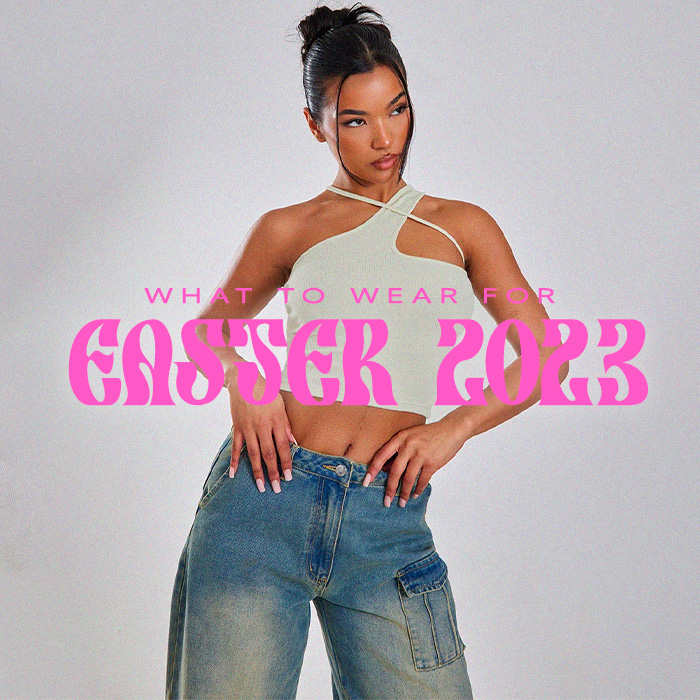 Stuck on what to wear for Easter 2023?
Forget the outfit dilemmas, these Easter approved looks will have your Easter outfit sorted in seconds.
First up, when is Easter 2023?
Easter Sunday falls on April 9th 2023, meaning Friday 7th April is Good Friday and Monday 10th April is Bank Holiday Monday.
Yesss to a extra long weekend!
What to wear this Easter will depend on your plans, here are 5 ideas on what to do for Easter 2023:
#1. Bake for your loved ones or decorate Easter eggs.
#2. Celebrate by sipping on Easter themed cocktails.
#3. Keep it cosy and head out for a wholesome Easter walk.
#4. Go all out out with your besties, bottomless brunch we're looking at you.
#5. Host Easter lunch, iconic table setup and Easter homeware included of course.
Essentially, Sunday roast and endless chocolate is the vibe we're aiming for.
So, now we know plans. Let's answer some of the most searched Easter questions.
Can I wear black on Easter?
This will mainly depend on your plans for the day, try to think ahead if attending anything religious or why not add a pop of colour or pattern if you're completely set on all black Easter style.
Plus Black Ditsy Floral Tie Front Corset Top
Plus Black Printed Tiered Tie Waist Maxi Dress
Traditionally Easter is all about pastel Easter outfit colours and of course, it's the start of spring so why not make the most and opt for bold brights instead?
After all, we are manifesting those blue skies!
Pale Pink Woven Cargo Bandeau Pocket Detail Jumpsuit
Blue Grey Slinky Drape Bardot Sleeve Flared Jumpsuit
Rose Textured Chiffon Oversized Button Up Shirt
Rose Textured Chiffon Oversized Wide Leg Trousers
Can you wear jeans on Easter?
Sure thing, simply team with pastels and neutrals similar to above. Maybe you're loving the double denim trend?
Here are three easy to wear Easter outfit with jeans ideas.
Light Blue Wash Frayed Seam Detail Denim Corset Top
Light Blue Wash Frayed Side Seam Detail Flared Jeans
Light Blue Wash Seam Detail Panel Straight Leg Jeans
Mid Blue Wash Cargo Pocket Baggy Wide Leg Jeans
Plus Indigo Cargo Wide Leg Jeans
If your intention (like ours) is to eat as much chocolate as possible over the April bank holiday then why not keep it more casual and style loungewear?
White Pocket Detail Longline Sleeveless Top
White Pocket Detail Low Rise Wide Leg Joggers
Stone Wellness Slogan Printed V Neck Sweatshirt
Stone Wellness Slogan Printed High Waist Straight Leg Joggers
Not sure on loungewear but loving the more casual Easter outfit ideas? No stress.
Simply opt for lightweight knit, perfect for spring layering.
Stone Wide Rib Knitted Cardigan & Stone Wide Rib Knitted Trousers
Oatmeal Tie Back Cropped Knitted Top
Beige Vintage Check Knit Zip Jumpsuit
Dresses your go-to?
Here are our top 5 fave Easter dresses that have hit new in recently!
Plus Blue Floral Printed Tie Waist Puffball Dress
Bright Blue Jersey Strappy Back Detail Midaxi Dress
Green Floral Print Tiered Detail Shift Dress
Plus Hot Pink Floral Puff Sleeve Ruched Side Split Midi Dress
Petite Baby Pink Halter Neck Frilled Mini Dress
Fan of all things floral?