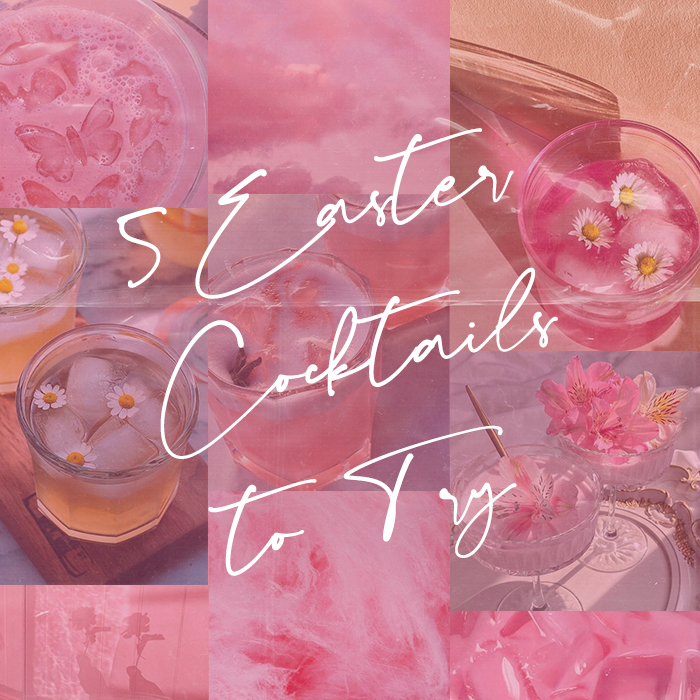 Spring things!
5 Easter Cocktails To Try
With the long weekend ahead there has never been a better time to try out some brand new cocktail recipes.
Today we're sharing 5 easy to make Easter cocktails that'll will have you serving major 'gram goals all weekend long.
From last minute plans to Easter party prep, here at PrettyLittleThing we have you covered when it comes to Easter plans!
Mini Egg Martini
We know, what a vibe!
You'll Need:
25g Cadbury's Mini Eggs (or your preferred brand of mini chocolate eggs)
1 tsp honey
25ml crème de cacao
25ml Baileys
50ml vodka
ice
How To Make:
First you will need to crush the Mini Eggs then tip onto a small plate.
Brush the rim of a martini glass with a little of the honey using a pastry brush then dip the glass into the crushed Mini Eggs to stick them on.
Place the glass in the fridge until you need it.
Pour the crème de cacao, Baileys and vodka into a cocktail shaker with a handful of ice and shake until the outside of the shaker feels really cold.
Strain into your prepared glass and serve.
White Rabbit
Switch up the classic brandy Alexander for Spring!
You'll Need:
80ml gin
50ml amaretto
50ml double cream
1 tsp lemon curd
¼ tsp vanilla paste
handful of ice
edible flowers , to serve
How To Make:
Put the gin, amaretto, double cream, lemon curd and vanilla paste into a cocktail shaker with a handful of ice and shake until the outside of the shaker feels very cold.
Strain into two small cocktail or coupe glasses and garnish with edible flowers before serving.
Chocolate Martini
May as well have as much chocolate as possible, right?
You'll Need:
1 tsp melted chocolate
50ml Irish cream liqueur
50ml coffee liqueur
1 tbsp chocolate syrup
100ml vodka
handful of ice
How To Make:
Dip a pastry brush into the melted chocolate and brush up the side of two glasses. Chill until set.
Pour the Irish cream liqueur, coffee liqueur, chocolate syrup and vodka into a shaker with a handful of ice and shake hard until the outside of the shaker feels very cold.
Strain into the glasses.
Rhubarb Fizz
A Spring season must-have!
You'll Need:
25ml gin
ice
75ml sparkling wine
thin strip of rhubarb, to garnish (optional)
For the cordial:
75g golden caster sugar
½ lemon, zested and juiced
100g rhubarb, chopped
1 slice of peeled ginger
How To Make:
First, make the cordial.
Tip the sugar and 75ml water into a saucepan set over a medium heat.
Bring to a simmer, then add the lemon zest and juice, rhubarb and ginger.
Cook until the rhubarb starts to break down and collapse, about 5-10 mins.
Pour into a heatproof jug through a fine mesh sieve and set aside to cool.
(You will make enough cordial for two drinks.)
Next, pour the gin into an ice-filled coupe glass, then stir in 50ml of the cordial.
Top up with sparkling wine.
Twist the strip of rhubarb around a finger to curl, if using, then drop into the drink to garnish.
Floral Cooler
After all, it wouldn't be Spring without edible flowers.
You'll Need:
2 thyme sprigs , leaves only
2 rosemary sprigs, leaves only
8 edible flowers (such as pansies, rose petals and borage)
50ml elderflower cordial
150ml elderflower liqueur
150ml gin
ice
330ml can sparkling water
How To Make:
Place the herbs and flowers into the holes of an ice cube tray, fill with water and freeze for 2-3 hrs or until frozen solid.
Pour the elderflower cordial, elderflower liqueur, gin and a large handful of ice cubes into a large jug.
Stir until the outside of the jug feels cold then strain into 4 tall glasses or champagne flutes.
Top with the soda and add a few more ice cubes and the floral ones too. Serve immediately.
All recipes taken from BBC Good Food. Scroll more here.
So, drinks are sorted but what about your Easter outfit? Shop Spring-worthy 'fits here!
In need of outfit inspo? We got you.
What To Wear On A Night Out In April