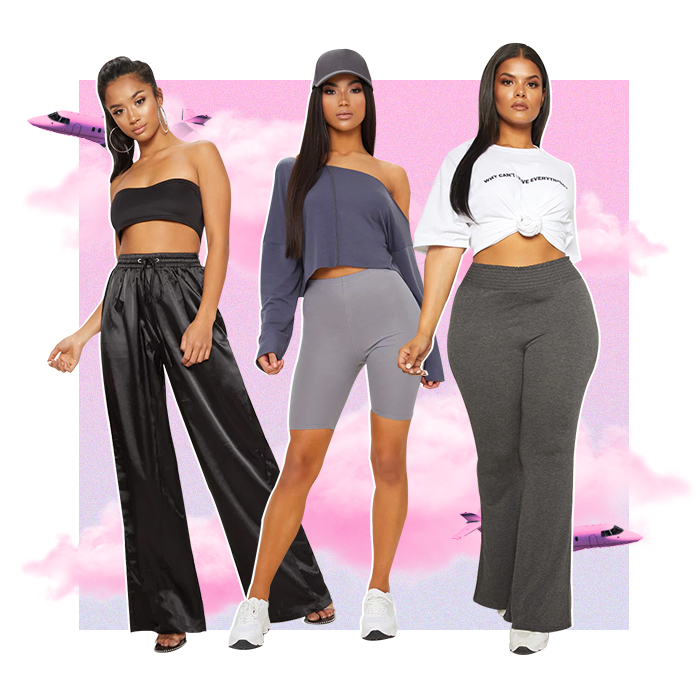 Long haul flight 'fits you need RN!
What To Wear On A Long-Haul Flight
Whilst we all LOVE heading off on holiday, longgggg journeys can make for major outfit dilemmas.
Today we're sharing outfit ideas that you will be feeling yourself in on your next long-haul flight.
Seriously, no airport outfit stress here!
Prep to travel in style and take full advantage of off-duty feels and laidback looks.
Opt For Oversized
From jumpers to joggers, make the most of wearing anything oversized when travelling.
Reality is, you're going to be sat for quite awhile so jeans/anything tight fitting should be ruled out instantly. Instead we're all about oversized 'fits.
You know the vibe, bigger the better!
PRETTYLITTLETHING Lime Sport Tonal Print Washed T Shirt
PRETTYLITTLETHING Recycled Chocolate Washed Oversized Hoodie
Chic But Cosy
Ok, we ALL know it's usually freeeeezing on the plane. So, even if you're jetting off to hotter climates, be sure to wear something that'll keep you cosy on the plane.
Co-ords are perfect! Simply team with a cute crop and then even if you don't end up wearing your hoodie… it's the perfect double up of a plane pillow!
Off White Recycled Drawstring Ruched Back Crop Hoodie
PRETTYLITTLETHING Recycled Mocha Printed Extreme Oversized Zip Through
PRETTYLITTLETHING Recycled Mocha Printed Pocket Thigh Casual Joggers
PRETTYLITTLETHING Recycled Black Badge Detail Oversized Hoodie
PRETTYLITTLETHING Recycled Black Badge Detail Straight Leg Joggers
Re-wear Your Gym Wear
Make the most of you gym wear by styling it up for the airport.
Not only is it comfortable as can be but still serves style if wanting to upload a quick IG post before flying!
Team with chunky socks and sliders or trainers for major off-duty feels.
Dark Grey Structured Contour Ribbed Round Neck Long Sleeve Crop Top
Dark Grey Structured Contour Rib Leggings
Taupe Seamless Long Sleeve Rib Detail Sports Top
Taupe Seamless Rib Detail Gym Leggings
Recycled Basic White Rib V Neck Short Sleeve Bodysuit
Harlie Black Ribbed High Waisted Leggings
All In One
Jetting off early hours? Take the stress out of outfit prepping thanks to all in one's.
Whether you're all about jumpsuits or playsuits – neither will let you down when it comes to long haul flying.
Recycled Black Brushed Rib Button Up Flared Leg Jumpsuit
Dusty Pink Structured Contour Ribbed Long Sleeve Jumpsuit
Sage Green Brushed Rib Button Detail Playsuit
Last But Never Least, Leggings
Everyone's ride of die – leggings are a must-have when it comes to airport outfits.
Dress them up or down to suit your airport style.
Shop all airport outfits here!
Still stuck for style inspo? We got you.