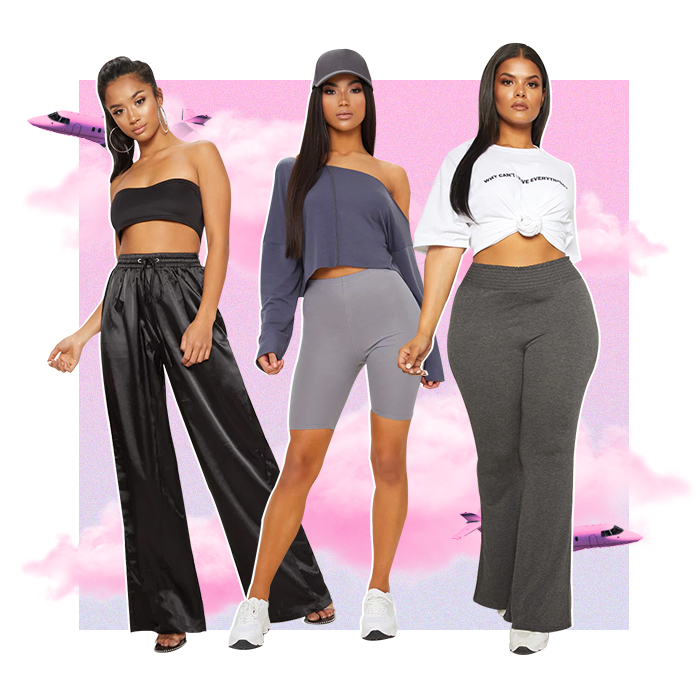 The traveling has got to be the least favourite part of your holiday right? Well, we are here to make it just that little bit better with some hot AF outfit ideas that you will be feeling yourself in on your next long-haul flight. We ain't talking anything fancy, we're taking full advantage of street cred and taking off-duty to next level lit.
What to wear on a long-haul flight
You'll be speeding through security when your killer outfit is impressing the fashion police.
When you're jetting off to a location with hotter climates, you're faced with the dilemma of travel attire. It always chilly on home turf but when that heat hits you you need a little skin showing right? This lightweight sweater is a perfect choice, it's cool, comfortable and practical. Style it with some 90's inspired cycle shorts and finish your look with a cap and chunky trainers. #Fresh.
This sleek maxi dress is the right amount of flirty meets the right amount of feminine. Its classic shape creates comfort but also allows you to dress this up with sandals for a day out vacation kinda look. Let's face it, nobody wears shoes on a plane so sandals are no problem. Just remember to take some socks…
Serve your curves but keep it comfy in a pair of relaxed trousers. This pair features a soft and stretchy fabric that not only all about comfort but creates a smokin' #OOTD too. Style with a knotted tee and chunky trainers and you got your aeroplane style on lockdown.
Wave goodbye to reality with this T-shirt dress. Just slip it on, add your fave pair of trainers and your biggest hoops and go. There goes a bad and boujee outfit that required no fuss at all. No drama.
 Heading straight to the strip as soon as the plane lands? No sweat. Wear something can be dressed up or down. These black satin trousers can be styled with a T-shirt and kicks for your long journey but instantly turned into a killer BNO look by styling with high heels and a crop top.