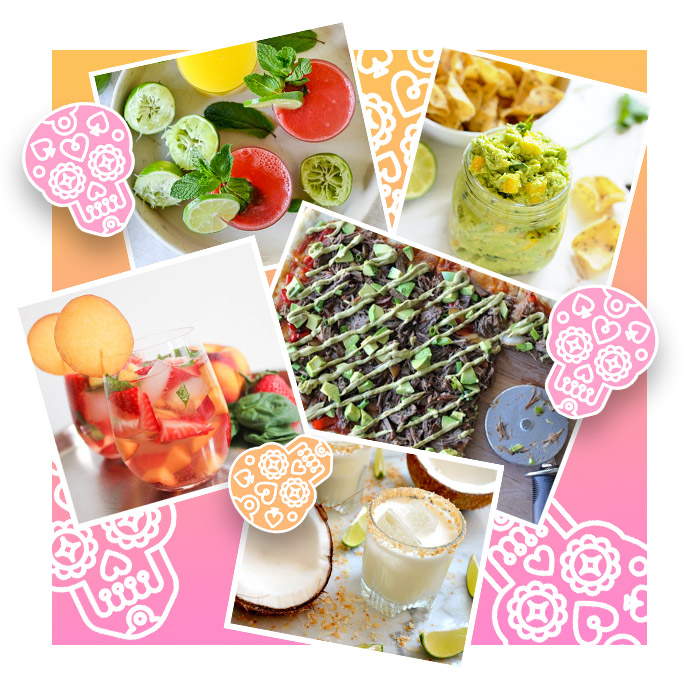 Cinco De wha? Feeling in the dark about the upcoming holiday Cinco De Mayo? Here's everything you need to know. Originating on 5th May back in 1862 after the defeat of the French Army during the battle of Puebla, Cinco De Mayo became a festival to celebrate all things Mexican culture and traditions. Makes sense, right?
When it comes to celebrating Cinco De Mayo, the party doesn't just go down in Mexico. Our US honeys also get in on the action with celebrations happening everywhere from LA to San Francisco. If you wanna get in on the Cinco De Mayo vibe for yourself, inject some Mexican flavour into your life with the food and drink ideas for you to throw your own fiesta this 5th May.
5 Mexican Recipe Ideas For Cinco De Mayo
Get inspired with a Cinco De Mayo extravaganza of your own with our 5 fave Mexican food and drink recipes to try for this weekend's celebration.
#1 Watermelon Agua Fresca
1/2 watermelon, seeded and diced (about 300g)
235 ml of water
3 limes
2 tablespoons sugar
fresh mint
tequila or rum
Add watermelon to a blender and blend until completely pureed. Using a fine mesh sieve, pour puree through into a large bowl. Combine watermelon juice, water, lime juice and sugar in a large pitcher. Taste and add more sugar if needed. You can also stir in some fresh mint leaves (or just garnish the drinks with them) for taste. Chill until cold and throw in as little or as much tequila or rum as you like.
#2 Carnitas Avocado Pizza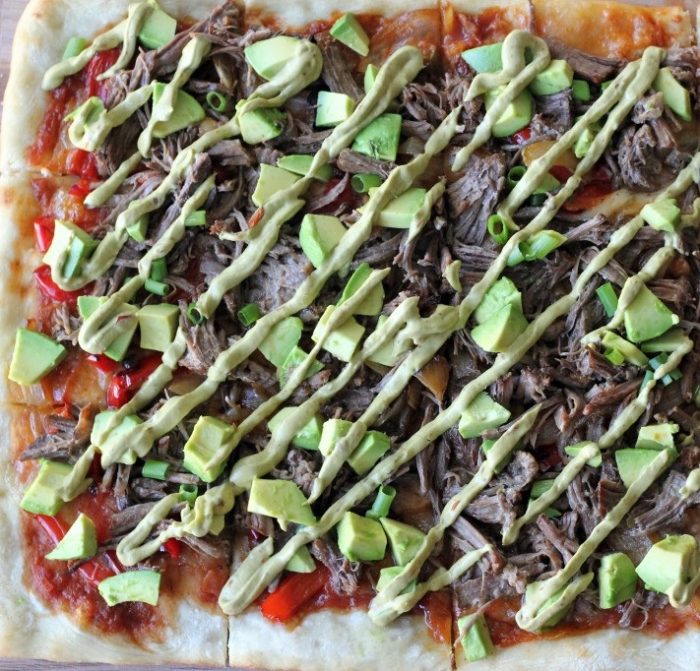 Pre-prepared shredded pork
1 onion
1 red pepper
1 jalapeno
1 ball pizza dough
259 g of salsa
mozzarella
2 green onions
avocado
Remove the chuck roast from the Dutch oven and shred the meat before returning to the pot with the juices. Throw some onion, peppers and jalapenos into pan and cook for about 5-6 minutes. Roll out pizza dough into a thin rectangle. Transfer to prepared baking sheet or pizza pan. Spread a layer of salsa over the top, leaving a 1-inch border. Top with mozzarella and onion mixture. Place into oven and bake for 12-15 minutes, or until the crust is crisp and brown on the bottom and the cheese is melted on top. Top the pizza base with the shredded pork, mayonnaise, green onions and avocado. Cut the pizza into squares and eat.
#3 Coconut Margaritas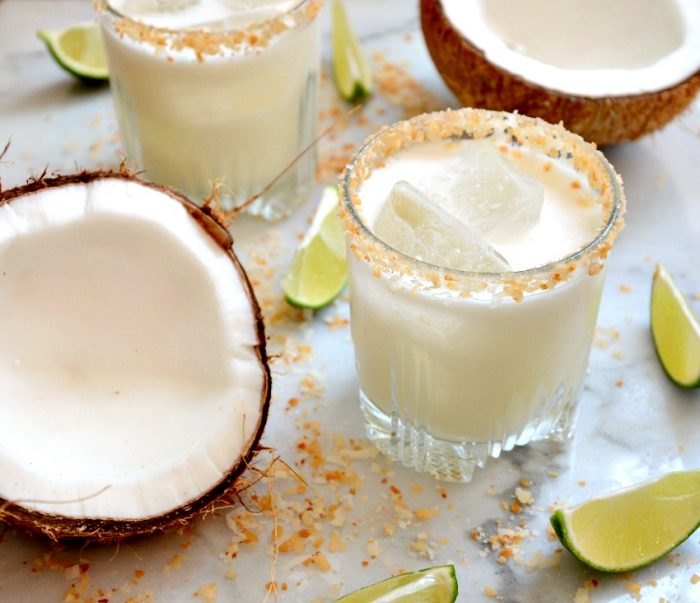 85 ml lite coconut milk
85 ml tequila blanco
320 ml triple sec
220 ml coconut water
1 lime wedge, to serve
toasted shredded coconut and salt (for the rim)
as much ice as you like
In a shaker, combine the coconut milk, tequila blanco, triple sec and coconut water. Show off your best moves and shake the mixture until sufficiently combined. Dip the rim of your glass in some freshly squeezed lime juice and then dip the glass in a mixture of coconut and salt to line the rim. Pour your mixture into the cocktail glass and add ice. Serve with a lime wedge. Super easy and a totally tropical spin on a classic.
#4 Mango Guacamole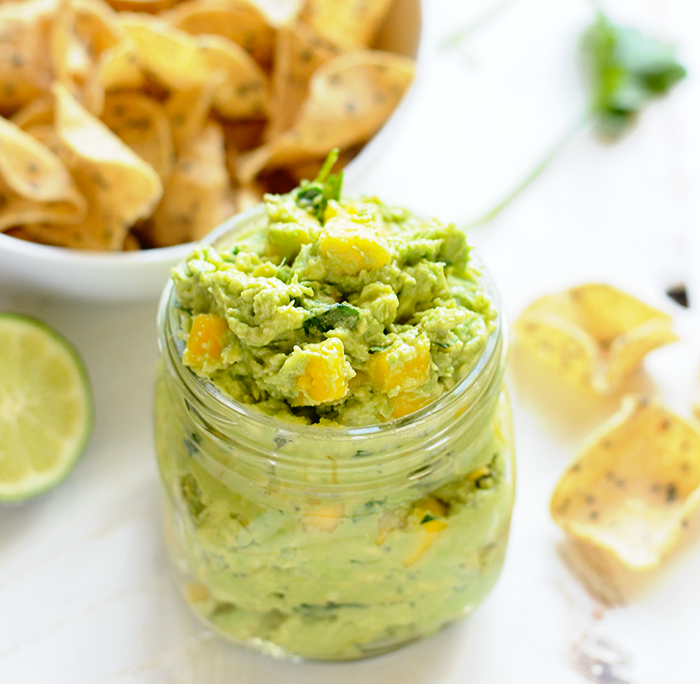 4 avocados
2 tablespoons fresh cilantro
juice from 1 lime
1/2 teaspoon salt
1 mango, sliced
First, peel mango and then cut into cubes. Set aside. Next, peel 4 medium avocados and place in bowl. Using a fork, mash until they've reached desired consistency. Add in cilantro, lime, salt, sliced up mango chunks, and mix. Real easy and the perfect fiesta party snack for your guests.
#5 Strawberry Peace Rose Sangria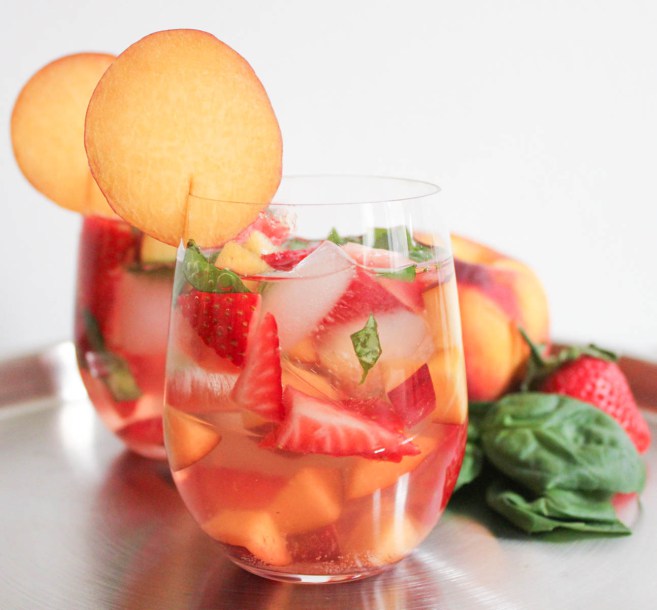 1 bottle of rose
1 bottle of white rum
1 bottle of grapefruit juice
strawberries, sliced
4 peaches, sliced
Place all ingredients in a large punch bowl and mix. Let sit for about an hour (or longer) before serving over ice. Super easy and definitely refreshing for warm weather days. We're thinking this is the perfect garden party drink for you and your besties.