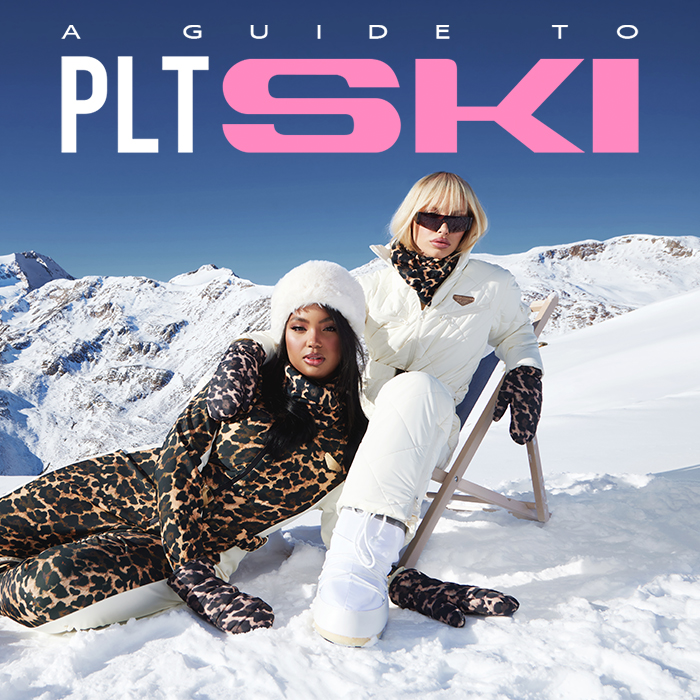 Ski season is officially on the horizon, get set to sleigh with the PrettyLittleThing guide to ski clothing.
From the best time to go skiing to winter fashion and must-have ski clothes.
When is skiing season?
The best time to go skiing is December to April as this is the main ski season in most resorts.
Skiing in December
The first weeks of ski season are the quietest which is great if you're a beginner and need a little extra space to learn on the slopes.
Towards the end of December is best if you're all about festive vibes. Christmas in a winter wonderland – talk about dreamy.
Skiing in January
Wrap up extra warm as this is the coldest ski weather BUT does confirm plenty of snow!
Overall January is the quietest month of ski season so a great time to go if this is your first ski trip.
It's also a good time if you're on a budget thanks to the January sales.
Skiing in February
Feb half terms means alot of ski resorts cater for children with a range of activities.
If hoping for something a little quieter be sure to check out some of the less popular ski resorts.
Smaller villages will be key for this, you might just find a gem.
Apres ski Insta goals, yes please!
Skiing in March & April
Bag yourself a last minute deal to really make the most of the last months of ski season.
Due to the spring weather think blue skies, crisp weather and softer snow.
Don't forget to check out parties on the piste – an essential on your ski holiday hit list.
Now for the all important question, what should you wear to ski?
Prepping your ski holiday wardrobe is key. From winter hats and gloves to next level winter style.
Here are the wardrobe essentials for any ski trip:
1. Light fleece
2. Ski socks
3. Ski jacket
4. Ski pants
5. Skiing gloves or mittens
6. Helmet
7. Ski goggles
8. Neck warmer or balaclava
Of course, we have you covered with all you need here at PrettyLittleThing.
Wave goodbye to the question of what ski clothes do I need?
All new PLT approved ski 'fits have arrived for winter 2022.
Get set to hit the slopes, PrettyLittleThing style!
PRETTYLITTLETHING SKI Brown Scoop Neck Scuba Suit
PRETTYLITTLETHING SKI Plus Chocolate Brown Diamond Quilted Cropped Jacket
PRETTYLITTLETHING SKI Cream Diamond Quilted Belted Snowsuit
PRETTYLITTLETHING SKI Cream Zip Down Ribbed Bodysuit
PRETTYLITTLETHING SKI Cream Ribbed Side Seam Leggings
PRETTYLITTLETHING SKI Leopard Print Belted Fitted Scuba Suit
PRETTYLITTLETHING SKI Plus Black Faux Fur Collar And Cuff Belted Snowsuit
PRETTYLITTLETHING SKI Black Faux Fur Hooded Printed Puffer
PRETTYLITTLETHING SKI Black Trousers
PRETTYLITTLETHING SKI Pink Faux Fur Hooded Belted Jacket
PRETTYLITTLETHING SKI Pink Fit And Flare Trousers
PRETTYLITTLETHING SKI Plus Pink Faux Fur Hooded Belted Jacket
PRETTYLITTLETHING SKI Plus Pink Fit And Flare Trousers
PRETTYLITTLETHING SKI Pink Wave Hooded Puffer Jacket
PRETTYLITTLETHING SKI Pink Wave Panel Hooded Salopettes
Of course we can't cover ski outfits without mentioning Moon Boots.
A seriously iconic style when it comes to ski footwear that has got to be on your ski wish list.
Which style will you opt for? Bright and bold, vinyl metallic or faux fur deets…
We're literally OBSESSED with them all!
MOON BOOT White Icon Vinyl Metallic
MOON BOOT Rose Icon Vinyl Metallic
MOON BOOT Bright Pink Icon Low
Can I wear leggings to ski?
Under your snow pants, yes. Base layers are a must-have for ski season.
This is as ski pants are not designed to be worn directly on skin, if anything they will just leave you damp and cold. Thermal leggings would be a good choice to keep you warm yet still able to be active.
Can ski jackets be worn everyday?
Yes! Ski jackets are such a vibe right now and perfect if you want to layer up your looks.
With untrustworthy weather, a oversized ski jacket will mean your covered (quite literally) for whatever weather comes your way this winter season.
How can I protect my skin whilst skiing?
We've all seen the ski goggles tan lines and honestly, you do not want to be rocking them on the slopes.
SPF is already a daily essential but even more so when skiing.
Here are three easy tips on how to prevent goggle tan lines:
1. Like we said SPF should be number one when it comes to your skiing skin routine. Be sure to reapply this every few hours throughout the day.
2. High quality ski goggles will help protect your face from UV rays. Mirrored goggles would be a good choice as they reflect the sunlight.
3. If possible, aim to wear a hat with a brim as this will create an extra layer of protection from the sun.
Bondi Sands Sunscreen Lotion SPF 50+
Bondi Sands SPF 50+ Lip Balm Coconut 10g
Garnier Ambre Solaire Mini Sensitive Hypoallergenic Cream SPF50+ 50ml
Ready to say yes to a winter 2022 skiing holiday and serve serious après ski vibes?
Saving for a 2023 skiing holiday?
Why not check out the Christmas markets for guaranteed festive vibes!