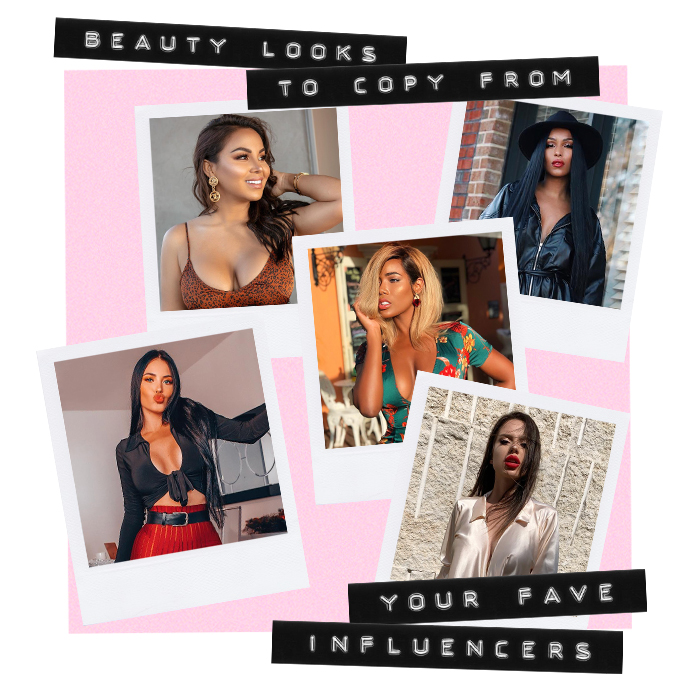 In need of inspiration when it comes to switching up your glam? We got you! Christmas parties are coming up.  gatherings with friends and meals booked in with the parents ARRGHH! This post will hopefully give you that inspiration you have been looking for. 5 of PrettyLittleThing's fave beauty looks to give you that festive glow.
Beauty Looks To Copy From Your Fave Influencers
We CANNOT get enough of these looks. Step into 2019 lookin' like a snack, wearing garms that can be found on PrettyLittleThing RN! Bringing you your everyday essentials, and this season's key trend, we've got you covered for every budget.
@missdollycastro
Miss Dolly Castro is the ultimate doll. Get this look with Doll Beauty Highlighter, plump it up with the BarryM Plumping Gloss, and get your brow game on point with Camila Cabello Insta Brow Liquid.
@monifajansen
Monifa Jansen = INSANE. Wanna look like this bronze bae? Lovin' this pink lip? Try this look with the Mini Lip Kit by Lime Crime. Shine bright like a diamond with L'oreal Sunshine Bronzer and 3INA 201 Gold highlight
@claudiaalende
Claudia is too much never too cold for a crop. Lime Crime Unicorn lipstick and Sweet Cheeks Bronzer is key to looking on point this winter. Get those winter feels with these Sigma Warm Eyeshadow's.
@amadea_dashurie
Amadea turning up the heat in the Oh My Lashes and Matte Valentine Lip Add red to any outfit to create a more daring look. Brighten up your Christmas and New year with the PLT Brighter Highlighter.
@latoyaforever
Get Latoya's beauty look, using Gerard Cosmetics. Hyda Matte Red gloss with Laura Geller Gloss on top is UNREAL. Finish off the look with Morphe Premium Lashes, glam for days. Pair this beauty look with all leather to create a look to die for.