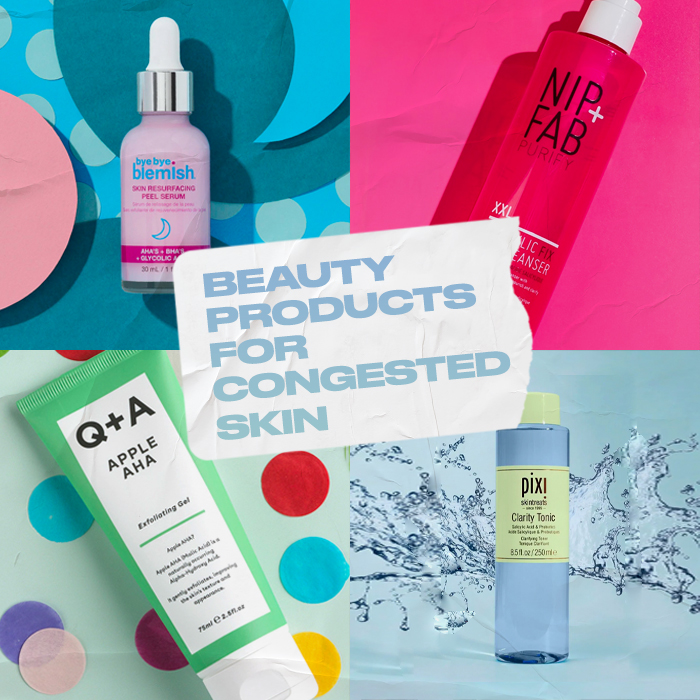 Is your skin not playing ball during these freezing A/W days? Same here girl.
Problem skin can not only make you feel self-conscious, but it's also super frustrating if you don't know how to treat it.
From cleansers, to exfoliators, AHA's to BHA's – knowing what ingredients are targeting which area can be a pain.
Beauty Products for Congested Skin
Can't afford a high-end dermatologist to answer your skincare prayers? Peep below some of our top beauty products to help congested skin.
CLEANSE
I cannot, I repeat CANNOT, stress enough the importance of cleansing your skin.
Cleansers are key for removing all the grime and impurities that may be lying on your skin from the busy day you've had slaying the game.
We love this Nip + Fab gel cleanser, containing salicylic acid which is a key ingredient for lifting away excess oil and dirt, as well as allantoin to provide a moisture barrier and lock in hydration.
We recommend using in the evening, and a more gentle cleanser in the morning such as the Pixi Glow Tonic Hydrating Cleansing Gel
SHOP NIP+FAB SALICYLIC FIX GEL CLEANSER XXL 300ML
EXFOLIATE
If your skin is feeling extra dry and gross (we all have those days), then you need to integrate a facial exfoliator into your skin care regime.
Exfoliators help to remove any dry skin that may be sitting on the skins surface, thus improving the skins texture and appearance.
The Q+A Apple AHA Exfoliating Gel is AMAZING for this, as it contains three different acids to assist in smoothing and brightening skin.
We don't recommend using exfoliators everyday as that isn't necessary for the skin, but this product is perf for those days your skin needs an extra bit of TLC.
SHOP Q+A APPLE AHA EXFOLIATING GEL
TONE
Toners are a vital step in your skincare routine that shouldn't be missed – no excuses!
Toners are amazing for helping even the surface of the skin, as well as helping reduce the size of pores. Congested skin is caused by a build up in your skins' pores, so any product that assists in reducing these is a 10/10 for us.
This Pixi Clarity Tonic is a clarifying toner, perfect for reducing pore size and brightening the skin.
Simply saturate a cotton pad with the toner onto a clean, cleansed face and apply to the face and neck.
SERUM
Despite what you may think, a lot of congestion in the skin is due to a lack of hydration so we highly recommend integrating a serum into your routine.
This resurfacing serum from Bye Bye Blemish is an amazing product that will exfoliate built-up layers of dead skin and shed the appearance of the scars that acne leaves behind.
When used consistently lactic acid (an AHA) helps to reduce the appearance of dark spots and scarring, with BHA's cleansing excess oil that congests pores.
Use nightly on dry skin for no more than 10 minutes then rinse off with lukewarm water and follow up with your moisturiser.
SHOP BYE BYE BLEMISH RESURFACING AHA + BHA PEELING SERUM
MOISTURISE
Everyone knows how important moisturising is, especially during these colder temperatures, but it's only effective when applied to the skin consistently.
Moisturised skin helps to soften the build-up of dry skin, therefore reducing the clogging of pores and congestion massively.
We're OBSESSED with the Egyptian Magic Skin Cream, a natural multi-purpose miracle balm that will change your skincare game.
Containing six of natures most moisturising and reparative ingredients, this topical hydrator is an essential for moisturising the skin.
Simply take a small amount of product, warm it up in your hands until it softens and apply.
SHOP EGYPTIAN MAGIC MULTI-PURPOSE SKIN CREAM 59ML
BREAKOUTS
If you have specific areas that are really troubling you, then blemish dots could be your new BFF.
The Emergency Dots by Breakout Aid are a serious game changer for any specific spots you want to target, containing active anti-acne ingredients that minimize breakouts OVERNIGHT.
Salicylic acid gently exfoliates and clears pores of bacteria, while hydrocolloid speeds the healing of your blemish.
Apply on your spots at night and wake up in the morning with significantly smaller spots, cya x
SHOP BREAKOUT AID DOTS FOR SPOTS AND BLEMISHES
FACIAL ROLLER
You may have seen facial rollers all over the 'gram, but they're not a gimmick and can actually make a huge difference to your skincare regime.
Facial rollers are perfect for working your moisturiser into your skin, allowing it to hydrate deeper than it would when just applied using your hands.
Not only does it have amazing skincare benefits and results, it's SO therapeutic to do.
An at home facial? We think so.
SHOP BLACK FACIAL MASSAGE ROLLER
We have so many amazing skincare products over on our site, browse the range here.