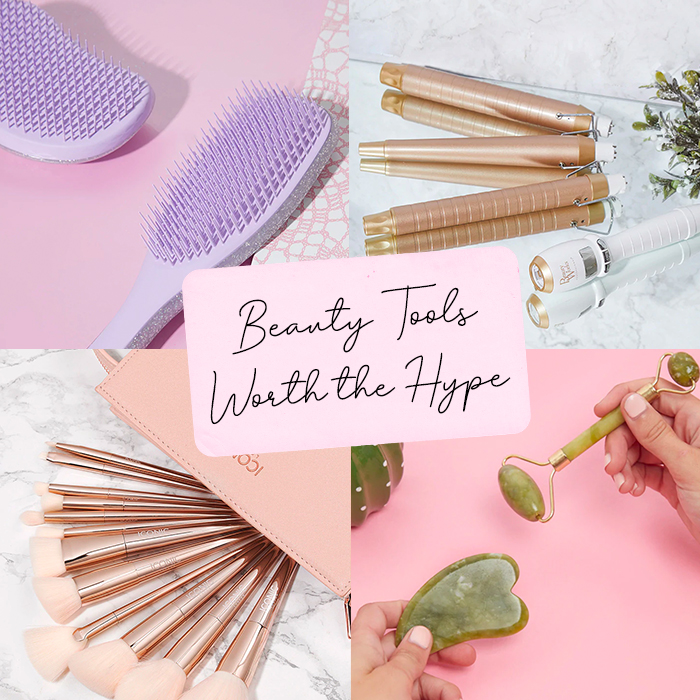 There are SO many beauty tools out there, from haircare to skincare it can be a nightmare knowing what's worth your well-earned coin.
Whether you're shopping for yourself or for someone else, a beauty tool is a fab gift if you know what you're buying.
Beauty Tools Worth The Hype
Peep below some of the best beauty tools in 2020.
Unless you've been living under a rock, then you'll already know that the Beauty Works stylers are EVERYTHING.
Including a beaut collab with our girl Molly-Mae, 2020 has brought us some mega products from BW, including this new trio edition gift set.
This set includes the original, tapered and 25mm barrels from BW, allowing you to create literally any curl you could possibly want.
In their iconic gold and white design, we are defo adding this to our Christmas list!
Now you may have heard of the infamous Tangle Teezers, but have you seen the beaut design on this?
Tangle Teezers are the leading hairbrush brand, offering products suited to specific hair textures such a wet hair, detangling you hair, blow drying and more.
This brush is suited on wet hair, meaning you can even use it in the shower to brush through your shampoo and conditioner.
In a lilac and sparkle design, this brush will gently untangle your hair with reduced risk of breakage.
If you're anything like us, then you have too many beauty products than you know what to do with – sorry not sorry x
A cosmetic organiser is a perf way to add more storage to your beauty collection, all whilst looking super cute on display.
Whether you're storing makeup, skincare or even hair care this large storage container will work.
With 14 compartments and a clear acrylic design, these are the CUTEST yet most useful storage organisers.
Look no further, the most genius way of travelling with your beauty products has arrived.
The Flat Lay Co. offers MUST-HAVES to keep all your makeup and accessories safe, especially when you travel.
This drawstring makeup bag opens up fully flat allowing you to see the entirety of its contents, doubling also as cosmetic mat to protect your products.
In a variety of colours and prints, The FLC say it's super organized yet in the messiest way – such a vibe.
Prepare to take your skincare routine to the next level with this jade facial massaging duo.
The roller adds gentle pressure which stimulates circulation and relaxes your muscles, while gently toning and giving a lifted effect.
Gently massage the Gua Sha for ultimate relaxation whilst tightening the skin.
Massage onto the face, temples and around the eyes for INSTANT rejuvenation.
Get ready to see the depths of your skin with this amazing LED vanity mirror.
Whether you want it vertical or horizontal, this nifty little mirror is amazing for doing your makeup or skincare in.
Also coming in black, you can take your eyeshadow game to the next level using this LED mirror.
Quality clearer than our eye-sights, you can't go wrong gifting this to a beauty lover this holiday season.