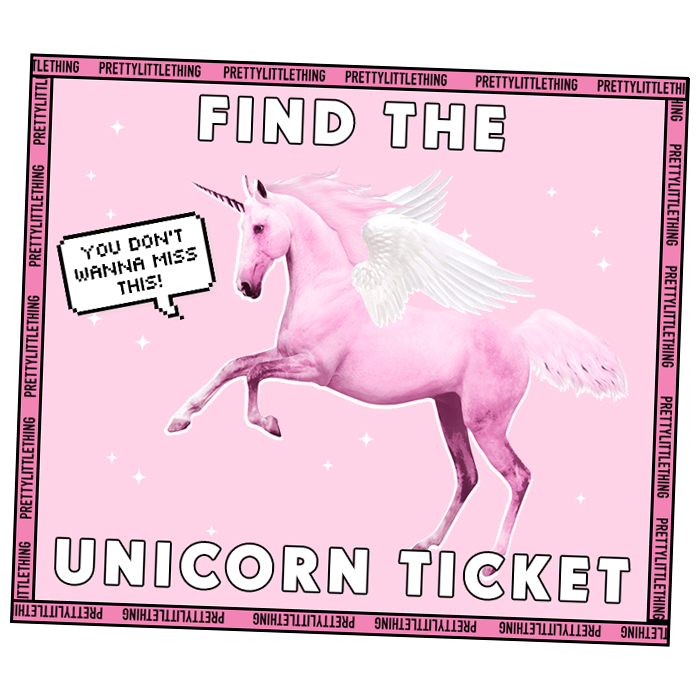 Have you found the unicorn ticket yet? In the lead up to Black Friday and Cyber Weekend 2018, we're hiding 1 million unicorn tickets within your orders.
Each unicorn ticket found makes you the winner of a mystery prize – both big and small.
The Black Friday 2018 Warm Up
With 1 million prizes to be won from discounts off your next purchase, free clothes, luxury goodies to treat yo'self, unreal holidays and an out of this world £10,000 cash prize, this is one Black Friday warm up you wanna get involved in.
Psst, be on the lookout for the unicorn. If one appears to you, you'll be the winner of an even more magical prize…
Found a unicorn ticket and wanna find out what you've won?
Consider this way to countdown to the shopping day of the year and to stay in the know with what magical deals and discounts we're about to drop.
Don't forget to check back on Friday 23rd November to get the best of Black Friday – the biggest and best deals are still to come.
UNICORN TICKET T&C'S
Unicorn discount price codes will only appear once at the submission of the order number. It is the responsibility of the entrant to remember this code as it will not reappear again.
Unicorn discount prize codes can only be entered once. Each code is unique and single-use, therefore, can only be redeemed once.
Discount codes are not valid on sale or beauty items. They can also not be redeemed against delivery costs or be used in conjunction with any other promotional offer.
Codes are valid until 31st December 2018. Please note this excludes 23rd, 24th, 25th, 26th, 27th of November.
To claim a Unicorn Prize winners must enter their order number and email address.
All prizes must be redeemed by 31st of December.
If you are a customer based outside of the UK an alternative prize of the same value will be awarded. If this is unavailable a cash alternative will be given.
All Unicorn Prizes are subject to a separate set of T&C's which will be sent to all winners of these prizes.
All prizes are at PrettyLittleThing's discretion.