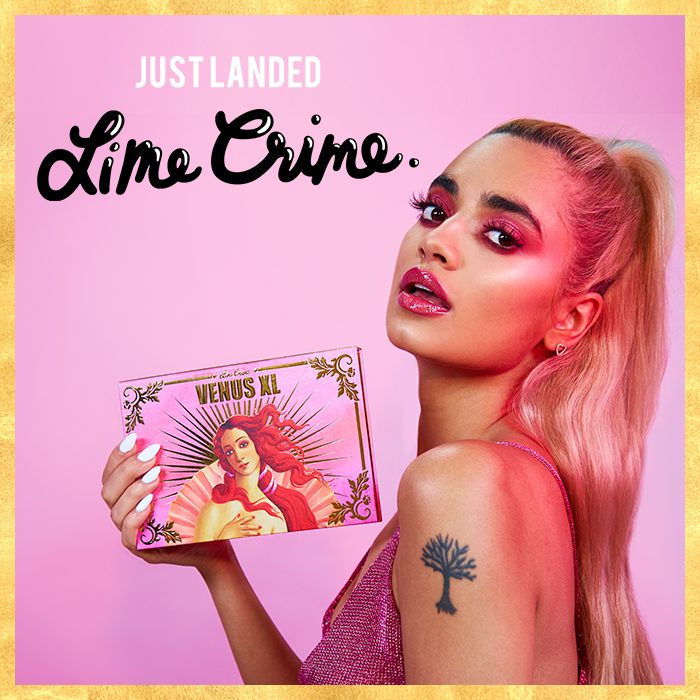 If making a statement with your beauty regime is your thing, we have some good news for you… Lime Crime just dropped on PrettyLittleThing.
Lime Crime Just Dropped
Here to unleash what makes you unique, Lime Crime state that 'the mission is to create products and experiences that transport you to a magical world where you can express yourself unapologetically, experiment with every colour of the rainbow and escape from looking like everyone else' and we cannot wait to try it out.
From shimmering eyeshadow palettes to lip popping glosses, you're beauty game just got stronger.
The Venus XL eyeshadow palette is a need not a want when it comes to updating your makeup collection. It's 18 dreamy shades include matt, matt sparkle, glowey and metallic shades that are perfect for day-to-day use right through to nights out and everything in between. With reds, soft roses, berries, pinks and bronzed neutrals, this palette is every babes best friend, all year round.
No makeup collection is ever complete without a fresh set of brushes. This set of 7 brushes has a totally dreamy glitter design with ombre (and cruelty-free) bristles that ensure your makeup glides on like a dream. The liquid glitter has an even sparkle and moves with you as you work your magic! We are obsessed. They even come with a cute little pouch too.
Looking for that plumped, fuller lip look? The creamy Velentines lip liner is the ultimate way to create a full lip. In 21 lush shades, apply to the outer line of the lip and fill with a lipstick or gloss. This liner ensures a smooth glide, avoiding any possible smudges.
Once you've lined your lip and created a fuller look, it's time to even it out with some matt lipstick. The Matte Velentines comes in 24 shades, one perfect for every occasion. Just like the lipliner, this smudge-free formula is comfortable and will ensure your lips remain moist for a popping look.
The lip glam doesn't stop there as we introduce to you Diamond Crushers. It gives you the effect of 'crushed diamonds' on your lips, for a sparkling unicorn effect. If your lip is fully prepped and you don't feel like you need an extra glow, you can use diamond crushers on your cheeks or anywhere else on your body. Oh, and it smells like strawberries which makes your lips totally kissable doll – you've been warned.