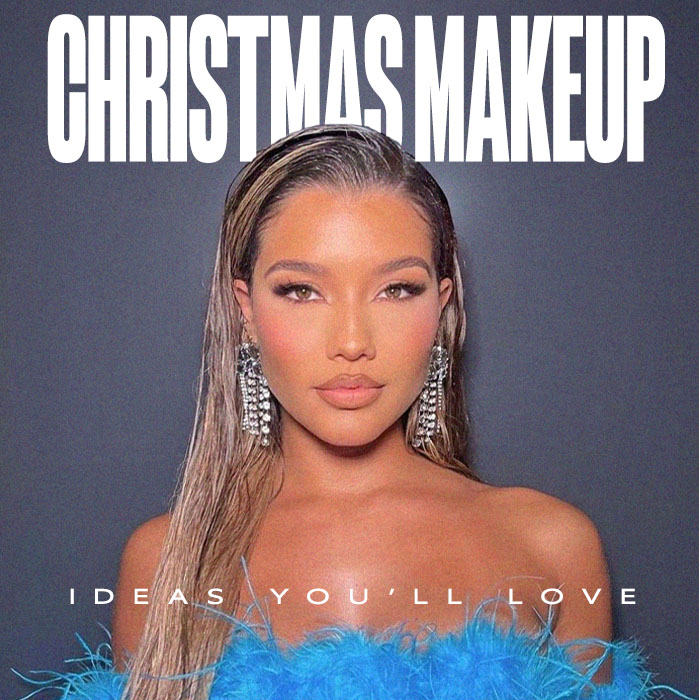 It's FINALLY December!!!
Christmas is now only a few weeks away so today we're talking all things festive makeup.
Whether you're looking for the ultimate glam for party season, or wanting to add a festive twist to your every day look, keep scrollin' because we've got all the essentials you need to level up your makeup bag for December.
Festive Glam
Party season has arrived so it's time to take your makeup look to the next level.
A classic bold red lip and gold eyeshadow combo is the ideal pairing for holiday season.
By adding festive colours to a neutral look, this makeup is guaranteed to suit all your Christmas party 'fits.
Go bold with this Nyx red lip.
Nyx PMU Soft Matte Lip Cream Monte Carlo
Bring the sparkle with this gold liquid eyeshadow.
Stila Shimmer & Glow Liquid Eyeshadow Kitten
'I'm Cold' Makeup
Yet another TikTok trend were DEFINITELY here for.
The winter equivalent of 'sun kissed', the 'I'm Cold' trend is makeup inspired by the look of just coming in from a day out in icy temperatures.
Think rosy cheeks and a soft glow, we're loving this subtle take on winter makeup.
A cream blush is the staple element to this look.
This Morphe cream blush is perfect for creating that dewy flushed look to your cheeks.
Complete the look by adding a pink lip gloss for a rosy look that adds to the overall glazed glow look.
Nyx PMU Butter Gloss Creme Brulee
All Out Christmas
Wanting to opt for a statement festive look?
These candy cane inspired looks are seriously giving us ALL the Christmas vibes.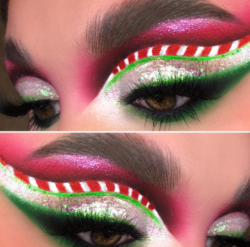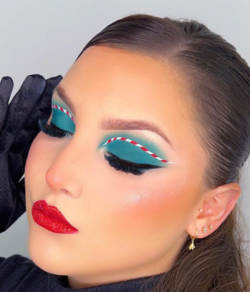 Use a white liquid liner to create your graphic liner look in any shape you'd like.
Lime Crime Venus Liquid Liner Baby's Breath
Then use an eyeliner brush and a red shadow to add the red stripes for the candy cane effect.
An eye-safe red liquid lipstick also works great here if you don't have any red eyeshadows.
Icy Inspired
One for all the cool toned lovers.
This look uses silver and blue tones to create a look inspired by winter and ice.
Make sure to add plenty of shimmer to your lids to get the full frosty effect.
Bag this Morphe palette with every shade you'll need to create your icy look.
Morphe 18A Blue YA Away Artistry Eyeshadow Palette
Finish the look with plenty of highlighter to add that frosty glow.
Iconic London Illuminator Shine
Berry Tones
Nothing says festive quite like warm berry tones.
We're obsessed with all the pinks and reds for Christmas makeup looks.
Whether its eyeshadow, lipstick or even your blush, there's so many ways to add berry tones into you everyday makeup look.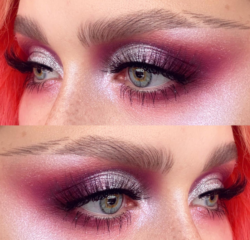 This 'Pop of Pink' palette contains all the hues you'll need for an unreal berry toned eye look.
PLT Pop Of Pink 9 Pan Eyeshadow Palette
Opt for this lip and cheek tint for the finishing berry touches.
Wet N Wild Lip & Cheek Tint Love Bites
Can't get enough of the Christmas makeup looks? Shop our full beauty range here.
Prepping for your Christmas party plans?