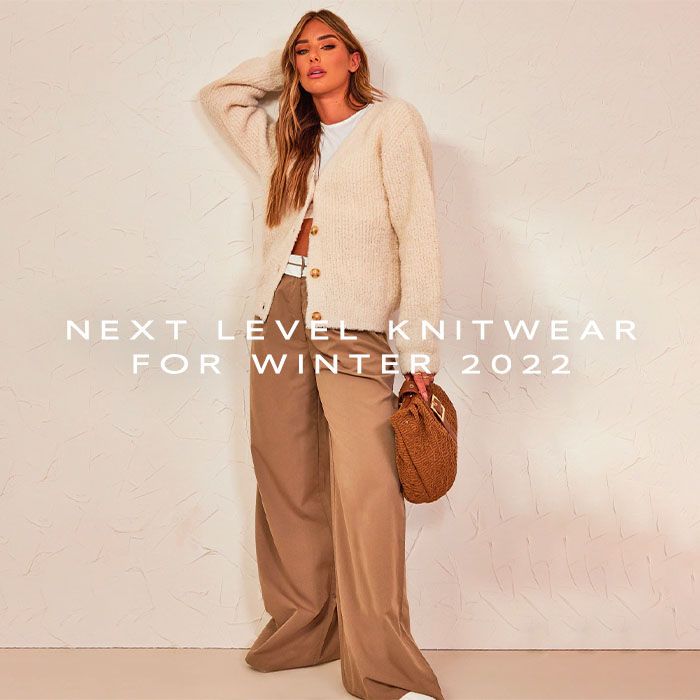 Looking to revamp your winter knitwear for 2022? Then look no further!
Here at PrettyLittleThing we have all you need when it comes to serving snug (yet on trend) looks this season.
From knitted jumpers and cardigans to knitted loungewear sets – winter dressing is easier than ever when PLT knitwear is this good!
Frist up, jumpers.
The classic oversized knit jumper is a must-have in your winter wardrobe.
Style with go-to denim or faux leather trousers, chunky ankle boots and a oversized teddy coat for a festive 'fit.
Black Basic Crew Neck Knitted Jumper
Grey Round Neck Side Split Jumper
Prefer a cable knit jumper?
No stress if you're a little unsure and find yourself asking, what is a cable knit jumper?
Essentially you can see more of the knit detail within the pattern of the jumper and they are also slighlty thicker than a knitted sweater.
The cable knit usually has a raised weave and sometimes looks like rope detailing.
Cream Half Zip Cable Knitted Jumper
Stone Chunky Cable Knitted Jumper
Say yes to knit cardigans this season – the perfect throw on and go piece!
With so many knit cardigan colours and lengths to choose from, the options are endless.
Don't worry, we see you in the comment section and are here to answer those outfit dilemmas…
Charcoal Rib Knitted Button Front Cardigan
Cream Twist Cable Detail Oversized Knit Cardigan
How do you wear a long knitted cardigan?
No matter your style there will be a knitted cardigan to suit.
From chunky knits to oversized maxi and midi lengths, all you've got to do is scroll!
Faux leather trousers are a easy option if unsure on what to wear a long knitted cardigan with, as well as classic straight leg jeans or trousers.
Charcoal Maxi Knitted Cardigan
How do you style a long knitted cardigan?
This is up to you!
To achieve the clean girl aesthetic, keep it casual with a sleek bun before layering a winter worthy trench coat and tote bag.
Off-duty more your vibe? Why not opt for crop top, leggings and trainers? Timeless.
Black Cable Knit Hooded Maxi Cardigan
Grey Ribbed Knitted Midi Cardigan
If you're all about the trends then you'll know the hype around knitted vests is real right now.
We're loving the trend but get it can be tricky when styling them up. So, how do you wear a knitted vest?
If you love a crop then simply style with high waisted trousers or Y2K inspired mini skirt.
You could also throw on an oversized blazer or trench coat to layer the look.
Black Yin Yang Knit Cropped Vest
Layering over a crisp white shirt is another easy way to style a knitted vest.
Perfect for when you have PM plans after work!
Cream Argyle Brushed Knitted Oversized Vest
& Cream Argyle Brushed Knitted Trousers
If you haven't added a jumper dress to your winter knit collection yet they you are seriously missing out!
No matter your agenda, a knitted jumper dress with have you prepped for any occasion.
How do you wear a jumper dress in the winter?
It's effortless!
Opt for ankle or knee high boots, either a oversized blazer or coat and a mini bag to complete the look.
Grey Basic Roll Neck Knit Jumper Dress
Oatmeal Chunky Knit Roll Neck Oversized Jumper Dress
Tis' the season to stay snug and knitted loungewear sets are THE ONE when it comes to keeping cosy.
Plus, they are probably the closet outfit to pyjamas, yet acceptable to wear on a daily basis and even to the office if styled right!
A bold statement to make but we think knitted sets are quite literally the dream Christmas Day outfit, if you spend the day relaxing (and eating none stop) that is.
If heading into the office or to run daily errands simply style up your knitted set with a oversized blazer or jacket and chunky boots.
Oatmeal Oversized Collared Knitted NY Jacquard Jumper
& Oatmeal Oversized Knitted Drawstring Joggers
For a more relaxed vibe, keep cosy with faux fur lined boots.
Oatmeal Brushed Diamond Knit Hoodie & Trouser Set
Chunky knitwear is a forever vibe and we're honestly obsessed with it all!
Here are three new in chunky knitwear pieces we're loving right now.
Grey Marl Cross Front Chunky Knit Oversized Cardigan
Khaki Chunky Knit Exaggerated Collar Cardigan
Charcoal Chunky Knitted Half Zip Oversized Jumper
All about the festive feels?
Of course you are!
Plus, with Christmas Jumper Day happening on Thursday 8th December you can restyle your festive knit all season long.
Let's face it, you'll probs win the office Christmas jumper competition when wearing a PLT knit.
Aqua Blue Fairisle Oversized Christmas Jumper
Baby Blue Apres Ski Cropped Christmas Jumper
Loving these looks?
Shop all PrettyLittleThing knitwear here.
If updating your 2022 winter wardrobe, don't forget a puffer coat!